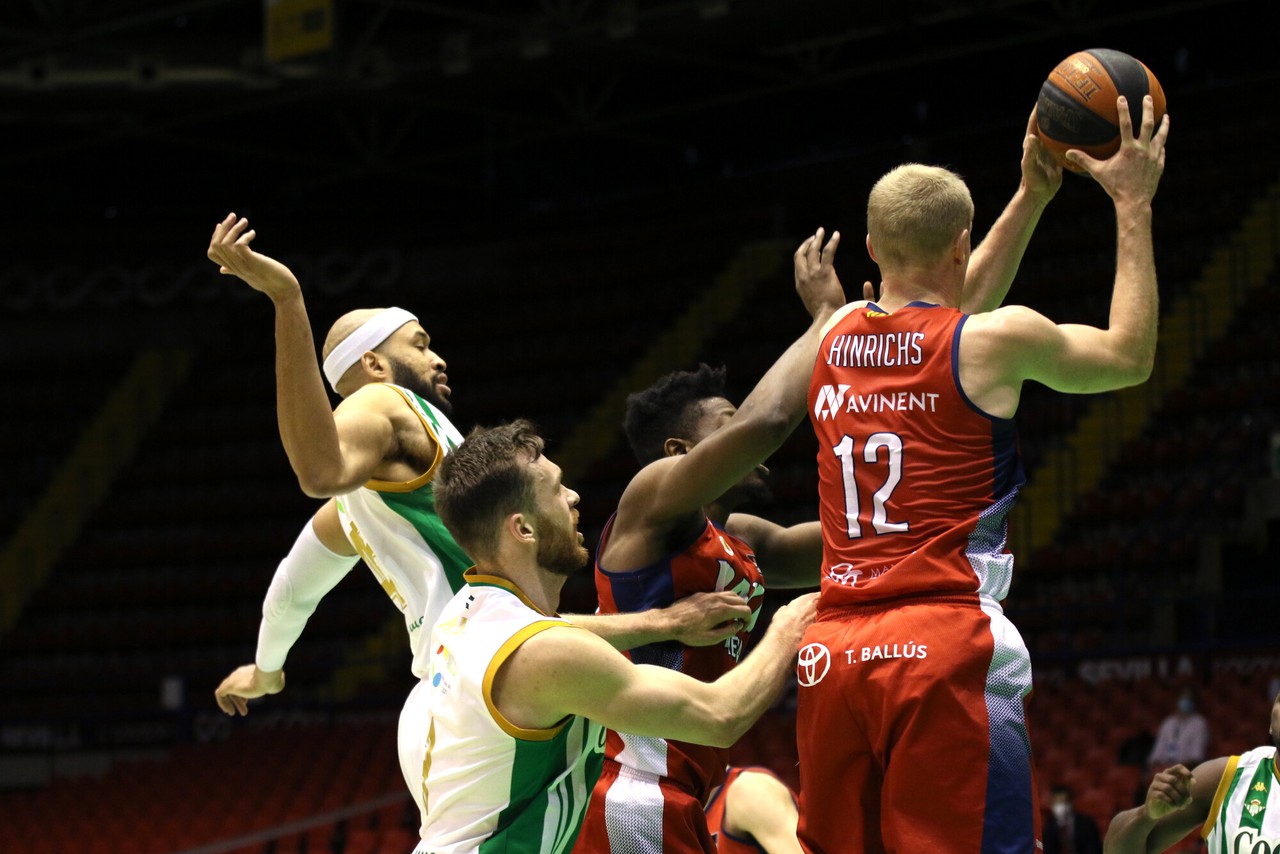 BAXI Manresa notices the casualties and falls in Sevilla
The Bages team, despite going to tow from the start, fought until the last minutes for the victory.
Sunday 2 of May of 2021 at 14:56
86 Coosur Real Betis I Campbell 5, Feldeine 21, Almazán 5, Kay 9 and Ndoye 21; Randle 3, Borg 2, Spires 6, Ouattara 10, Torres 2 and Jordan 2
70 BAXI Manresa I Mason 7, Janning 15, Vaulet 2, Hinrichs 11 and Eatherton 14; Jou 4, Dani Garcia 1, Rafa Martínez 13, Sajus and Sima 3
Partials: 18-13, 27-24, 21-12, 20-21
A BAXI Manresa punished by the losses of Dani Pérez, Ferrari and Báez could not achieve the victory on the court of a Coosur Real Betis that took a step further towards remaining in the Endesa League (86-70). On Sunday from 17:00 hours, the Bages team will look for the sixteenth victory of the course, in the Nou Congost against Acunsa GBC.
In the first quarter the Reds were wrong on the pitch, only Janning saw basket with ease. This caused the Sevilla team to take a five-point lead at the end of the period (18-13).
In the second the home team was able to maintain the income thanks to their dominance in the rebound, but between the inner pair Hinrichs-Eatherton they maintained those of Pedro Martinez within the match in the half of the confrontation (45-37).
In the second half, the visitors still did not find the offensive game shown throughout the season, and it was too difficult for them to score. This was taken advantage of by the Andalusian team to close the third quarter with the match very well facing (66-49).
In the last ten minutes, the Manresa team did not give up and, thanks to the success of Rafa Martínez's three-point shots, they were only ten points away with less than three minutes to go. However, they could not complete the comeback and the victory remained in Sevilla.