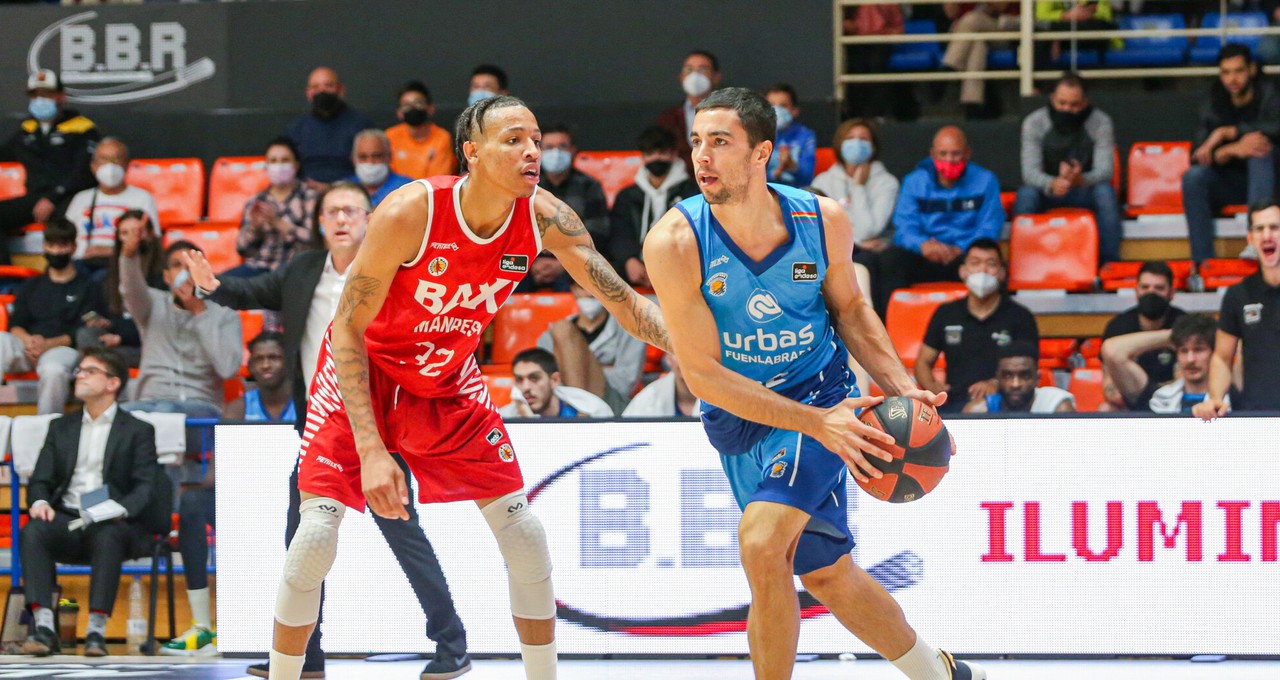 BAXI Manresa falls before Fuenlabrada on fire
Pedro Martínez's men were inside the game until the last minute but Fuenlabrada managed their streaks well. Thomasson (23p) and Bako (15p 9r), statistical leaders.
Sunday 24 of October of 2021 at 14:36
Urbas Fuenlabrada | Armand 14, Emegano 23, Novak 4, Alexander 16 and Cheatham 18; Samar 2, Vicedo 5, Macoha, Ristic 6, López, González and Bagayoko 2.
BAXI Manresa | Pérez, Jou, Thomasson 23, Moneke 11 Bako 15; Francisco 12, García, Martínez, Valtonen 4, Berzins, Maye 15 and Sima 2.
Partials : 27-19, 20-26; 25-20 and 18-17.
There was no second comeback. After the initial avalanche of triples, BAXI Manresa was able to recover, but a good partial of the premises allowed them to distance themselves in the last quarter and it was worth to them to hold the marker, although those of the Bages tried it until the last moments. 23 points from Thomasson, mostly inspired in the first half, and a good performance from Bako (15p 9th) and Maye (15p), were not enough.
The match was marked at the beginning by the high pace and success of the locals. BAXI Manresa tried to respond from the counterattack, and also from the triple with Moneke. Thomasson was starting to tune in and be the team's offensive leader, but the locals saw the ring much bigger.
In the second period, Valtonen and Moneke cut, and Thomasson with 2 triples put the team to 5 points. The local streak continued, but Maye came into action with 2 triples and despite the local success storm, the Reds resisted the half (47-43).
The best moment of BAXI Manresa was at the beginning of the third period, with hits from Valtonen and alternatives on the scoreboard, although the locals recovered and there were still 7 points above the gates of the last 10 minutes.
The last quarter began with BAXI Manresa cutting through Thomasson and Moneke's good work in painting. In the last 2 minutes Francisco led the last attempt with a 2 plus 1 and a triple, but with 85 to 80 on the scoreboard the losses and misunderstanding ended up tipping the game for the locals.
BAXI Manresa travels today from Madrid to Turkey, where on Tuesday it has a match against Pinar Karsiyaka.