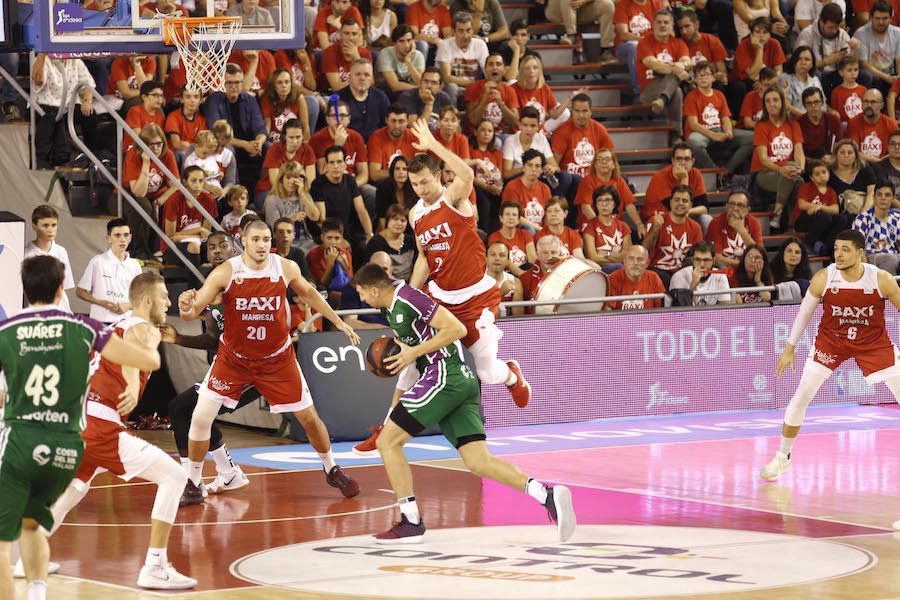 A combative BAXI Manresa toast with Wiltjer in the 3rd quarter
The Bages team dominate the first half until the inspiration of the American power-forward clears the game. Toolson leads Manresa with 21 points.
Saturday 20 of October of 2018 at 22:59
87 BAXI Manresa | Renfroe 16, Toolson 21, Tomàs 12, Vene 8 i Sakho 5; Jou, Lundberg 6, Del Águila 1, Lalanne 16, Muñoz, Gintvainis 2, Dragovic.
96 Unicaja | Roberts 13, Salin 15, Díez 2, Wiltjer 24 i Shermadini 4; Okouo, Fernández 10, Milosavljevic, Waczynski 11, Lessort 15, Suárez 2.
Partials: 22-16, 20-19, 17-36 i 28-25
BAXI Manresa fought and dominated half of the game, until came across the inspiration of the visitor's number 33. In the third period the home defense did not know how to respond to the inspiration of Wiltjer, and Unicaja took the game, dominating from that moment on. By the reds, Toolson led the statistics, with 21 points, while Renfroe and Lalanne made 16.
The game started with a 0-5 run that Manresa would rapidly turn around, with baskets of the 5 starters and Toolson turning around the marker. Dragovic debuted in the first half, and 2 Lundberg baskets leaving from the bench put 10 points and forced visitors to stop the game.
In the second quarter, control of BAXI Manresa, who increased the rent minimally to go to half-time with 7 points of margin. Unicaja was approaching but Vene and Toolson responded from the three-point line, with 3 baskets almost consecutive to maintain the advantage before going to the locker rooms.
On entering the court after the break, Wiltjer scored 5 consecutive points to put the body in fear, and would not stop until he got a good advantage for Unicaja. BAXI Manresa has not been able to stop him and the Malaga team have escaped 10 points. Manresa reacted with a three-pointer and good minutes of Pere Tomàs, but in the 30th minute the difference was 12 points.
In the final quarter, a fighter BAXI Manresa made a will, but Luis Casimiro's Unicaja was able to control the game until minute 40. Toolson's three-pointers also in the last quarter did not serve to put an end to the rival, who won the victory between a public again very angry with the referees.
Joan Peñarroya, at the press conference, said that «it has been a match with 2 different parts: one of the first two quarters in which we managed to play the rhythm we wanted, despite having errors that Unicaja would not find comfortable in his game open field; We have found quite fluidity, and not many problems to score; leaving the dressing room we find Wiltjer's great inspiration, which is clear that he has had stellar moments, but with 36 points fitted in a period we can not have options, and here the game wa sover; They are a team with confidence and in a great moment of shape»