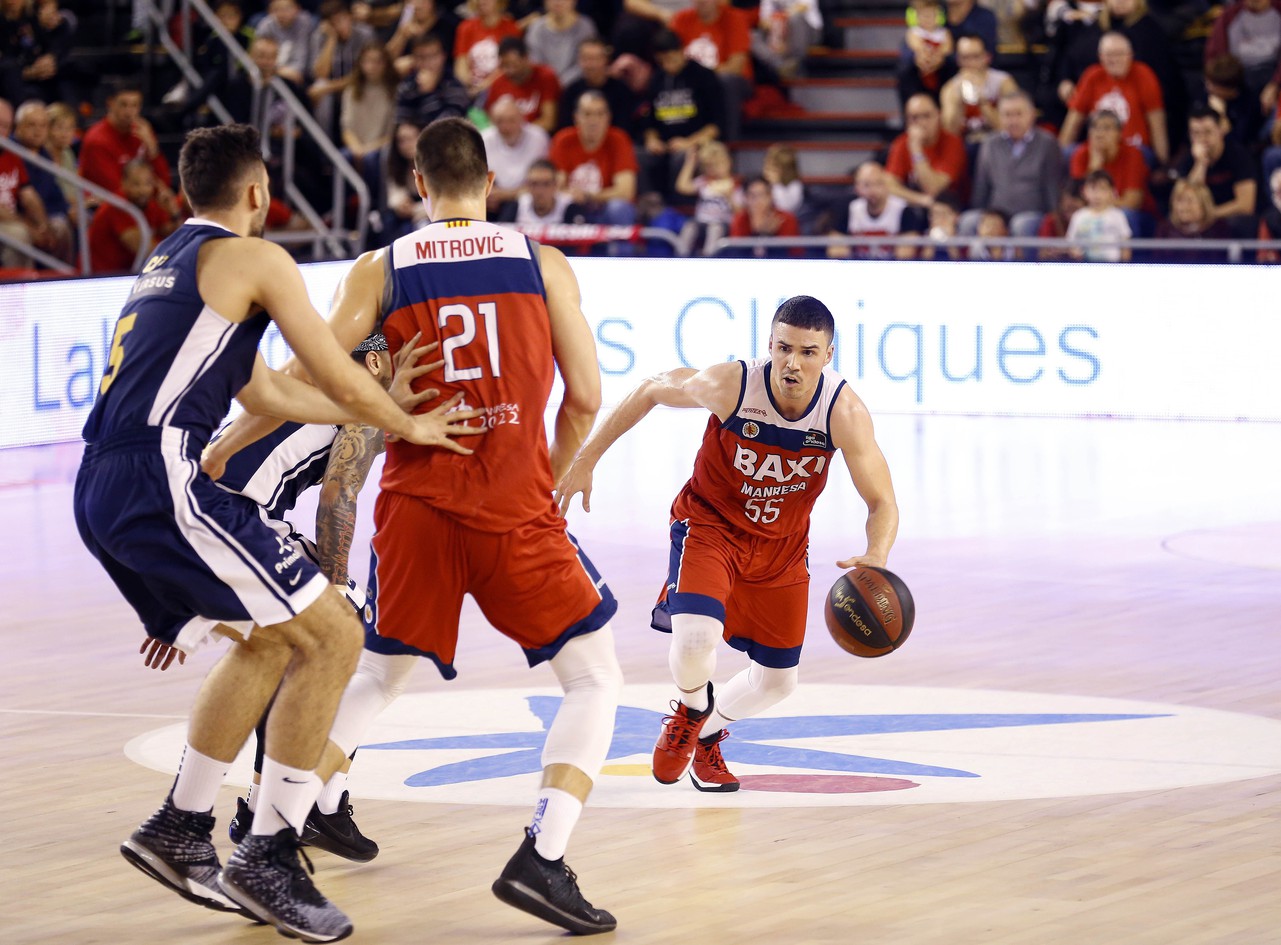 A BAXI Manresa with high morale visits the Dinamo Sassari with a 'roster' still short
Pere Tomàs, neither Eulis Báez, nor Yankuba Sima, nor Ferrari, nor Luke Nelson nor Aleks Cvetkovic will be traveling on the track of one of the favorites of Group A, the Italian bass champion. Link is addressed to the call David Orrit.
Monday 2 of December of 2019 at 14:01
BAXI Manresa travels with casualties, but with high morale, after the last victory at home in the Endesa League. David Orrrito will enter the call for reinforcement of foreign positions. Long-term casualties include those of Sima and Nelson, plus the one of Cvetkovic, who has not registered for the competition. The Bages face a tough opponent: runner-up in Italy and one of the favorites to reach the BCL far away.
On Tuesday at 8:30 pm the BAXI Manresa visits the Dinamo Sassari track for the first time in history. Pedro Martínez's team still travels without many important players. The losses for this 7th day of the BCL are: Pere Tomàs, Eulis Báez, Frankie Ferrari, Yankuba Sima and Luke Nelson for injury. While Serbian Aleksandar Cvetkovic does not travel because he has not been enrolled in the European competition, after having exhausted the number of changes. Who is added to the expedition ñes santpedorenc David Òrrit .
Dinamo Sassari is the team from the north of Sardinia, and one of the most powerful of both the BCL and the Italian League. Last season the men of Gianmarco Pozzecco spent a great year, culminating in the Italian League final and the start of the season with the achievement of the Italian Super Cup. A winning set called to go far to the Champions League and with two leaders on the track: Canadian Dyshawn Pierre and the American * Dwayne Evans .
In the previous game they spoke Dani Pérez and Luka Mitrovic . The base of L'Hospitalet said that "give the rival as one of the favorites, they are the leader of the group, very powerful physically and that plays a very happy game; We are going with confidence, and the important thing is to continue building, and if we can win the victory for Manresa, much better ». For his part, the Serbian pivot Mitrovic said that "are a great team, runnings of the last season; We are going with a good mindset after winning Murcia at home, so that we will surely have our chances to win; We were not playing bad lately, but we needed something to win, and on Saturday we were rewarded for the good work ».