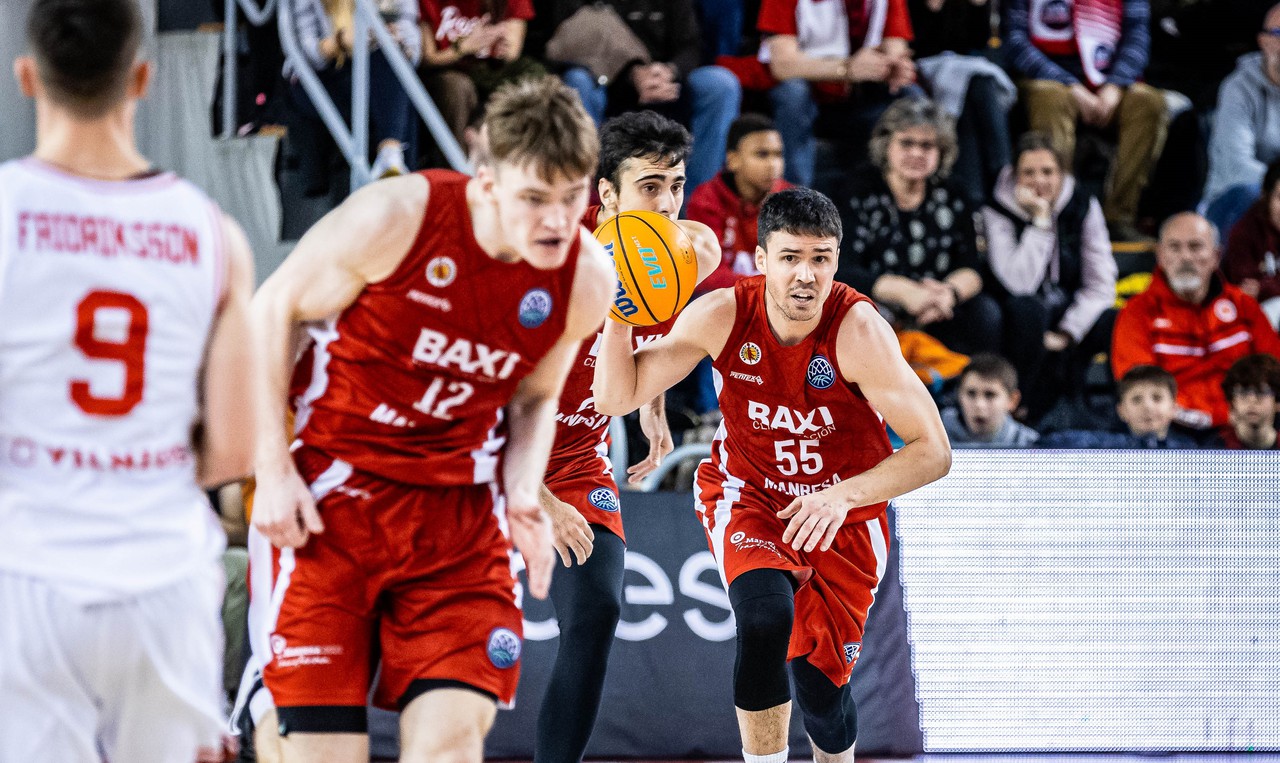 Hard-earned victory for BAXI Manresa to start the Top16 against Rytas Vilnius
The Bages team dominated the game from the second quarter and displayed a great collective game. Devin Robinson, again the highlight of the home team.
Tuesday 24 of January of 2023 at 23:13
82 BAXI Manresa I Dani Pérez 2, Harding 14, Sagnia, Steinbergs 16 and Geben 8; Badio 5, Robinson 18, Jou 4, Ferrari 12 and Vaulet 3
69 Rytas Vilnius I Fridriksson 12, Foster 25, Normantas 8, Williams 8 and Echodas 6; Lekunas, Radzevicius 3, Uleckas, Kairys, Masiulis 5 and Varadi 2
Partials: 19-19, 26-18, 18-12, 19-20
BAXI Manresa started the second phase of the Basketball Champions League on a good way, with a meritorious victory in the Nou Congost against the Lithuanian Rytas Vilnius (82-69). The Bages team, who showed a great choral game, controlled the game from the second quarter.
The visitors made a better start and quickly took a seven point advantage in the electronic (6-13). However, the Reds did not take long to react and, led by a Jou who captured seven rebounds only in the first quarter, managed to tie the score at 19 at the end of the quarter.
In the second, the players led by Pedro Martínez dominated the scoreboard and displayed moments of great collective play that delighted the fans present at the Nou Congost. They took a maximum eleven point difference, which was reduced to eight at the break (45-37).
Returning from the locker room, the home team scored eight consecutive points and extended their lead to sixteen points (53-37). From there they knew how to manage a significant margin throughout the third quarter, which closed fourteen points ahead in the electronic (63-49).
In the last ten minutes, the Bages team had moments when it was difficult for them to score, but their great defensive level allowed them to withstand the attacks of the Lithuanians and secure a victory that was never in danger.
Next Sunday from 12:30 BAXI Manresa will play Nou Congost again. On this occasion they will receive a visit from one of the best teams in Europe, a Real Madrid that is the leader of the Endesa League.