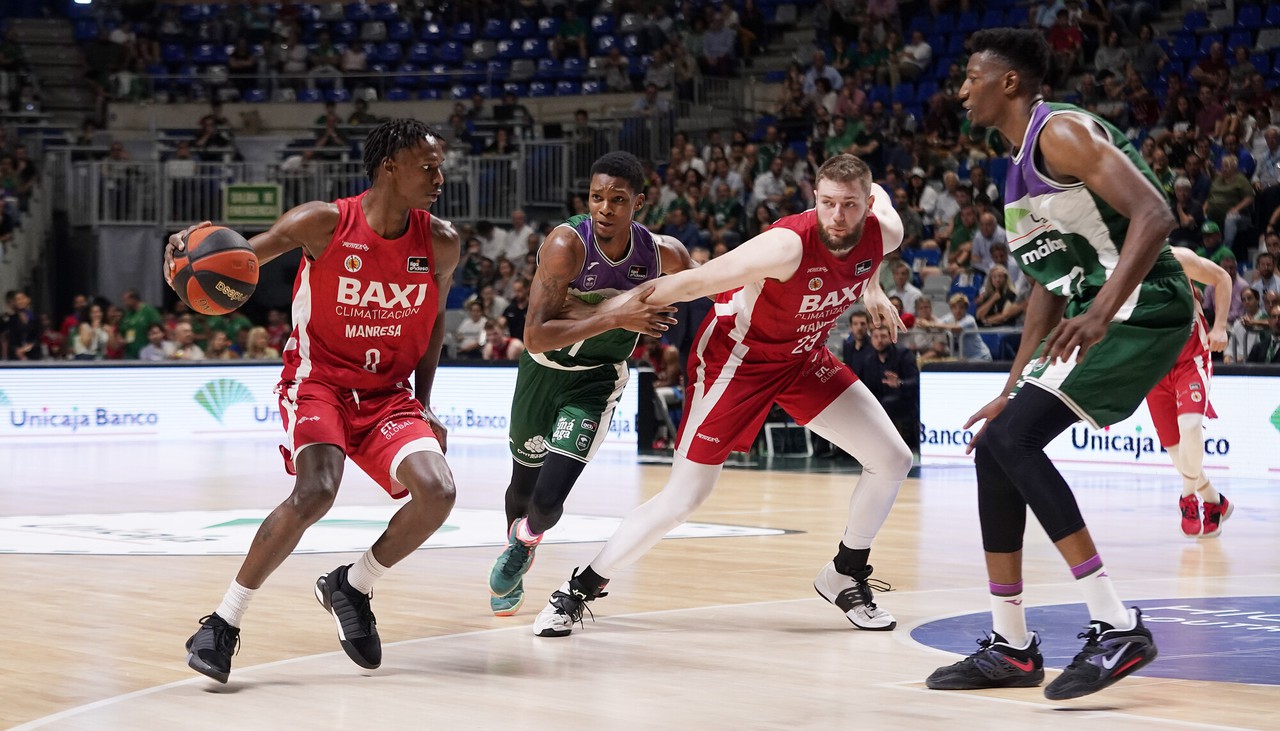 A good BAXI Manresa is overcome by Unicaja's final streak
The Bages team dominated during the first three quarters, but in the last they ran into some very successful Málaga players from the triple (7 of 9).
Wednesday 3 of May of 2023 at 22:11
97 Unicaja I Perry 13, Kalinoski 17, Barreiro, Ejim 9 and Sima 6; Osetkowski 13, Carter 8, Djedovic 11, Thomas 11, Saint-Supery and Kravish 9
88 BAXI Manresa I Dani Pérez 9, Harding 20, Jou 3, Robinson 9 and Geben 10; Badio 9, Waczynski 11, Dani Garcia 3, Steinbergs 2, Sagnia, Olumuyiwa 2 and Vaulet 10
Partial: 21-22, 16-21, 28-19, 32-26
BAXI Manresa once again showed a very competitive version on one of the most complicated courts in the Endesa League, that of Unicaja, but it was not enough to add another victory (97-88). Those from Bages took the initiative in the first three periods, but in the last ten minutes they ended up giving in to some Andalusians who nailed seven of their last nine three-pointers.
The start of the game was characterized by a high game pace and great intensity on the part of both teams. After a few moments of exchanging baskets, some visitors led by Harding took control of the electronic and obtained a maximum difference of seven points (8-15). Later, the home team reacted and closed the first quarter with only one point behind (21-22).
In the second the game did not lose speed and the reds continued to lead on the scoreboard but without being able to open a gap. In the middle part of the confrontation, the Manresa side showed a great version and dominated by six points on the complicated court of the Malaga team (37-43).
Returning from the locker room, the Andalusians improved offensively, but those from Bages were able to resist and stay ahead. In the last moments of the third quarter, the visitors had problems in attack and Unicaja took advantage of it to enter the last ten minutes with three points of rent (65-62).
In these, the reds continued to compete, but they ran into a very toned rival, especially from long distance. The locals scored up to seven three-pointers in this final period, and the last three put an end to Bages's hopes of victory.
On Sunday from 20:00 BAXI Manresa will play again in the Nou Congost, this time against a difficult opponent, a Valencia Basket that this year has played in the Euroleague. It will be a special day, in which the Bàsquet Manresa team that was proclaimed league champion in 1998 will be honored.