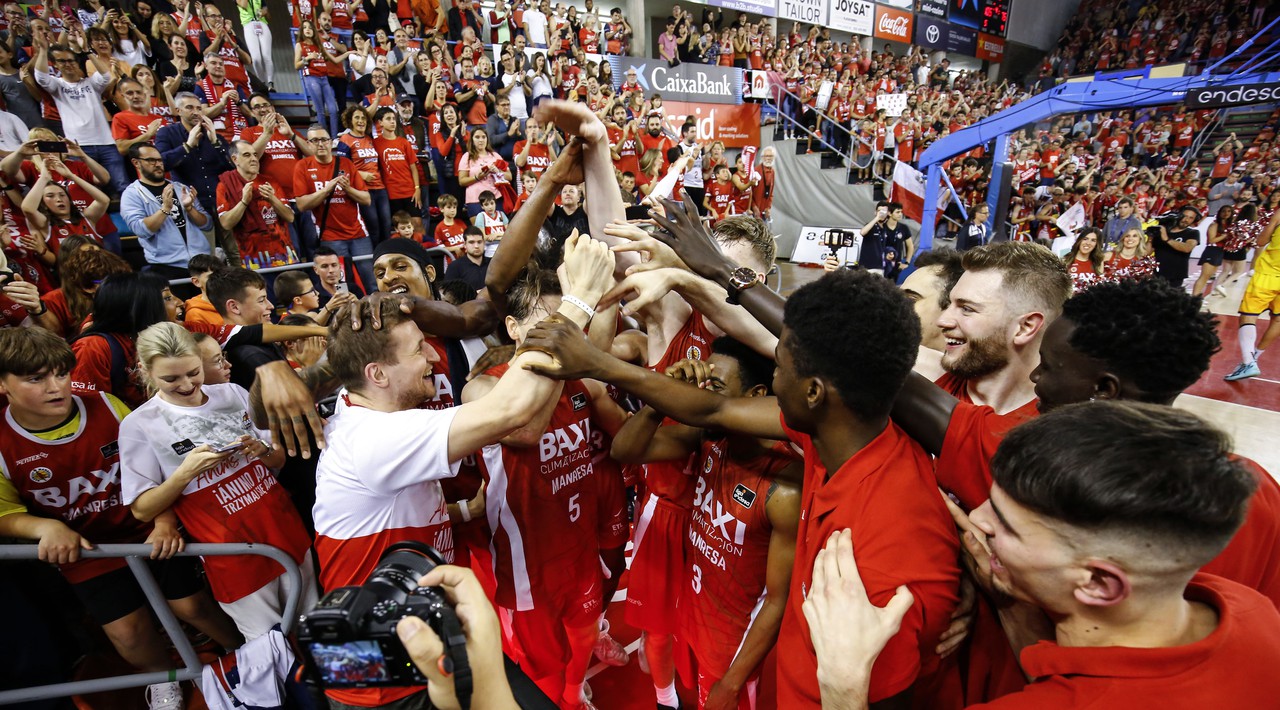 Final party at Nou Congost and 12th victory of BAXI Manresa
Fans and team come together to dominate Gran Canaria from start to finish. Badio stood out in a match in which all Bages players scored.
Wednesday 24 of May of 2023 at 22:42
105 BAXI Manresa I Dani Pérez 8, Harding 15, Jou 5, Robinson 10, Geben 4; Badio 24, Dani Garcia 7, Steinbergs 6, Sagnia 10, Olumuyiwa 4 and Vaulet 12
75 Gran Canaria I Albicy 2, Slaughter 2, Brussino 8, Shurna 8 and Diop 8; Inglis 11, Balcerowski 11, Benite 9, Salvó 1, Mutaf 7, Nikolic 2 and Stevic 6
Partials: 22-17, 26-13, 29-24, 28-21
BAXI Manresa closed the 2022-2023 course in the best possible way, with a clear victory against a great team, Gran Canaria, which they dominated from the start. The Bages team, who played a very choral match in which all players scored, had Badio as their most outstanding man.
The red team started the duel very excited and nailed three three-pointers in the first minutes, which allowed them to take an early lead of seven points (9-2). Then came a phase of local uncertainty, and the Gran Canaria took advantage of it to turn the score upside down. It was a mirage, as the Manresa team quickly recovered and regained control of the match (22-17).
In the second quarter, the group led by Pedro Martínez came out with a lot of strength and nailed a strong 15-2 partial run that allowed them to go up to 23 points in the electronic. The fans of Nou Congost enjoyed their team, which left at the break with a comfortable lead (48-30).
Returning from the changing rooms, the Manresa team continued to clearly dominate their powerful rival, and they did so with a very choral game, with all the players scoring. At the end of the third quarter, the match was already very well on track (77-54).
In the last ten minutes there wasn't much history, and the BAXI Manresa players, led by a great Badio, continued to give joy to fans who were able to say goodbye to the season with a resounding triumph against an opponent who will contest the play-off for the title.