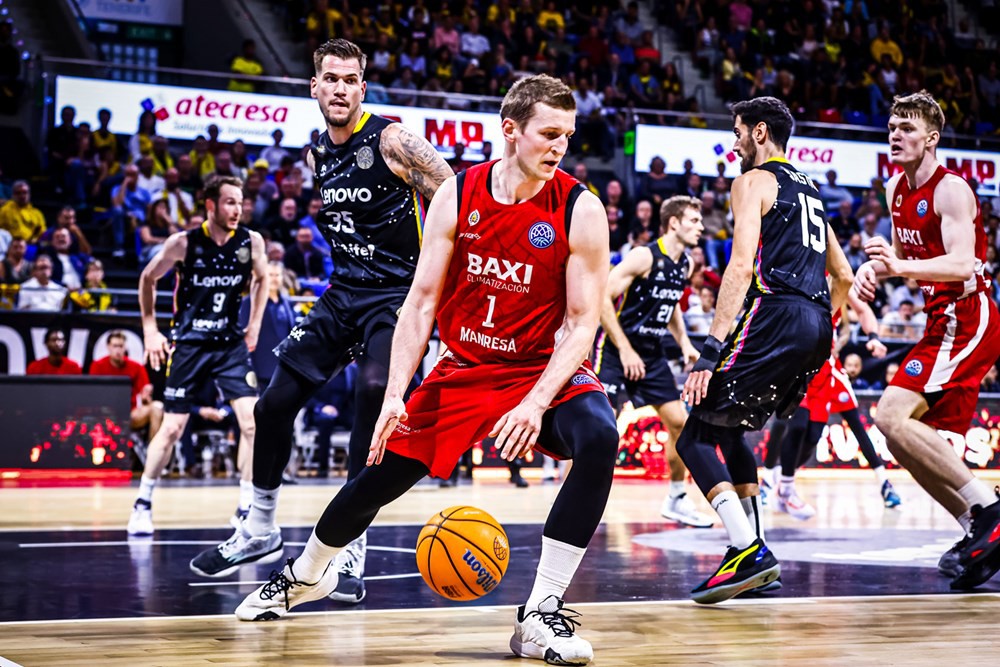 A competitive BAXI Manresa makes the reigning BCL champion sweat until the end
The Bages team closed a worthy role in the European competition, facing at all times the complicated court of Lenovo Tenerife, one of the favorites for the title.
Wednesday 19 of April of 2023 at 23:27
84 Lenovo Tenerife I Huertas 16, Bolmaro 6, Cook 4, Doornekamp 9 and Shermadini 8; Fernández, Rodríguez, Fitipaldo 22, Diagne, Sastre 7, Abromaitis 8 and Guerra 4
72 BAXI Manresa I Dani Pérez 11, Harding 6, Sagnia, Robinson 14 and Olumuyiwa 2; Badio 4, Waczynski 12, Jou 6, Steinbergs 2, Ferrari, Vaulet 11 and Geben 4
Partials: 20-18, 25-18, 19-18, 20-18
BAXI Manresa closed a great campaign in the Basketball Champions League showing again a very competitive version on the difficult court of the current competition champion, a Lenovo Tenerife that suffered until the end to get the ticket for a new final four (84 -72).
The locals made a better start and took advantage of the Bages team's turnovers to nail an initial run of 7-0, which forced Pedro Martínez to stop the game. From then on, the visitors felt more comfortable on the court and did not allow the Canaries to open up more of a gap on the scoreboard. At the end of the first quarter, two counterattacks culminated by Vaulet placed his team only two points behind (20-18).
In the second the figure of Fitipaldo appeared, who scored eight points in a row and made the islanders escape again (28-20). However, the Manresa team remained in the game against an opponent with very good shooting percentages. At the break, nine rental points for the locals (45-36).
Returning from the locker room, the visitors had a difficult time, and Tenerife knew how to take advantage of it to take a sixteen-point difference, the biggest in the game (62-46). Later they reacted and closed the third quarter just ten points behind (64-54), a result that left them alive for the final stretch.
In the last ten minutes, the Bages team had trouble finding the basket, which allowed the locals to widen the margin (69-54). Despite this adverse situation, they showed their competitiveness and came to only seven points, making the Canaries sweat until the end.
On Sunday from 12:30 pm BAXI Manresa will try to get another victory in the Nou Congost, this time with UCAM Murcia as a rival.