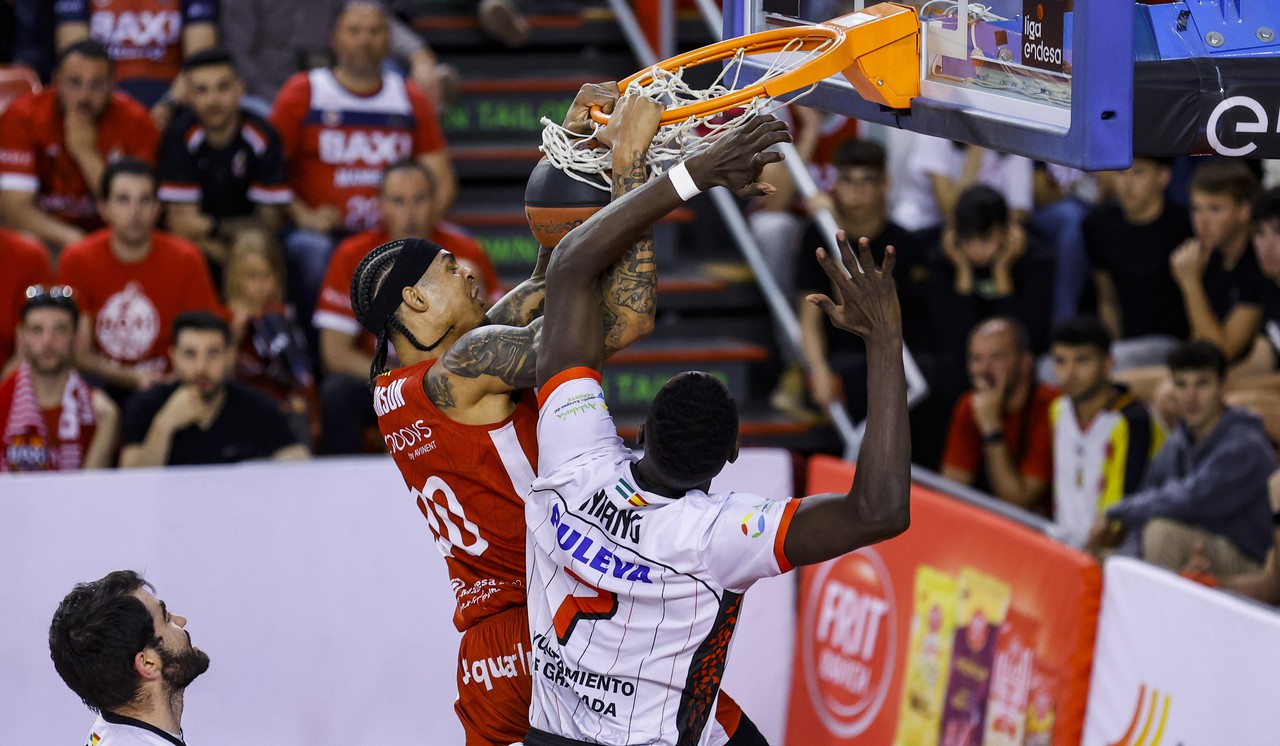 BAXI Manresa wins a vibrant duel with Granada
The Bages team, again with a very choral game, dominated from the first quarter and knew how to withstand the final reaction of the Andalusians to take a victory that allows them to take an important step in the fight for permanence in the Endesa League.
Sunday 16 of April of 2023 at 19:41
86 BAXI Manresa I Dani Pérez 4, Harding 18, Jou 5, Robinson 21 and Olumuyiwa 7; Badio 15, Waczynski 3, Dani Garcia 3, Steinbergs 2, Ferrari 2, Vaulet 2 and Geben 4
77 Coviran Granada I Renfroe 7, Christian Díaz, Tomàs 4, Maye 14 and Ndoye 9; Bropleh 17, Niang 4, Costa 14, Iriarte, Caicedo 8 and Jacobo Díaz
Partials: 27-23, 24-13, 15-15, 20-26
BAXI Manresa continues to be strong in the Nou Congost, where it achieved its eighth victory of the season in the Endesa League after overcoming a Coviran Granada that put the Bages team in trouble until the end (86-77). The team led by Pedro Martínez, who dominated the scoreboard from the first quarter, again exhibited a very choral game, with all twelve players scoring.
In the first moments the duel was very even, and the two teams exchanged the leads on the scoreboard. Robinson's dunks countered the three-pointer of former Manresa player Maye. In the final stretch of the first quarter the Reds were better and got four points (27-23).
In the second half, Harding and Robinson led the locals, who went on a 13-0 partial and achieved a maximum difference of eighteen points (51-33) against an opponent who added mainly from the free throw and scored only three baskets in game. At the break, the Bages team were clearly in command (51-36).
Returning from the changing rooms, the game was leveled again, and this allowed the Manresa team to maintain a significant distance without problems. The Andalusia team scored six consecutive points before Waczynski, the last Reds player to score, nailed his first three-pointer. At the end of the third quarter, the locals had the match very well faced (66-51).
In the last ten minutes, Granada didn't give up, they were only three points after a three-pointer by Bropleh and put fear in the body of the fans present at the Nou Congost (71-68). Then the Bages team reacted with four points in a row from Robinson and showed themselves to be solid to secure another victory in the Endesa League.
On Wednesday from 20:30, BAXI Manresa will play the third and final match of the quarter-finals of the Basketball Champions League on the complicated court of Lenovo Tenerife.