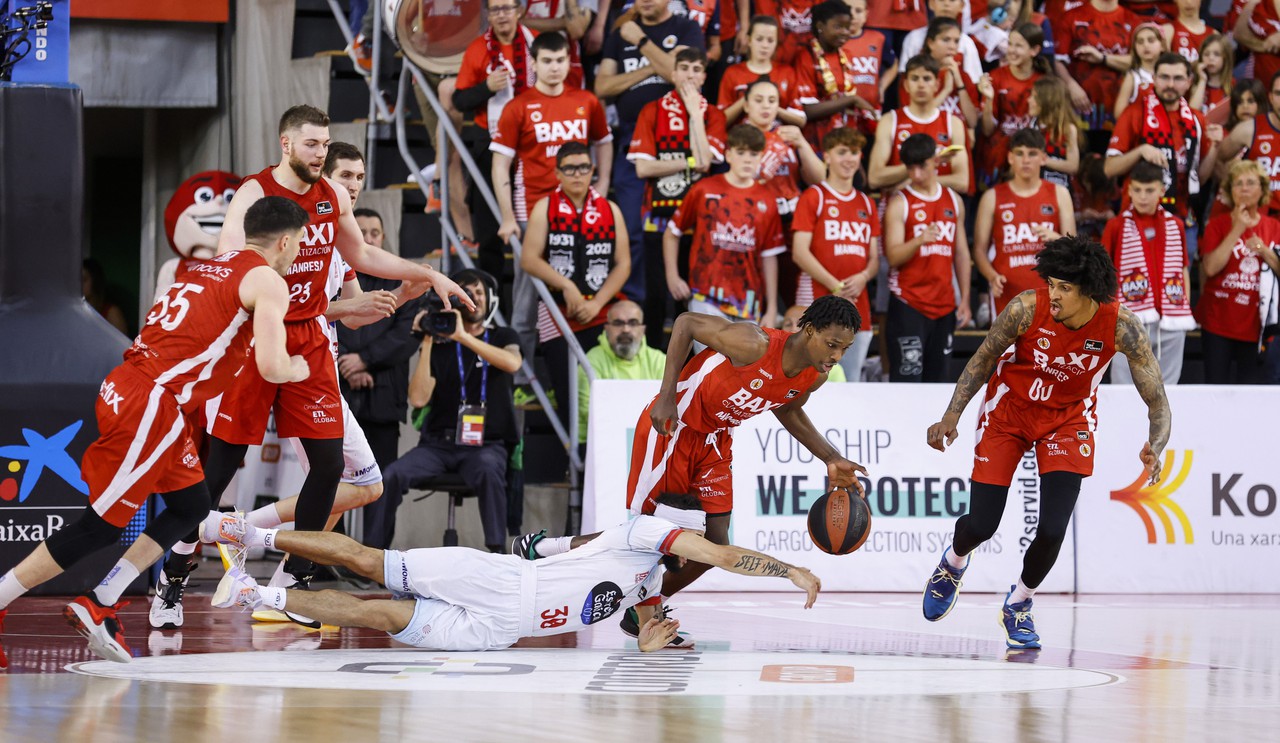 BAXI Manresa is strong in the Nou Congost and dominates Obradoiro
Match with choral contribution led from start to finish by Pedro Martínez's men. Almost every player had their moment to contribute in the victory.
Sunday 2 of April of 2023 at 19:41
80 BAXI Manresa I Dani Pérez 2, Harding 13, Jou 1, Robinson 13 and Geben 7; Badio 9, Waczynski 12, Dani García 1, Steinbergs 7, Ferrari 3, Olumuyiwa 6 and Vaulet 6
65 Monbus Obradoiro I Westermann 4, Robertson 8, Muñoz 4, Vicedo 3 and Guerrero 4; Thomas Scrubb 16, Zurbriggen 1, Blazevic 4, Magnay 8, Phil Scrubb 13, Walker and Suárez
Partials: 21-9, 23-11, 21-14, 15-31
BAXI Manresa continues to be solid at the Nou Congost, where they obtained their seventh win of the season in the Endesa League against Monbus Obradoiro (80-65). Those from Bages dominated the match very clearly from the start and showed a very choral game, with all twelve players scoring.
The match began with little success on the part of both teams, with the defenses prevailing over the attacks. Subsequently, the reds, led by a Waczynski who was facing one of his former teams, showed themselves to be superior to their rival and opened a gap in the electronics until reaching a difference of twelve points at the end of the first quarter (21-9).
In the second the tone did not change too much, and some very choral home team continued to exhibit a great defensive level that prevented the Galicians from scoring easily. This caused Pedro Martínez's men to continue escaping on the scoreboard and reached the break with a significant lead (44-20).
Returning from the locker room, nothing changed, and the Manresa team easily kept their rival at bay and made the fans present at the Nou Congost enjoy their game. At the end of the third quarter they had already fully channeled the confrontation (65-34).
In the last ten minutes the team from Santiago de Compostela finally found the outside success and began to come back, but it was already too late and they did not jeopardize the victory of the Bages team at any time. In addition, Ferrari, the last player remaining to score for the home team, converted three free throws and put the icing on the cake for the seventh victory of the course in the Endesa League.
On Wednesday, starting at 8:30 p.m., BAXI Manresa will play the first game of the Basketball Champions League quarterfinal tie, and it will do so on the complicated Lenovo Tenerife court.