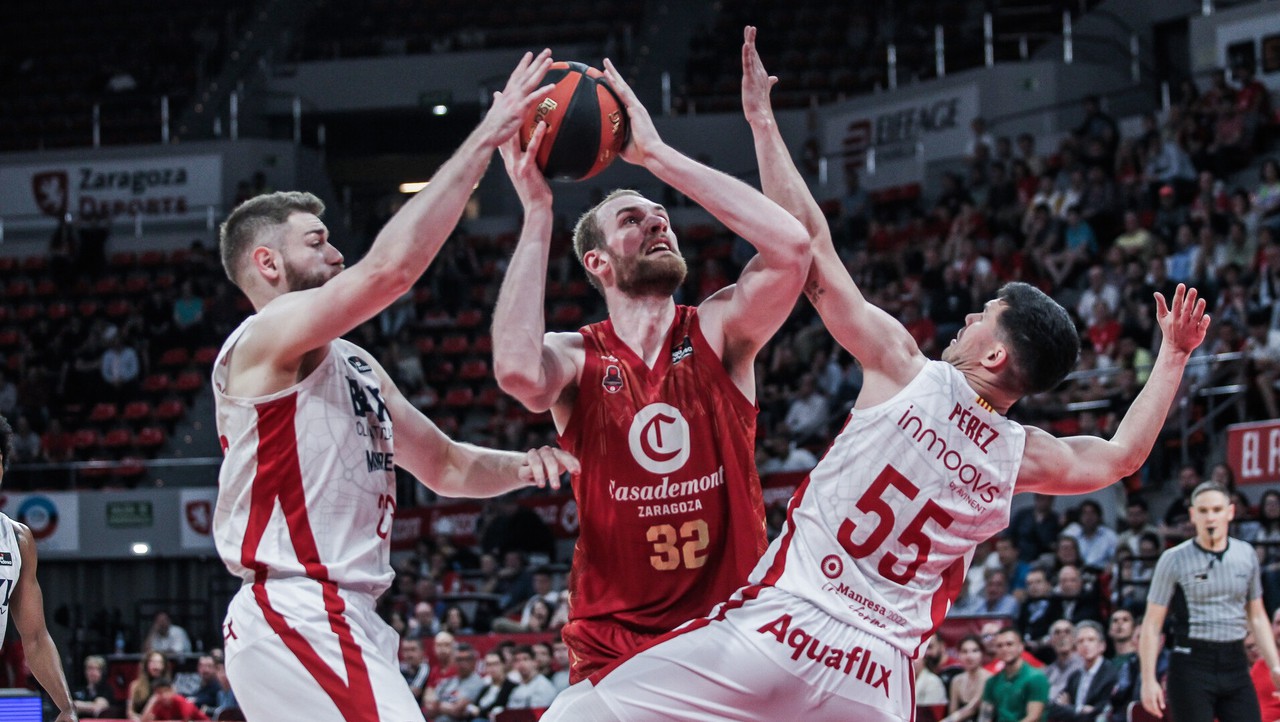 The BAXI Manresa runs into a very intoned Casademont Zaragoza
The Bages team, who started the game better, did not have the day and were defeated in a game that was decided in the third quarter.
Thursday 27 of April of 2023 at 00:14
99 Casademont Zaragoza I Jovic 11, Wright 14, Sant-Roos 12, Simanic 8 and Hlinason 9; Yusta 19, Ponitka 8, Aso, Nguirane, Mekowulu 9 and Cruz 9
88 BAXI Manresa I Dani Pérez 9, Badio 11, Jou 4, Robinson 5 and Geben 4; Waczynski 4, Harding 15, Dani Garcia 5, Steinbergs 6, Ferrari 9, Olumuyiwa 2 and Vaulet 14
Partials: 22-24, 27-19, 35-15, 15-30
BAXI Manresa could not maintain its good run of results and fell on the difficult court of a Casademont Zaragoza that was very in tune (99-88). Those from Bages were better in the initial stretch, but then they were not successful against an opponent who broke the game in the third quarter.
The players led by Pedro Martínez made a great start and, led by Dani Pérez who hit three consecutive three-pointers, they quickly achieved a difference of ten points (6-16). Immediately afterwards, the Aragonese reacted and, in a few moments of frenetic game rhythm, tied at 22. A basket by Harding on the limit meant that the visitors closed the quarter with an advantage (22-24).
In the second period, the Manresa team had many difficulties finding the right shot, which the local team knew how to take advantage of to take control of the score and obtain a difference of nine points (46-37), which the Bages team was able to reduce six at halftime thanks to a last basket scored by Vaulet (49-43).
In the second half, a very effective Casademont Zaragoza shot was superior to some visitors who continued to have problems facing the basket. This situation caused Porfirio Fisac's men to close the third quarter with a convincing result of 84-58.
In the last ten minutes, both teams exchanged baskets, which favored some Aragonese who did not let the Manresa team re-enter the game. In the final moments, those from Bages nailed a 2-17 run to leave the final deficit at only eleven points (99-88).
On Saturday, starting at 8:45 p.m., BAXI Manresa will play again as a visitor, this time on the complicated court of Surne Bilbao Basket, a team from the middle zone of the table.