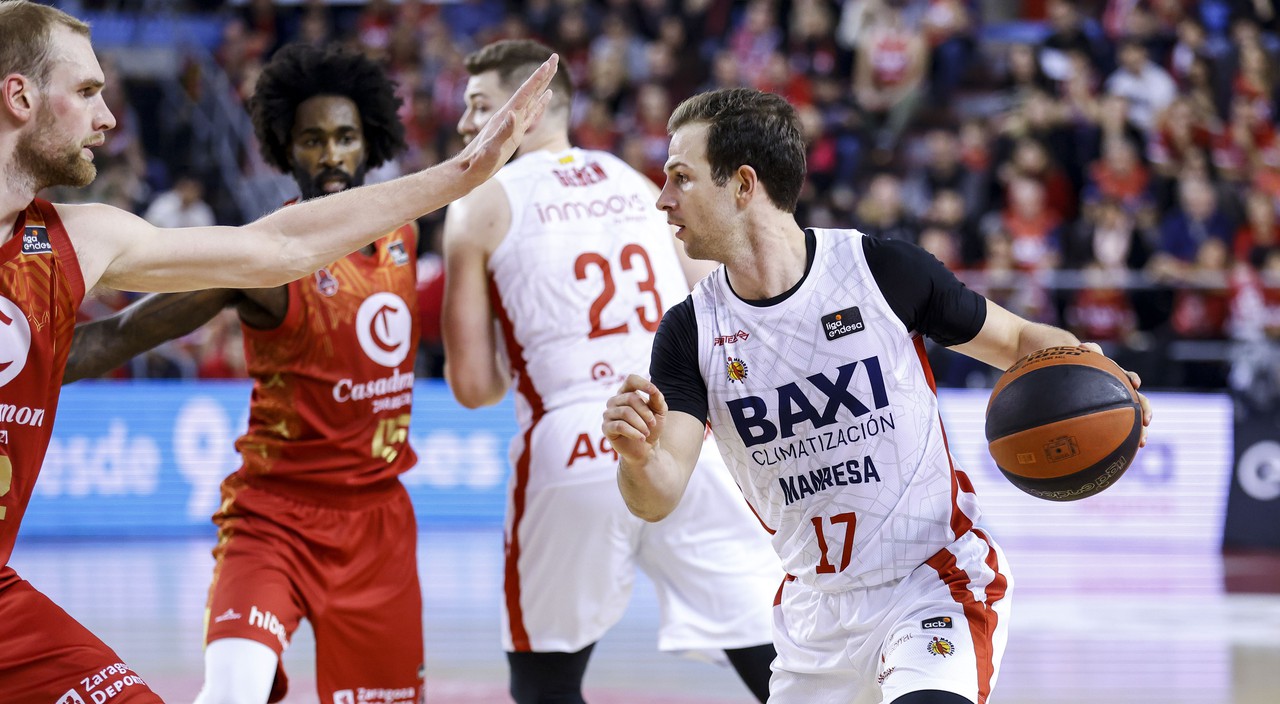 BAXI Manresa recovers the scheduled day in Zaragoza
The Aragon team have one more victory than the Bages team. BAXI Manresa could avoid relegation and match Porfirio Fisac's team.
Tuesday 25 of April of 2023 at 17:37
Travel to Zaragoza to recover the interweekly day of 7 days ago. BAXI Manresa has the opportunity to match its rival in the standings and take another step towards salvation. Pedro Martínez will have all his players, while the home team have doubts about Aday Mara, Justinian Jessup and Lucas Langarita.
This Wednesday, at 21:30, a new opportunity to add. BAXI Manresa wants to follow the line of play shown in the last few days that has led them to climb up the ladder in the Endesa League. In the absence of a couple of training sessions, the full squad will be available for Pedro Martínez, who will have to rule out a player for the match.
This Wednesday's opponent, Casademont Zaragoza, has some doubts about the participation of players Justinian Jessup, Aday Mara and Lucas Langarita in tomorrow's match at Príncipe Felipe. Porfirio Fisac will be able to count on key men such as the intimidating Tryggvi Hlinason, the Cuban Howard San Roos or Christian Mekowulu, who together with the experience of Santi Yusta, Jovic or Dino Radoncic form a compact team that has been able to beat teams like Barça in Aragon lands.
Former Zaragoza player Frankie Ferrari and Martinas Geben spoke in the preview of the match. The Lithuanian pivot emphasized that "they are a competitive team, which has been able to beat Barça, but nevertheless they are 'winnable', we are in a good moment and we have to try; we feel good, we finally know each other better and we play better together, the chemistry is good, we work hard in training; We are no longer so pressured by relegation but we must try to stay as close as possible». The Californian base expressed that "we are in a good moment, without any players out and ready for tomorrow's match; they have many players who can have an impact on the game and a good performance and I think this is Zaragoza's great strength; each match is a different story; we have played with the pressure of being in the last positions since the FIBA stop, we are used to it and now every match is an opportunity».