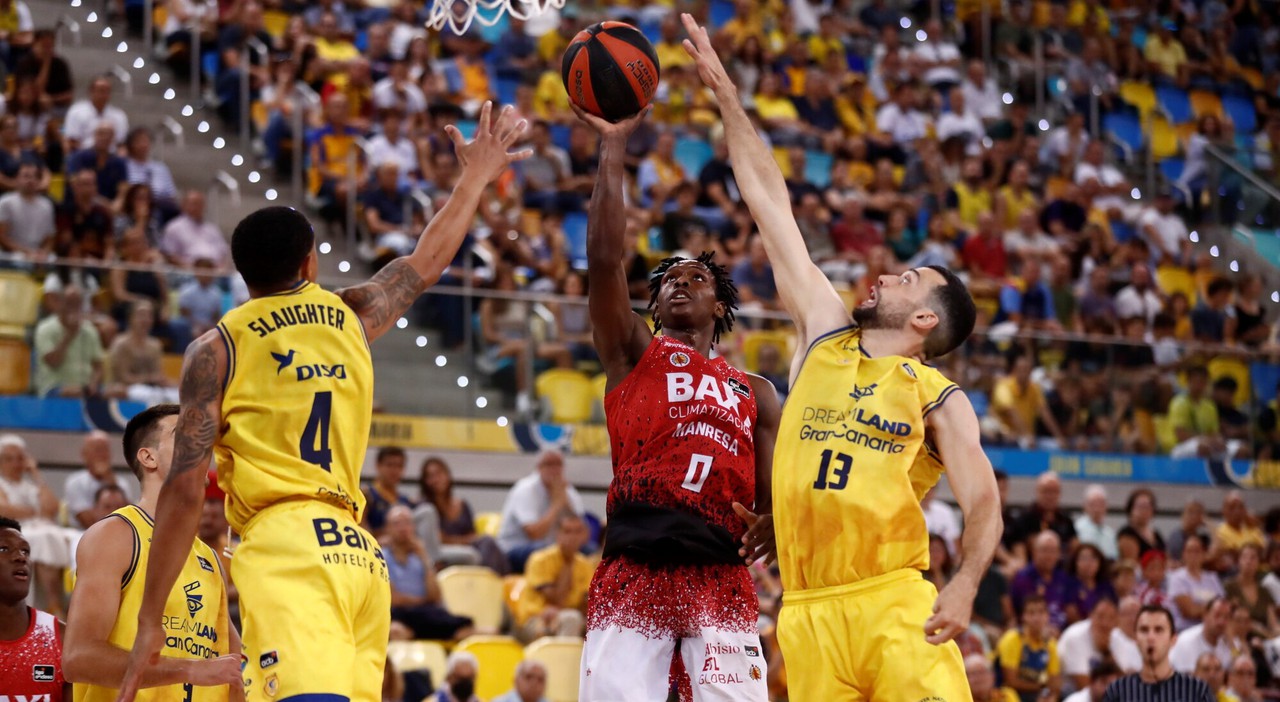 BAXI Manresa falls in the Gran Canaria court after a bad third period
The Bages team dominated in the first half, but the islanders rallied and based their victory on a great third quarter. Geben led the team from Manresa with 17 points and 21 of efficiency.
Sunday 24 of September of 2023 at 15:38
97 Dreamland Gran Canaria I Albicy 2, Landesberg 23, Brussino 16, Shurna 7 and Happ 13; Slaughter 11, Bassas 10, Prkacin, Salvó 2, Pelos 8 and Lammers 5
92 BAXI Manresa I Dani Pérez 10, Williams 7, Jou, Robinson 13 and Geben 17; Badio 12, Dani García 3, Taylor 10, Steinbergs 11, Sagnia, Valtonen and Vaulet 9
Partials: 22-24, 17-20, 38-22, 20-26
BAXI Manresa could not start the Endesa League with victory, falling on the complicated court of Dreamland Gran Canaria on the opening day of the competition (97-92). After having a great first half, Bages' team could not stop the rival in the third quarter. However, they continued to fight until the end.
The players led by Pedro Martínez took to the court more in tune than their rival and immediately took control of the scoreboard, although they were unable to open significant differences. A free throw scored by Robinson allowed the visitors to close the first quarter with a two-point lead (22-24).
The second began with six points in a row from Williams, which caused Lakovic to stop the match. However, the reds did not stop and reached a maximum difference of twelve points (27-39). The islanders reacted and were within two before Dani García closed the first half with a three-pointer (39-44).
Returning from the locker room, the Canarians were willing to turn the score around from the beginning, and in the middle of the third quarter they already tied at 56. The Manresans could not find the right outside, and the locals took advantage of it to escape and obtain a margin of eleven points thanks to a final three-pointer by Bassas (77-66).
In the last ten minutes, Bages' team did not stop fighting and were only five points away, but it was too late and they could not take the victory on the Dreamland Gran Canaria court.
Next Friday starting at 9:00 p.m. BAXI Manresa will debut at the Nou Congost in a very demanding match against the European champion, Real Madrid.