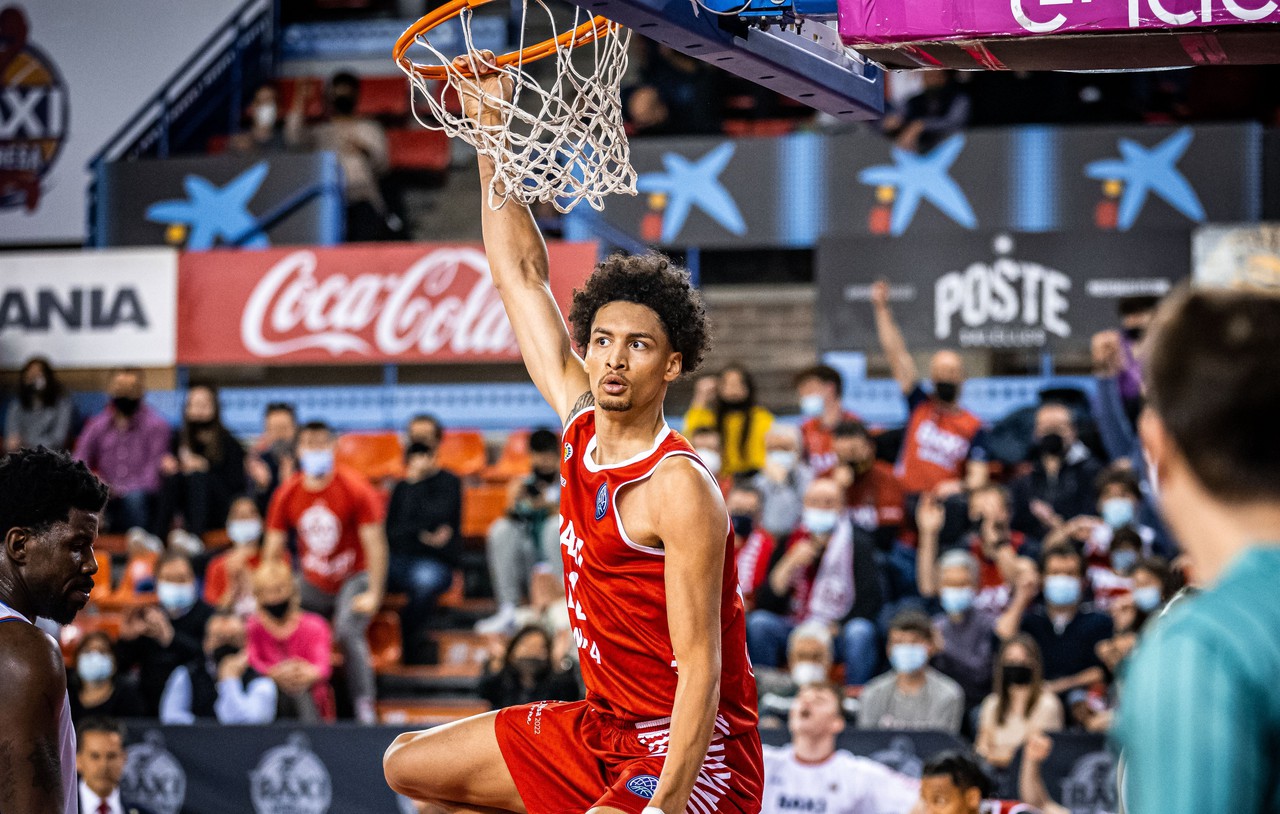 Superior BAXI Manresa defeats Treviso for the second time in four days
The Bages team broke the game open in the second quarter and did not suffer to win their third victory in the second round of the BCL. Up to 8 local players finished with double-digit points.
Thursday 10 of March of 2022 at 23:41
108 BAXI Manresa I Dani Pérez 6, Rafa Martínez 13, Thomasson 16, Maye 13 and Sima 6; Francisco 14, Dani Garcia 8, Moneke 12, Steinbergs 7, Bako 5 and Vaulet 8.
88 Nutribullet Treviso I Russell 4, Imbrò 6, Sokolowski 22, Chillo 6 and Sims 21; Pellizzari, Vettori, Faggian 3, Bortolani 20, Jones and Akele 6.
Baxi Manresa once again proved far superior to Nutribullet Treviso in their second meeting in four days. The fans at Nou Congost** were once again thrilled by a team that broke the game in a great second quarter and once again surpassed the 100-point barrier, with all eleven players having already scored in the third quarter.
The game started with equality and a lot of success from both teams. After a stretch with errors on both sides in which Bako reappeared, Moneke carried the team on his back and led them to close the first quarter with a minimal lead (28-27).
In the second, the Reds showed their best level of play and nailed a clear 31-10 partial, with five three-pointers included, to open a difference of 22 points at the intermission of the confrontation (59-37).
Coming back from the locker room, the home side were able to maintain the lead without too much difficulty, and Pedro Martínez was able to rotate all of his eleven available players, who had all scored in the third quarter. The duel reached the last ten minutes with the Manresa side well in control (84-60).
In the last ten minutes, the offensive festival continued, although the visitors were more accurate. With the game decided, Pedro Martínez rested the players with more minutes, and men like Steinbergs (7 points) or Rafa (13 points) continued to add to the scoring festival in Nou Congost
The next game of BAXI Manresa will be on Monday 14th March at Valencia Basket's field for the 23rd round of the domestic competition.