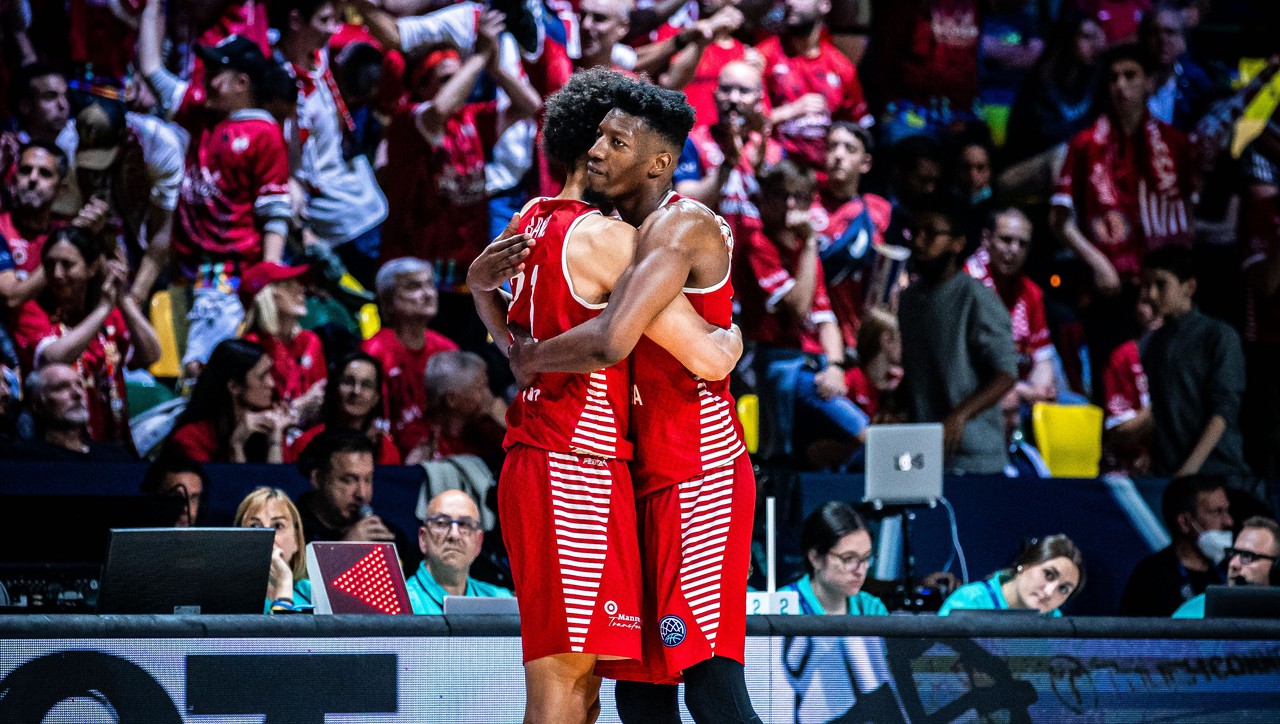 BAXI Manresa will fight to be European Champion against Tenerife
In a semi-final marked by lack of success, a Bages team pushed by the many fans who traveled to Bilbao were better than Ludwigsburg in the last stretch and reached the first European final in its history.
Friday 6 of May of 2022 at 23:56
55 MHP Riesen Ludwigsburg I Hulls 4, Cotton 6, Radebaugh 7, Simon 18 and Happ 4; Jacob Patrick 4, Johannes Patrick, Baehre, Woodard 6, Herzog, Polas Bartolo 6 and Wohlfarth-Bottermann
63 BAXI Manresa I Dani Pérez 2, Thomasson 10, Vaulet 2, Moneke 13 and Bako 10; Francisco 8, Steinbergs, Valtonen, Maye 3 and Sima 15
Partials: 17-20, 18-15, 14-20, 6-8
BAXI Manresa continues to add chapters to its great season, and the last was the qualification for the final of the Basketball Champions League (the first European final in its history) after beating the German MHP Riesen Ludwigsburg in a very locked semifinal and with little success on both sides. On Sunday at 20:00, the Bages team, accompanied by the many fans who traveled to Bilbao, will fight for the title against Lenovo Tenerife, which got rid of the Israeli Hapoel Holon (71-78).
In the first minutes the defenses clearly prevailed over the attacks, and neither team could escape on the scoreboard. The Reds, led in scoring by their inner men, scored three points at the end of the opening quarter (17-20).
In the second, the Germans turned the electronics upside down immediately and took control, but could not open a hole. Manresa, who recovered the point guards Dani Pérez and Sylvain Francisco, stayed close and managed to tie at halftime thanks to a Sima dunk (35-35).
Returning from the locker room the tone did not change too much, and both teams were still erratic on the shooting. The Bages team went ahead and reached a maximum difference of eight points, which was cut to six at the end of the third quarter (49-55). Therefore, the ticket for the final had to be decided in the last ten minutes.
In these both teams arrived with an obvious wear and tear and again made many mistakes. This favored some players from Pedro Martínez who commanded the scoreboard and sentenced the match with a Thomasson three-pointer and a good defensive work.