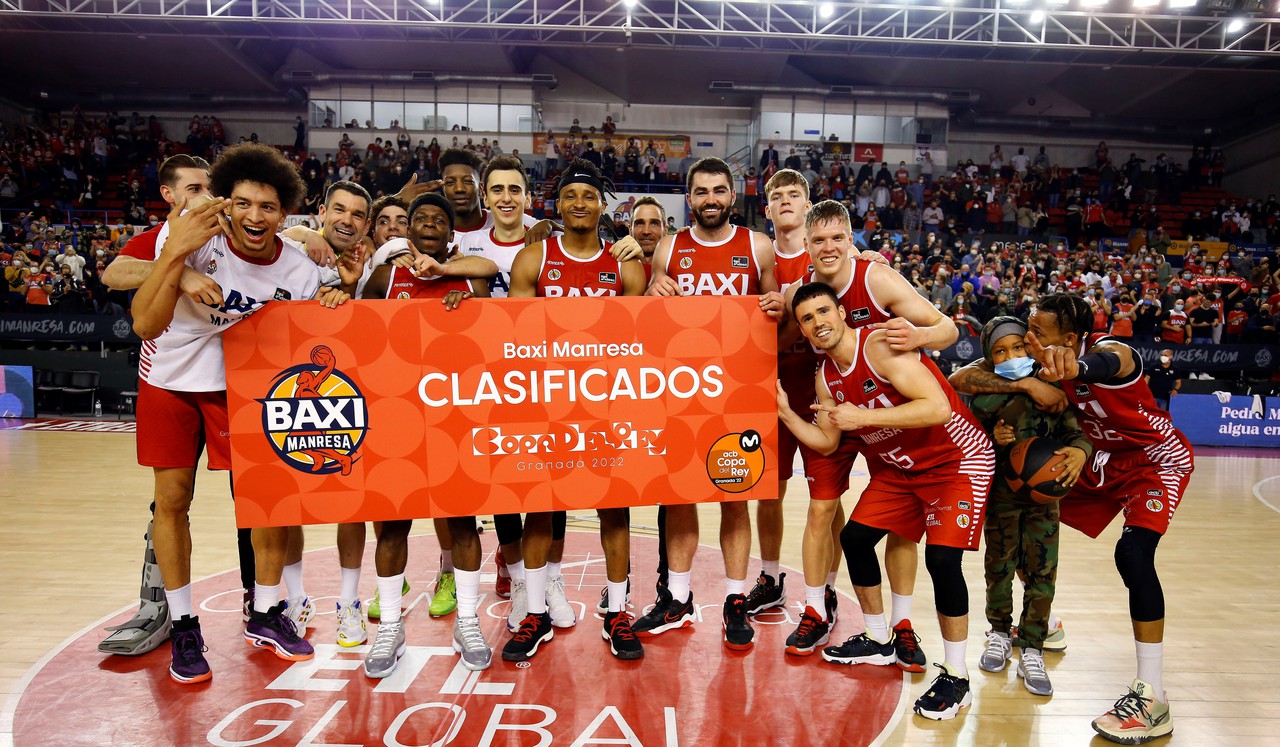 BAXI Manresa returns to the Cup 18 years later
The Manresa team qualified for the Copa del Rey by defeating Obradoiro 104-84, with an excellent Moneke (32 points, 12 rebounds and 39 of efficiency).
Thursday 20 of January of 2022 at 00:19
104 BAXI Manresa I Dani Pérez 9, Thomasson 19, Valtonen 10, Moneke 32 and Sima 2; Francisco 8, Dani Garcia 3, Steinbergs, Rafa Martínez 4, Bako 7, Vaulet 4, Maye 6.
84 Monbus Obradoiro I Hobbs 3, Robertson 15, Scrubb 14, Ellenson 12 and Birutis 9; Vicedo, Okouo 8, Zurbriggen 5, Oliver, Beliauskas 6, Muñoz 7 and Suárez 5.
Partials: 29-28, 25-28, 21-17, 29-11
BAXI Manresa won their place in the Copa del Rey of Granada after winning Obradoiro (104-84). The home team took the lead for much of the match, although the Galicians did not throw in the towel and equalized again. A great Moneke, with a triple double included (32 points, 12 rebounds and 10 fouls drawn) and a +18 in the last half were the keys to the victory of the Bages team.
The duel began with a lot of equality between the two teams, who were alternating leaderships on the scoreboard. The reds, as usual, printed a high pace of play, but a Galicians successful at the shooting were able to hold on to close the first quarter with only one point behind (29-28).
In the second the tone was similar, with the attacks clearly imposing itself on the defenses. The home team got a maximum income of nine points in the middle of the period, but the visitors, who maintained the effectiveness in the shot reacted to reach the break with two points difference (54-56).
In the second half, Pedro Martínez's men made a better start and nailed an initial partial 14-3, but, as happened in the previous quarter, Obradoiro responded with a 0-9 and went turn the electronics upside down. However, it was the Manresa team who closed the third period with two points of income (75-73).
In the last ten minutes, the Manresa team pressed the accelerator, as in the match against Gran Canaria, and gradually opened the gap to the despair of the visitors. A great 29-11 run served to ensure victory and qualification for the Copa del Rey of Granada.
This does not stop, and next Saturday at 18:00 BAXI Manresa will finish a great first lap on the MoraBanc Andorra's court.