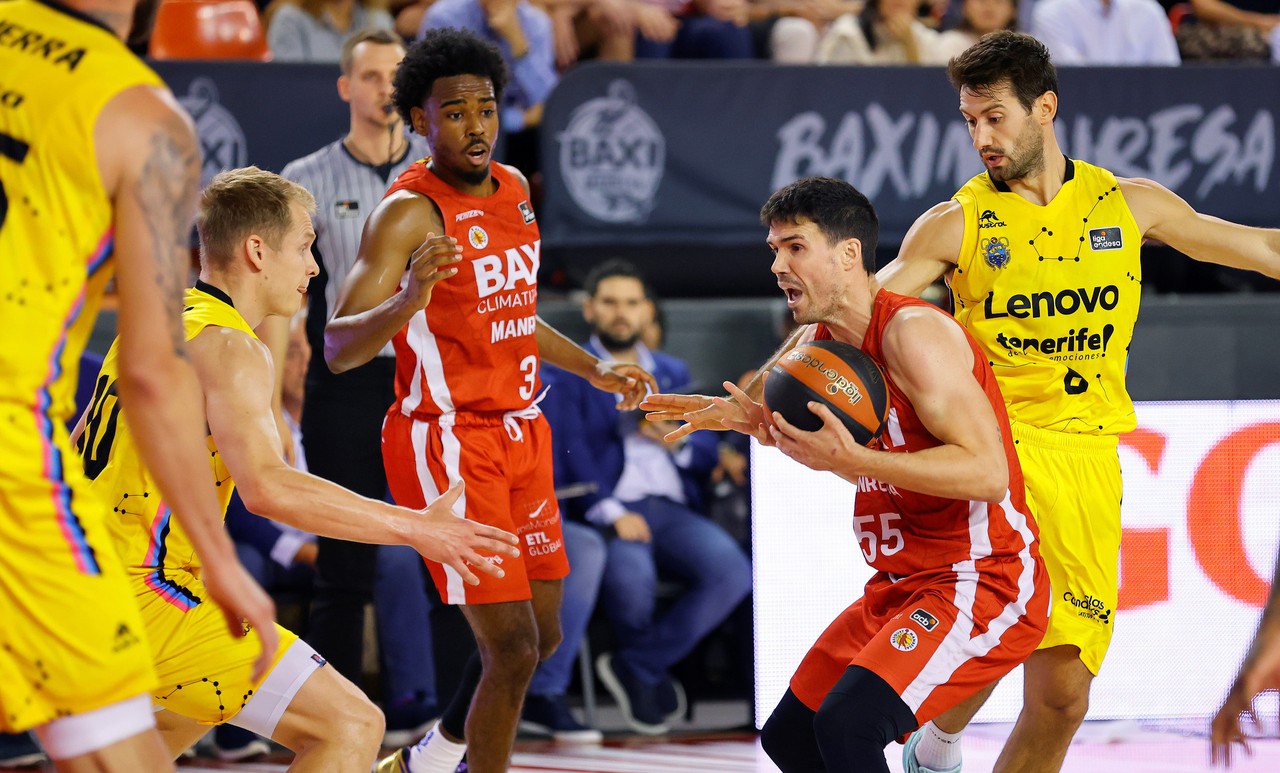 BAXI Manresa is overcome by Tenerife on the first round
The Bages team, weakened by the injuries, fits a 70-89 defeat in the start of Endesa League, in the Nou Congost.
Thursday 29 of September of 2022 at 23:37
70 BAXI Manresa I Harding 17, Badio 7, Valtonen 1, Hamilton 2 and Lee 12; Bortolani 7, Dani Garcia, Steinbergs 10, Sagnia 2, Vaulet 10 and Dani Pérez 2
89 Lenovo Tenerife I Huertas 8, Salin 12, Cook 12, Doornekamp 9 and Guerra 5; Fernández 9, Fitipaldo 15, Diagné 6, Sastre, Abromaitis 11 and Cruz 2
Partials: 15-22, 14-21, 21-22, 20-24
BAXI Manresa could not start the Endesa League 2022-2023 with a win, as it was overcome by a more inspired Lenovo Tenerife, at the Nou Congost (70-89). The Bages team, who were without Guillem Jou, Tyson Pérez and Babatunde Olumuyiwa, trailed from the start and could not catch their powerful rival.
The visitors started the duel with outside success and nailed an initial score of 0-9. From there the game was equalized and the Reds were able to reduce the lead to a minimum at the end of the first quarter (15-22).
In the second, the home team intensified their defense and scored five consecutive points to be only two points behind (20-22). Then, the islanders chained two three-pointers and left with more than ten points. Despite reaching the break with a basket at the buzzer of a Harding that crossed the entire court, the Canaries' dominance was evident (29-43).
In the second half, Txus Vidorreta's men came out strong again, with two consecutive baskets. For the Manresa team, the connection between Dani Pérez and Marcus Lee prevented the rival, who was still inspired by the outside launch, from escaping. At the end of the third quarter, Lenovo Tenerife had the game well in hand (50-65).
In the last ten minutes, the visitors decided the match quickly and made useless any attempt of the Bages team to re-enter the game. The last moments didn't have much history, and both teams took the opportunity to continue shooting.
This does not stop, since on Saturday from 20:45 BAXI Manresa visits the court of Coviran Granada, a recently promoted team that has won at the court of Carplus Fuenlabrada in its return to the Endesa League (81- 83).