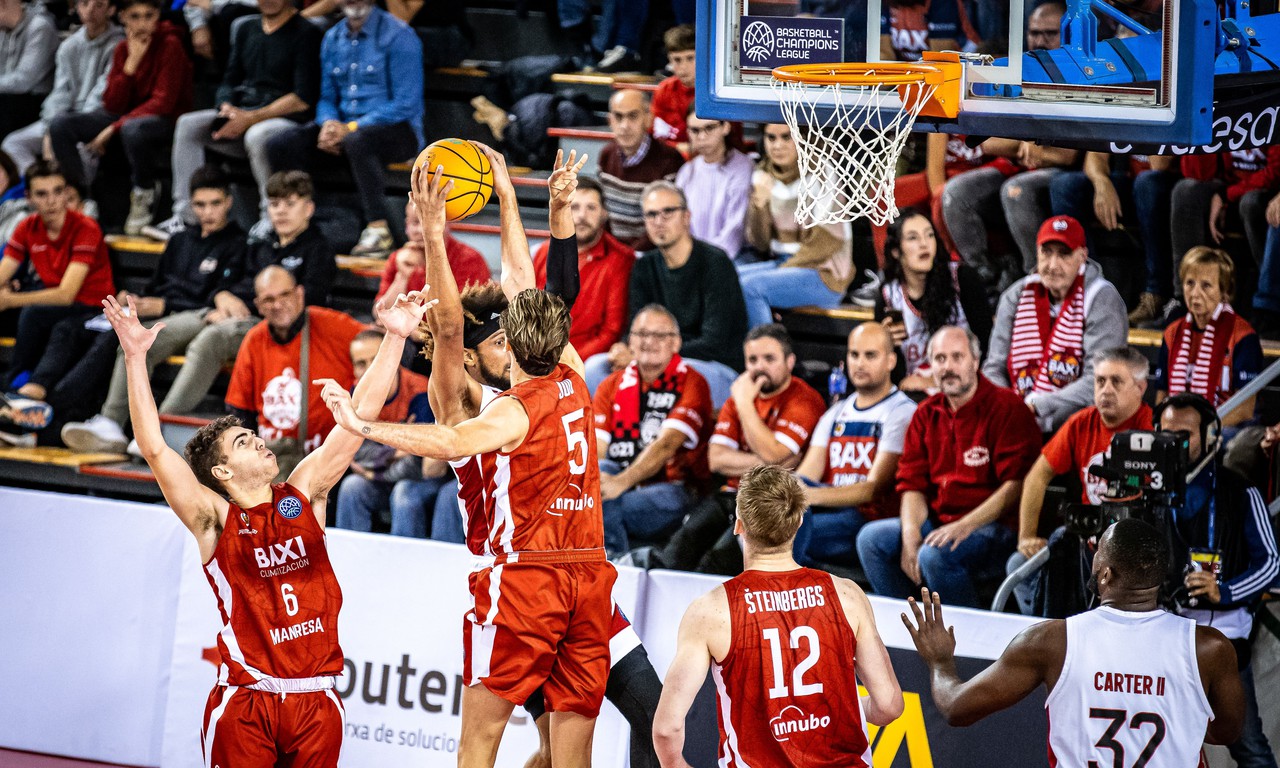 BAXI Manresa meets a very successful Benfica
The Bages team were most of the time in tow of the Portuguese who were solid and withstood all their attempts to come back.
Tuesday 22 of November of 2022 at 23:37
82 BAXI Manresa I Dani Garcia 11, Harding 18, Sagnia 2, Vaulet 6 and Tyson Pérez 9; Badio, Waczynski 2, Jou 10, Steinbergs 10, Ferrari 3 and Caroline 11
92 S.L. Benfica I Douglas 17, Broussard 23, Ben Romdhane 8, Almeida 13 and Carter 9; Barbosa 7, Gomes 7, Zirbes 2 and Ellisor 6
Partials: 17-27, 16-21, 27-21, 22-23
After the meritorious victory against Baskonia in the Endesa League, BAXI Manresa could not maintain the good streak and ran into a very successful Benfica in the fourth day of the Basketball Champions League (82-92). The Bages team spent most of the time trailing a rival who was solid and withstood the various attempts of the home team to come back.
The visitors made a better start and opened a hole in the scoreboard thanks to three consecutive three-pointers. They reached a maximum difference of twelve points, which was reduced to ten at the end of a first quarter in which Jordan Caroline made his debut with the Reds (17-27).
In the second, the players led by Pedro Martínez had a lot of difficulty scoring, quite the opposite of the Portuguese, who were very intoned from the three-point line. This situation caused Benfica to leave at half-time with fifteen points (33-48).
Returning from the locker room, the home team came out more plugged in and, led by Tyson Perez, were within just nine points before the game was stopped five minutes to change the net in a basket. However, Benfica continued to shoot well and maintained a nine-point lead at the end of the third quarter (60-69).
In the last ten minutes the Manresa team tried to overturn the duel in every way possible, but there was no way, as the visitors showed themselves very solid and achieved their third victory in three games away from home. At least, the Bages team were able to save the particular average, since in the first leg they prevailed by 19 points (78-97).
On Saturday from 18:00, BAXI Manresa will look to continue climbing positions in the Endesa League in the visit to the complicated court of Gran Canaria.