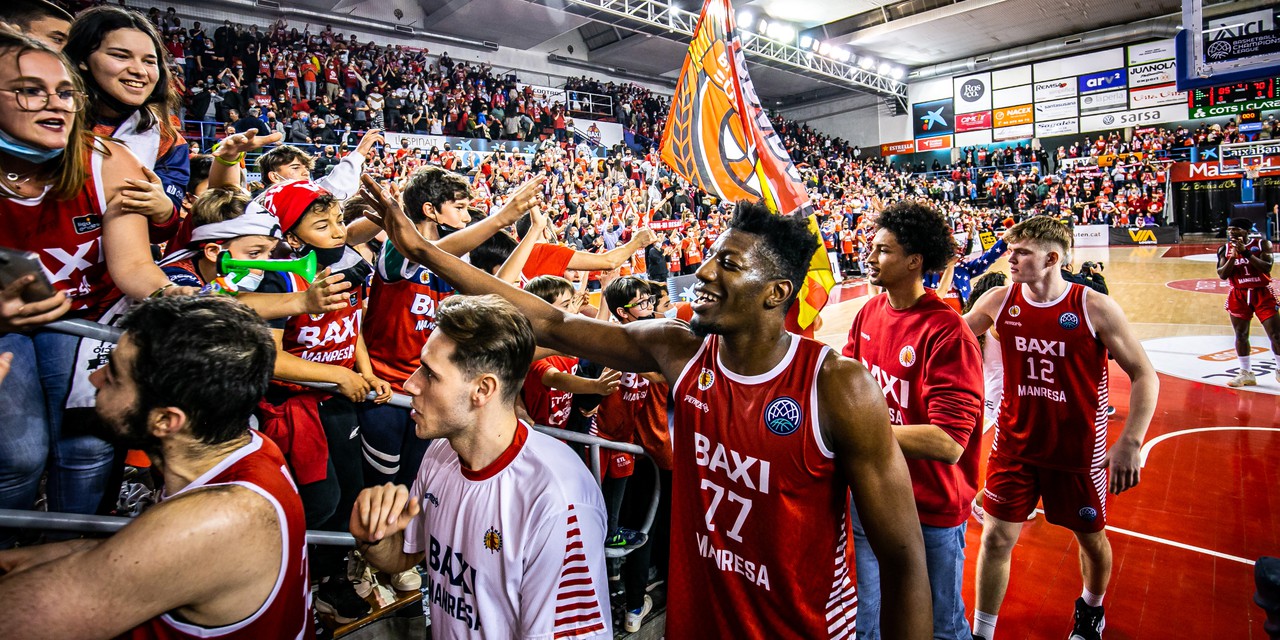 BAXI Manresa enters into the BCL Top8 and earns the 'Congost factor'
The Bages team qualified for the quarter-finals of the BCL on a magical night and will look to be in the 'Final4' in Bilbao with the court factor in their favour.
Tuesday 22 of March of 2022 at 23:06
85 BAXI Manresa I Dani Pérez, Thomasson 10, Vaulet 8, Maye 12 i Sima 14; Francisco 10, Dani Garcia, Moneke 14, Steinbergs 4, Rafa Martínez 2 i Valtonen 11.
70 Tofas Bursa I Ennis 13, Ugurlu 2, Cook 23, Zubcic 13 i Simmons 6; Tanisan, Shepherd, Arslan, Cruz 10, Zukauskas 3 i Yasar.
Parcials: 19-9, 20-18, 20-24, 26-19
European night to remember at Nou Congost. BAXI Manresa did their homework and overcame (85-70) a very tought Tofas. The locals made up for their lack of three-pointers (4/29) with a great rebounding performance (50 rebounds to 31 for their opponents). The team, boosted by the euphoria of a sold-out crowd, dominated the entire game and were able to resist the visitors' charges.
After an even start, Pedro Martínez's men stepped up their defence and completely collapsed the Turkish offense. In this way, they went on a 15-0 run that allowed them to close the first quarter with a ten-point lead (19-9).
In the second quarter, the game was level again, which favoured the reds who, despite a timid reaction from the visitors, widened the margin at half-time thanks to a basket by Francisco at the buzzer (39-27).
Coming back from the locker room, Thomasson scored 6 consecutive points to widen the gap for Manresa, who were then unsteady from three-point range. The visitors took advantage of this fact to get within 3 points. At the end of the third quarter, the Bages team side led by 8 (59-51).
In the last ten minutes, the defensive pressure caused many difficulties in the visitors' attacks, who relied on the three-pointer to look for the comeback. In attack, the work under the basket closing down the offensive rebound was key to score on second or even third plays and ensure the win and qualification as top of the group in the BCL.
With the passage to the next round in the bag, it's time to think about the league again. Next Saturday, BAXI Manresa will receive the visit of MoraBanc Andorra at 20:45 in the evening.