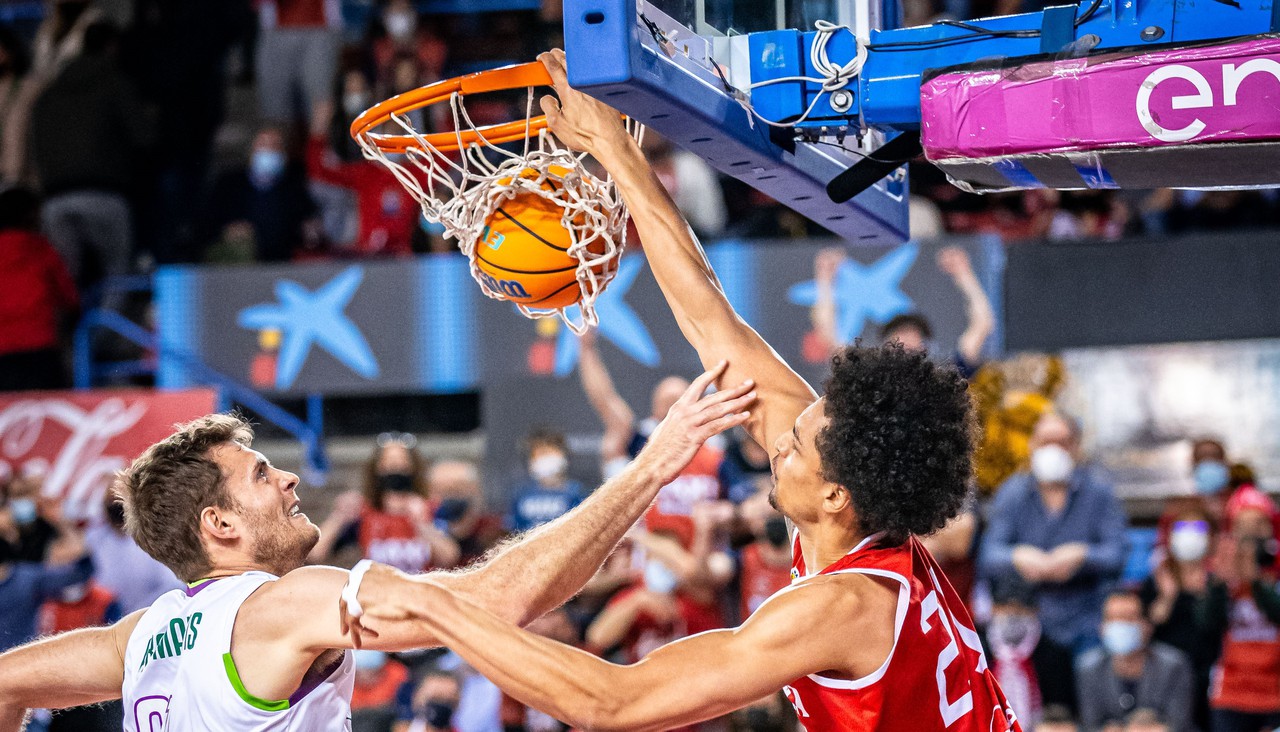 BAXI Manresa dominates Unicaja and takes first win in BCL quarter-finals
A great first quarter was enough for the Bages team to take the lead in the play-offs ahead of the Final Four in Bilbao.
Tuesday 5 of April of 2022 at 22:50
86 BAXI Manresa I Dani Pérez 9, Thomasson 16, Vaulet 9, Moneke 11 i Bako 9; Francisco 12, Naspler, Steinbergs 3, Rafa Martínez 3, Valtonen 3, Maye 7 and Sima 4.
63 Unicaja I Díaz 8, Brizuela 2, Barreiro 16, Abromaitis 9 i Guerrero; Oliver 6, Kravic 6, Alonso 4, Mooney 2, Nzosa, Suárez 2 and Bouteille 8.
Parciales: 29-4, 18-17, 20-22, 19-20
BAXI Manresa clearly defeated Unicaja (86-63) with a magnificent first half in which they scored 25 points, leaving their opponents with a 0/22 from the field goals. The Manresa team knew how to manage the lead to win without suffering.
There was only one team on the court at start of the game. The reds, with a great effectiveness in attack and defence, wiped out the Malaga team and obtained, already in the first quarter, a difference of 25 points with a three-pointer by Francisco (29-4).
In the second half, the game was more equalized, and this was on the benefit for the locals, who were always able to maintain a comfortable lead in the scoreboard. At half-time, the difference in the gap was 26 points (47-21).
Coming back from the locker room, the rhythm did not change, and Pedro Martínez's players, all of them scoring, kept on dominating with an iron fist and entertaining the fans present at Nou Congost. At the end of the third quarter, the game was completely settled (67-43).
In the last ten minutes, the visitors managed a 0-10 run that helped to disguise the defeat and warn Manresa players that they are capable and that they should not be overconfident for the rest of the series. Toni Naspler's debut in the last minute was the final touch to another great night at Congost.