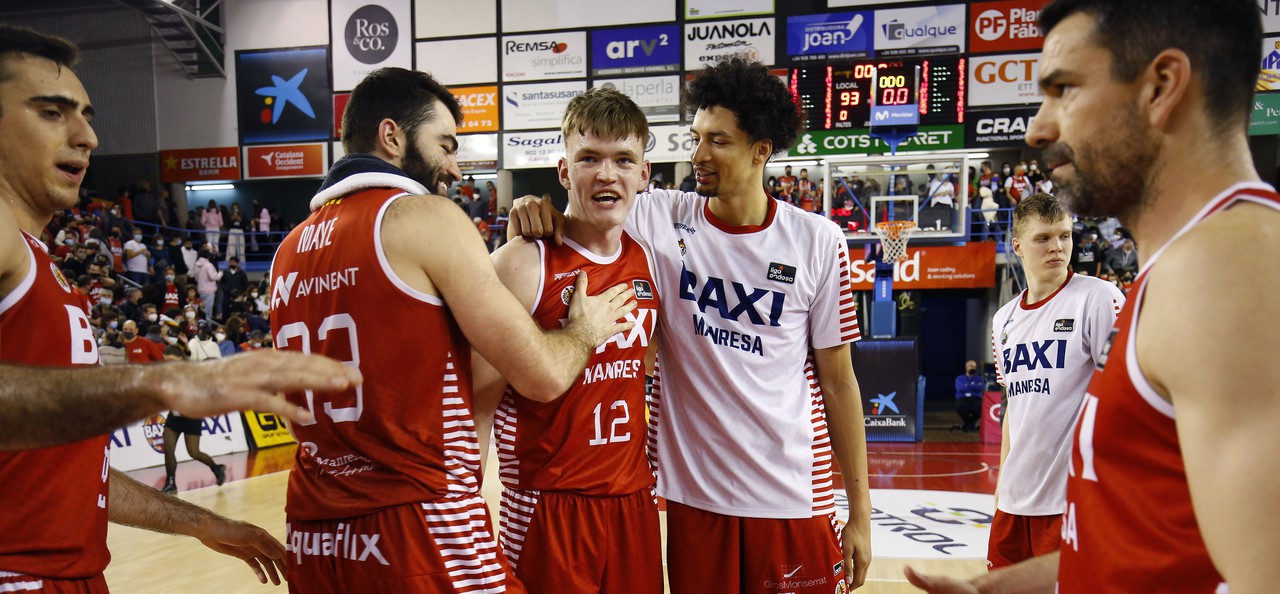 BAXI Manresa continues in good shape and dominates against Burgos
The Bages team played a very choral game, with eleven players scoring, dominating from the start against an opponent who is not at their best at the moment.
Sunday 30 of January of 2022 at 19:36
93 BAXI Manresa I Dani Pérez 6, Thomasson 15, Valtonen, Moneke 17 y Bako 12; Francisco 9, Dani Garcia 3, Steinbergs 4, Rafa Martínez 5, Vaulet 6, Maye 4 y Sima 12
68 Hereda San Pablo Burgos I Renfroe 5, Nikolic 5, Díez 8, Eddie 13 y Nnoko 10; Queeley, Kullamaee 10, Salash 2, Rabaseda 4 y Gamble 11 11
Parcials: 25-15, 24-17, 19-20, 25-16
BAXI Manresa continues to be in great form, and this was demonstrated by beating Hereda San Pablo Burgos (93-68). The Manresa players got their thirteenth victory of the season, in a game in which they took the initiative from the beginning and kept it until the last moment.
The players coached by Pedro Martínez made a better start and nailed an initial partial 6-0, and from there they were able to clearly dominate the first quarter, in which they reached a ten-point difference at the end of it (25-15).
In the second period the tone was more or less the same. The reds showed their good form and superiority over their opponents, taking control of the game and widening the gap to seventeen points at half-time (49-32) thanks to a final two plus one from Francisco.
Coming back from the locker room, Burgos seemed to react, but nothing could be further from the truth. The locals soon regained control of the game and made the Nou Congost have a great time with great offensive and defensive actions. At the end of the third quarter, the Bages team had the game well in hand (68-52).
In the last ten minutes the victory of BAXI Manresa was not in danger at any time, and Pedro Martínez took advantage of it and give minutes to the less usual players so that they could also contribute to the clear victory of the Manresa team.
The next game of the team will be on Wednesday at 18:00, when they will visit the court of Tofas Bursa in the debut in the group stage corresponding to the round of 16 of the Basketball Champions League.