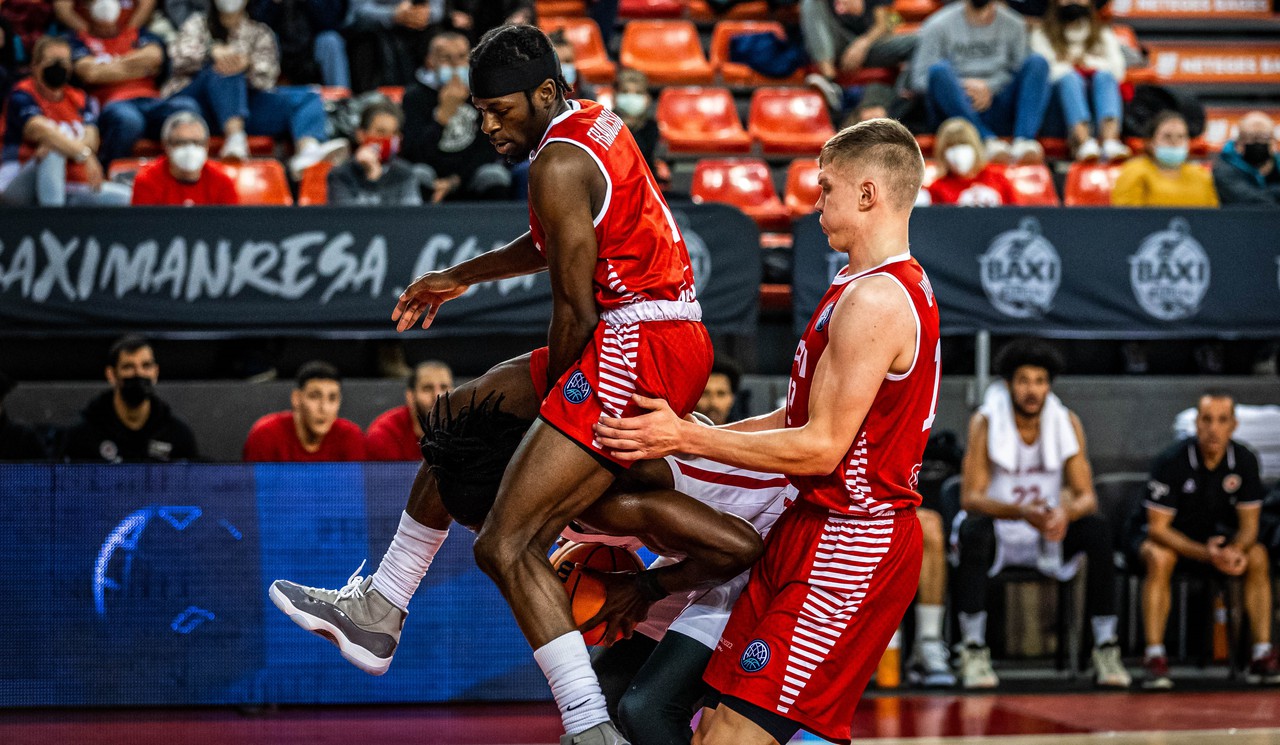 BAXI Manresa closes the European first phase as the group leader
The Manresa team fell after an overtime (85-90) to a good Hapoel Jersualem. Francisco, with 22 points, was the most outstanding man of the home team.
Thursday 6 of January of 2022 at 15:02
85 BAXI Manresa I Dani Pérez 7, Valtonen 6, Vaulet 9, Maye 11 and Sima 2; Francisco 22, Dani Garcia 6, Moneke 9, Steinbergs 4, Rafa Martínez 5 and Bako 4.
90 Hapoel Bank Yahav Jerusalem I Obasohan 19, Adams 15, Gates 3, Braimoh 23 and Segev 4; Workman 8, Gershon 3, Ariel 15.
Partials: 22-28, 27-15, 15-20, 14-15, 14-15, 7-12.
Defeat of BAXI Manresa in the BCL to close the first phase (85-90). Despite being an insignificant match, as they played with the first place assured, the home team fought until the extra time to get the full of victories in Europe.
The match started with the home team taking the initiative on the scoreboard, although always with short distances. The Israelis then reacted and nailed a 0-8 run in one minute to turn the electronic upside down, forcing Pedro Martinez to call timeout. From there, the visitors extended the lead to six points at the end of the first quarter (22-28).
In the second, the Reds came out strong and tied at 28 in less than two minutes. Subsequently, the exchange of baskets between the two formations before nine consecutive points from the Bages team allowed them to reach the half with a difference of six points (49-43).
Returning from the locker room, the Manresans were misguided in the face of the basket, and Hapoel took advantage to get back ahead with a 2-9. Then there were alternatives on the scoreboard until the end of the third period, which closed with a point margin for BAXI Manresa thanks to the final three-pointer of Francisco (64-63).
In the last ten minutes, the differences were maintained until a partial of the visitors from 0-7 with 2 minutes to go. A basket from Moneke and a three-pointer from Francisco equalized the shock and took the game into extra time.
Already in extra time, Braimoh charged his team's attack in the back scoring 5 points and countering the baskets of Vaulet and Francisco. The three-pointers of Ariel and Obasohan in the last 2 minutes gave a 7-point advantage to Hapoel, which would be insurmountable for the Manresa team.