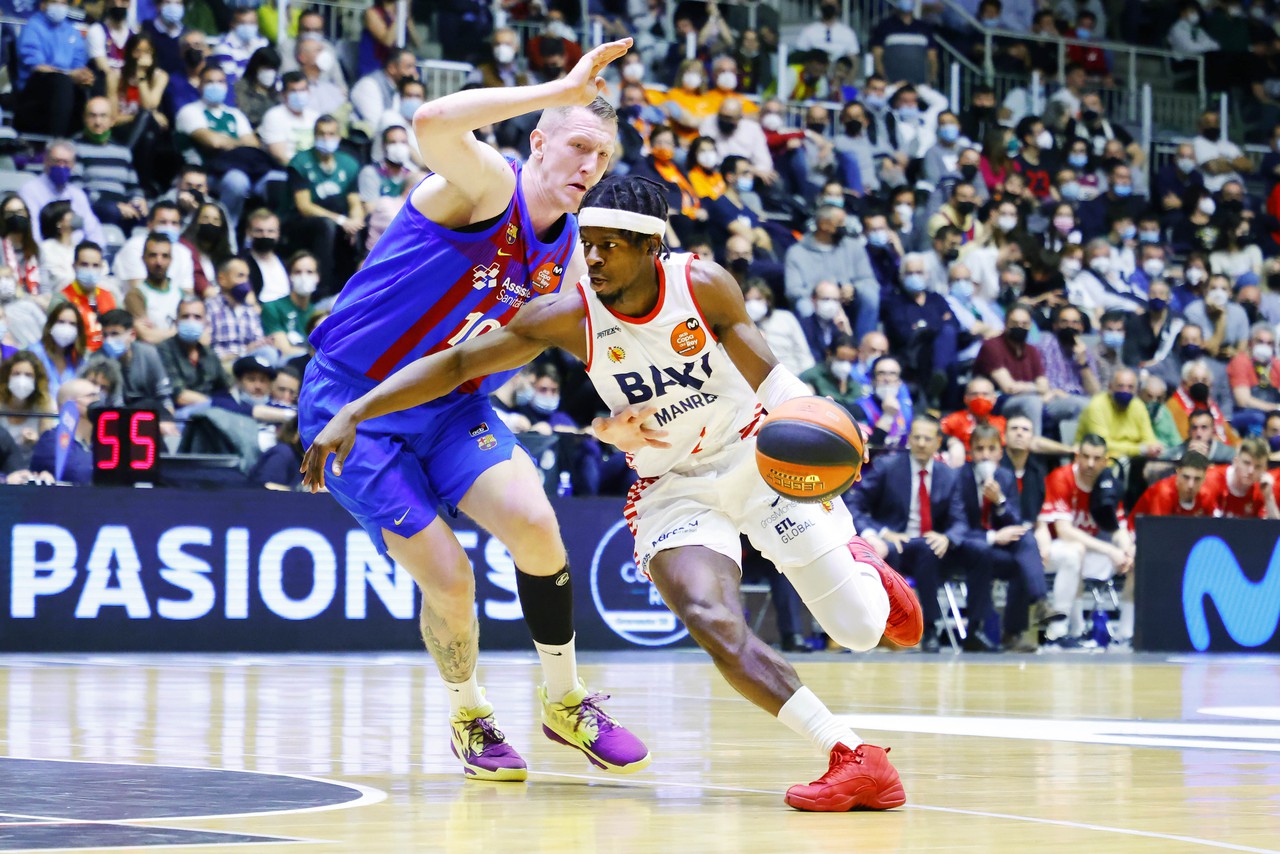 BAXI Manresa cannot surprise Barça again and is eliminated from the Cup in Granada
After a great start by the Bages team, with a score of 0-16 included, Barça was much superior and got the ticket to the semifinals of the tournament.
Saturday 19 of February of 2022 at 00:32
107 Barça I Calathes 4, Laprovittola 10, Exum 11, Mirotic 14 and Sanli 8; Davies 14, Martinez 4, Smits 9, Hayes 4, Abrines 11, Kuric 7 and Jokubaitis 11
70 BAXI Manresa I Dani Pérez 2, Thomasson 14, Valtonen 7, Moneke 4 and Sima 6; Francisco 19, Dani Garcia 7, Steinbergs, Rafa Martinez, Bako 9, Vaulet 2 and Maye
Partials: 22-26, 30-16, 36-11, 19-17
After the victories in the final of the Catalan League and at the Palau Blaugrana, BAXI Manresa could not beat Barça for the third time, which this time was much superior and obtained with solvency the ticket for the semifinals of the Copa del Rey at Granada, which will be played against UCAM Murcia, the executioner of Joan Peñarroya's Valencia Basket.
The players led by Pedro Martínez made a great start to the game, with defensive intensity, quick transitions and success in shooting. This led to a convincing 0-16 run that made them take twelve points of income, which Barça cut to four at the end of the first quarter (22-26).
In the second, Jasikevicius' men managed to stop the high pace of Manresa's play, and in this way they were able to turn the score around and open a ten-point hole in the middle of the match (52-42).
Returning from the locker room, the Bages team made a bad start and Barça knew how to take advantage of it thanks to their variety of resources, such as the greater depth of the bench. Barça did not give any chance and left the match fully sentenced at the end of the third quarter (88-53).
In the last ten minutes, the many fans who traveled to Granada did not stop at any time to cheer on the team, which could not do anything to stop one of the best teams in Europe, which also showed one of its best versions.
It will be necessary to get up from this hard defeat, and the first opportunity will be in the Nou Congost, in the visit of Urbas Fuenlabrada on Saturday 5 March at 20:45. A new opportunity to continue the good run in the Endesa League.