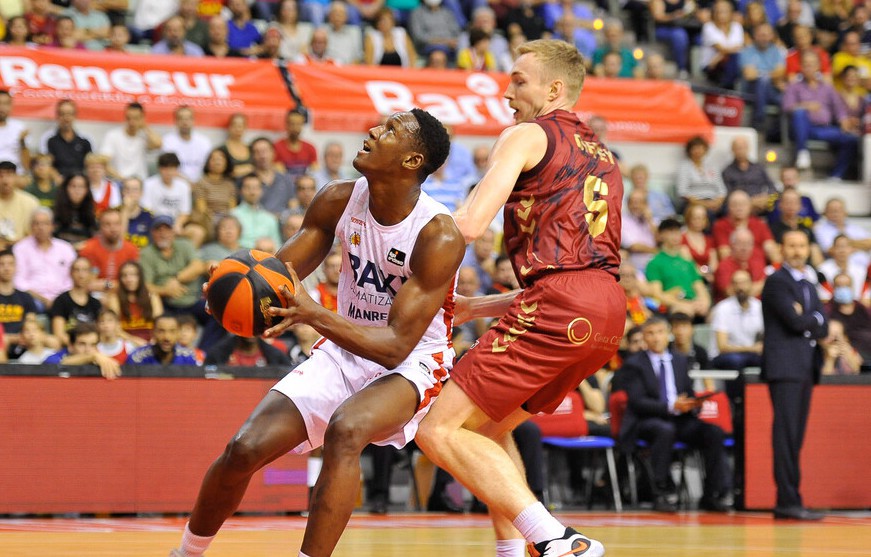 BAXI Manresa cannot stop UCAM Murcia and falls as a visitor
After dominating for a large part of the first quarter, the Bages team yield the initiative to some solid Murcians, especially after the half-time.
Saturday 22 of October of 2022 at 20:51
96 UCAM Murcia I Trice 32, Davis 6, Giffey, Luther 2 and Pustovyi 1; Bellas 5, Radovic 16, McFadden 15, Sakho 5, Diop 7, Jelinek and Rojas 7
83 BAXI Manresa I Dani Pérez 7, Bortolani 8, Sagnia 14, Tyson Pérez and Lee 2; Badio 11, Harding 25, Steinbergs 2, Valtonen, Olumuyiwa 5 and Vaulet 9
Partials: 23-25, 24-21, 28-17, 21-20
BAXI Manresa could not take the victory from the complicated court of UCAM Murcia (96-83). After dominating for a large part of the first quarter, the Bages team ceded the initiative to the Murcians, especially in the second half and, although they were within six points in the last quarter, they ended up falling.
After two initial baskets by the home team, Pedro Martínez's players took control of the game and reached nine points (10-19). Later, Murcia responded and, thanks to his success from the free throw line, tied it before Steinbergs scored to make it 23-25 ​​at the end of the first quarter.
In the second, the Murcians rallied and, thanks to two consecutive turnovers by the visitors, opened an eight-point gap (39-31) that forced Martínez to call a timeout. Then the Manresans reacted, and a Harding's penetration at the buzzer brought them to the break losing by a single point difference (47-46).
The second half started with two consecutive baskets by Bortolani, which again turned the score upside down. However, the Bages team was loaded with more and more fouls, and this favored Murcia, who escaped in the electronic thanks to two three-pointers by Trice at the end of the third quarter (75-63).
In the last ten minutes, the home team started well, but the visitors did not give up and, thanks to Harding's scoring leadership, they were only six points behind a Vaulet three-pointer (82-76). There were six minutes to go, but the Manresans could not complete the comeback against a rival who showed solidity to finally tie the victory.
On Tuesday from 18:30, BAXI Manresa will visit the court of the Portuguese Benfica in the third round of the group phase of the Basketball Champions League. Both teams have won the previous two matches.