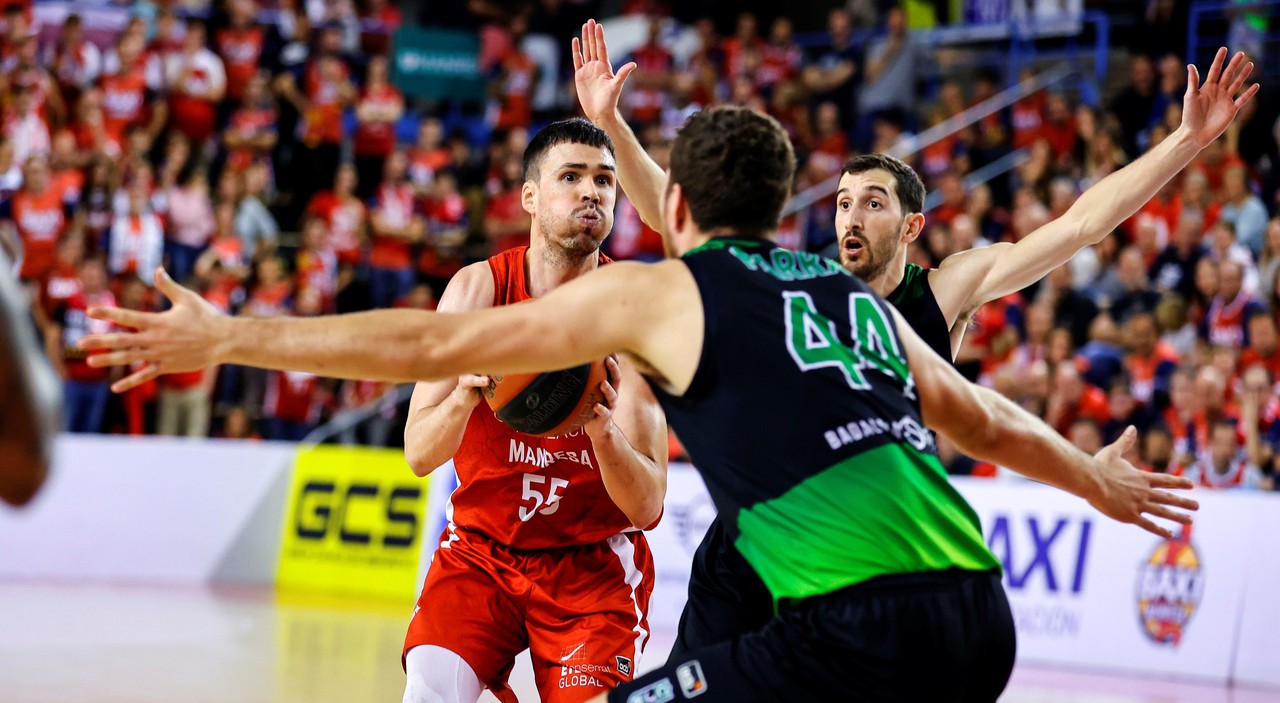 BAXI Manresa is beaten by Joventut al Nou Congost
Despite the efforts of the Bages team, la Penya won the Catalan derby 68-90.
Saturday 3 of December of 2022 at 20:01
68 BAXI Manresa I Dani Pérez 11, Harding 7, Vaulet 8, Caroline 10 and Steinbergs 6; Badio 4, Waczynski 5, Tyson Pérez 11, Jou 1, Dani Garcia, Tass and Ferrari 5
90 Joventut I Feliz 16, Ribas 11, Parra 7, Ellenson 5 and Birgander 13; Kraag, Busquets 8, Guy 13, Ventura, Vives 11, Maronka and Tomic 6
Partials: 19-27, 18-21, 13-26, 18-16
BAXI Manresa could not get another victory at Nou Congost, as they were beaten by a Joventut team that was ahead on the scoreboard at all times (68-90).
The visitors started the game more excited and nailed a partial 0-10 that forced Pedro Martínez to ask for a timeout. From there, the reds evened the game and did not allow the green-and-blacks to get away with the score (19-27 at the end of the first quarter).
The second started in the same way as the first, with the Badalonians who scored seven consecutive points and were fifteen points ahead (19-34). Then, the duel leveled again, and the half-time was reached with eleven points for Carles Duran's men (37-48).
Returning from the changing rooms, the Bages team could not get close to the scoreboard. Quite the opposite, as Joventut went on to string partials: first one of 0-6 and then another of 0-11, taking advantage of four minutes without a score from Manresa. In this way, the visitors closed the third quarter with the game very well on track (50-74).
The last ten minutes didn't have too much history, and the green-and-blacks had no difficulty managing the advantage and taking the victory against some Bages players who put in effort until the end, but it wasn't enough.
On Tuesday from 20:30 BAXI Manresa will play for the lead of the group at Nou Congost against Limoges CSP, in a match corresponding to the fifth day of the first phase of the Basketball Champions League.