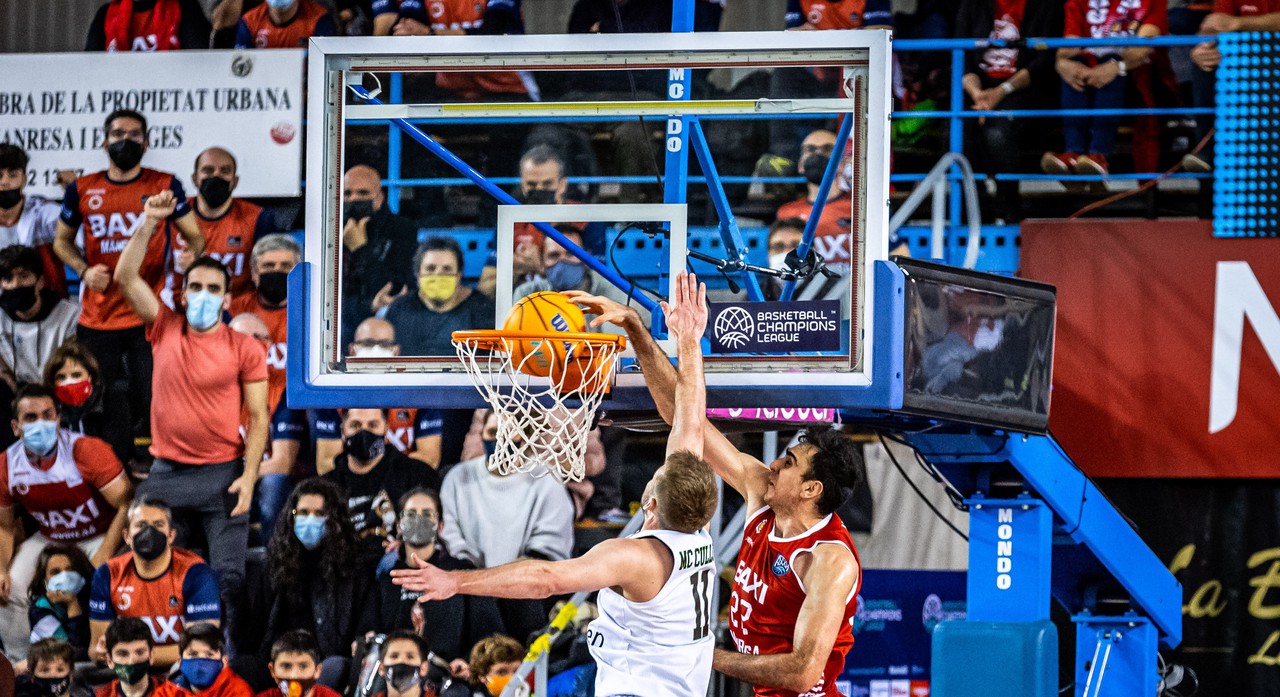 BAXI Manresa back on the road to victory in Europe
Manresa's first win in the Top 16 against a Darüssafaka team that made them sweat. Vaulet (19v) and Thomasson (17v) were the most outstanding local players.
Wednesday 9 of February of 2022 at 23:40
89 BAXI Manresa I Dani Pérez 9, Thomasson 11, Vaulet 13, Moneke 13 and Bako 10; Francisco 8, Dani Garcia, Rafa Martínez, Valtonen 3, Maye 8 and Sima 14.
74 Darüssafaka I McCullough 22, Caupain 17, Piñeiro 12, Boothe 9 and Olaseni 3; Has, Sav 2, Özcelik, Guler 7 and Atar 2.
Partials: 21-13, 28-18, 14-25, 26-18
BAXI Manresa won (89-74) against Darüssafaka in a game decided in the last 5 minutes. Until then, a great first half of the game by the Bages team, with a high defensive intensity and a very good ball circulation that gave them an important cushion at halftime (49-31). The visitors cut the deficit to 4 points in the last quarter, but the Catalan team's effectiveness was enough to put them back in the lead and take the victory.
The reds dominated from the start thanks to their aggressive defence. Offensively, they showed great collective play, circulating the ball well and running on the counter-attack. This allowed them to take an eight-point lead at the end of the first quarter (21-13).
In the second, the home side, led by Yankuba Sima, scored easily in the paint and widened the gap to eighteen points at half-time (49-31). At that point, Pedro Martínez's men already had eighteen assists.
In the second half, the Turkish team raised their level of play, both defensively and offensively, and completely collapsed the Manresa attack. Thanks to this, they achieved a 14-25 run and were only seven points behind at the end of the third quarter (63-56). It was therefore all to be decided in the last ten minutes.
In these, the intensity of Moneke (6 fouls received in the last quarter) and the triples of Francisco, Vaulet and Thomasson made BAXI Manresa open a hole that was already definitive, as the visitors, despite trying, could not react.
This does not stop. This Saturday another game will take place at the Nou Congost, the rival will be Casademont Zaragoza (18:00).