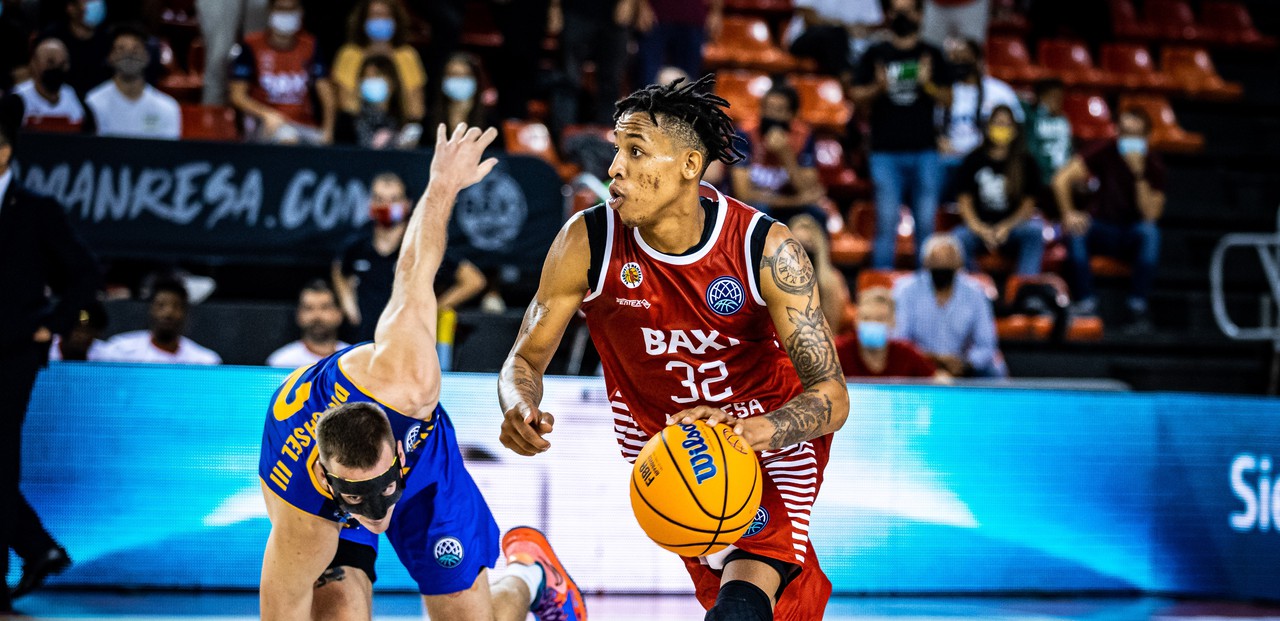 Victory fought on the return to Europe
BAXI Manresa was able to overcome an awkward Stal Ostrów in a hard-fought match. Jou (18p) and Thomasson (17p) were the most prominent players.
Thursday 7 of October of 2021 at 09:28
81 BAXI Manresa I Dani Pérez 7, Thomasson 17, Jou 18, Moneke 2 and Sima 4; Francisco, Dani Garcia 3, Steinbergs 2, Rafa Martínez 3, Valtonen 2, Bako 15 and Maye 8
76 Stal Ostrów I Simmons 12, Palmer 14, Dreschel 5, Kulig 6 and Young 16; Florence, Andersson 14 and Mokros 9
Partials: 24-20, 11-26, 22-16, 24-14
BAXI Manresa took a very even victory against a tough rival, Stal Ostrów (81-76). Despite the initial tie, the visitors opened the gap in the second half and went to the break with 11 points ahead. In the second half, the Manresa team was slowly cutting, and 7 minutes from the end they managed to turn the score around to end up staying ahead until the end.
In the opening minutes Pedro Martínez's men dominated the scoreboard, scoring up to seven points, and closed out the first quarter with four innings after a two plus one from Bako (24-20).
In the second the tone was quite the opposite. The reds were misguided in attack, and the Poles knew how to take advantage of this to turn the score around and achieve important differences in electronics. At the break, the visitors won by eleven points (35-46).
In the second half, the locals made a good start and, thanks to an initial partial 8-0, were only three points (43-46). Despite repeatedly trying, they failed to turn the electronic upside down and reached the end of the third quarter with a five-point disadvantage (57-62).
The Manresa team withstood the onslaught of visitors led by Jou and Thomasson, with 8 and 7 points respectively in this half. The Poles came to get to 1 point, but two baskets with magic by Dani Pérez gave the advantage of 5 points to BAXI Manresa with which it would reach the end (81-76). Next Saturday the 9th the league returns with a derby against Joventut de Badalona (18:00).