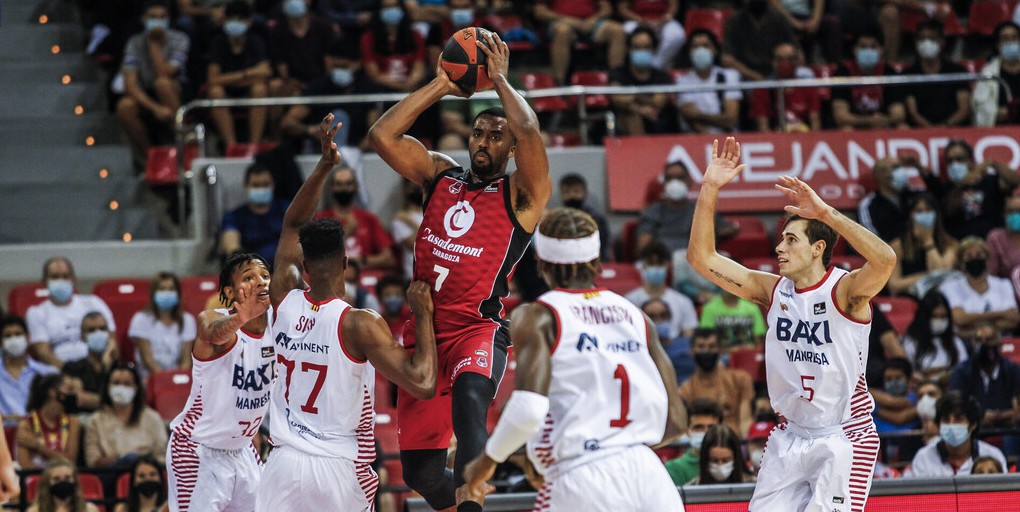 BAXI Manresa fights to the end against a successful Zaragoza
The Bages team started the Endesa League facing the end on the court of a very toned rival in attack. Francisco and Moneke, with 24 and 15 points respectively, the most outstanding from Manresa.
Sunday 19 of September of 2021 at 19:32
98 Casademont Zaragoza I García 6, Mobley 17, Waczynski 17, Vanwijn 4 and Hlinason; San Miguel 5, Okoye 16, McLean 15, Radoncic 11, Vila, Font 5 and Sipahi 2
91 BAXI Manresa I Dani Pérez 9, Thomasson 11, Berzins, Moneke 15 and Bako 10; Francisco 24, Jou 6, Steinbergs 2, Rafa Martinez 13, Valtonen, Maye and Sima 1
Partials: 22-20, 25-21, 29-24, 22-26
BAXI Manresa fell in the premiere of the Endesa League, on the court of a Casademont Zaragoza with great effectiveness in the face of basket (98-91). However, the Bages team showed a good competitive spirit and had chances of victory until the end.
Pedro Martínez's men made a good start and nailed an initial partial 0-6. Then came a phase of misunderstanding by both teams, and it was the locals who recovered earlier. This allowed them to close out the first quarter ahead thanks to a three-pointer from Okoye (22-20).
In the second the Aragonese team showed more intensity and opened a hole of eleven points (32-21). Then Francisco put the team on his back, and with a block and two three-pointers made the Reds reach the half with only six points behind (47-41).
Returning from the locker room, the visitors showed outside success from the hand of Dani Pérez, Thomasson and Francisco, but failed to cut differences against a rival that remained very solid due to the leadership of Mobley and Okoye. At the end of the third quarter, the locals had the match very well on track (76-65).
In the last ten minutes, the Bages team, far from surrendering, managed to get to just four points thanks to a two plus one from Francisco. However, Mobley remained in a state of grace and led his team to the first victory of the course.
Friday at 19:00 hours, debut at the Nou Congost against Valencia Basket of Joan Peñarroya, in a match in which the public will once again cheer on their team from the stands in the top state competition, a year and a half later.