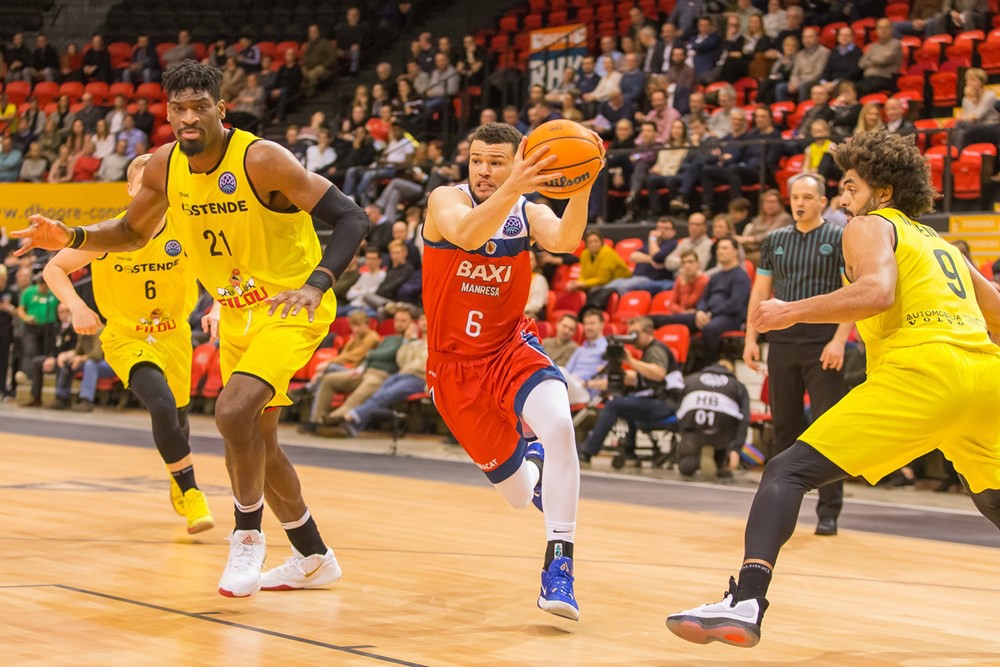 The BAXI Manresa falls in the second half and ends up losing to Oostende
The Bages team will play in the final qualifying round for the play-offs of the Basketball Champions League. Interiors Mitrovic with 14 points and Báez with 13 led the team's scoring, which went from low to low.
Tuesday 28 of January of 2020 at 23:15
The BAXI Manresa failed to control the game in Oostende, although it seemed within reach after the first half. The decline in the second half and the last minutes with too many mistakes did not allow the victory to be reached, which could have qualified the team for the play-offs.
The game started with the home side better than Manresa and leading the scoring. They found the right Báez and Magarity to reduce the differences and to put the match again. The home side's motivation kept them ahead, especially on free throws, at the end of the first 10 minutes.
In the second quarter it was the other way around, and the BAXI Manresa was ahead in a partial of 7 to 25. It started by scoring Eulis Báez from the triple, and they followed Mitrovic and Vaulet , S 'Sakho added to make the difference and get to the break with a hopeful advantage.
In the beginning of the second half, even more advantage for the BAXI Manresa, after the triple of Eulis Báez . A double technical foul by the local coach disqualified him, and it seemed the locals were on the wrong path, but it was the opposite: they cut with a three-pointer, and the score at the door for the last 10 minutes was 7 points.
The last period was a disaster for the interests of the Manresans: the home side scored 3, and Pedro Martinez was asking for minutes when the home side were 5 points above. Dulkys scored and put the team back to 3 points, but in the last minutes everything went against them. Bad end and defeat that complicates the classification.