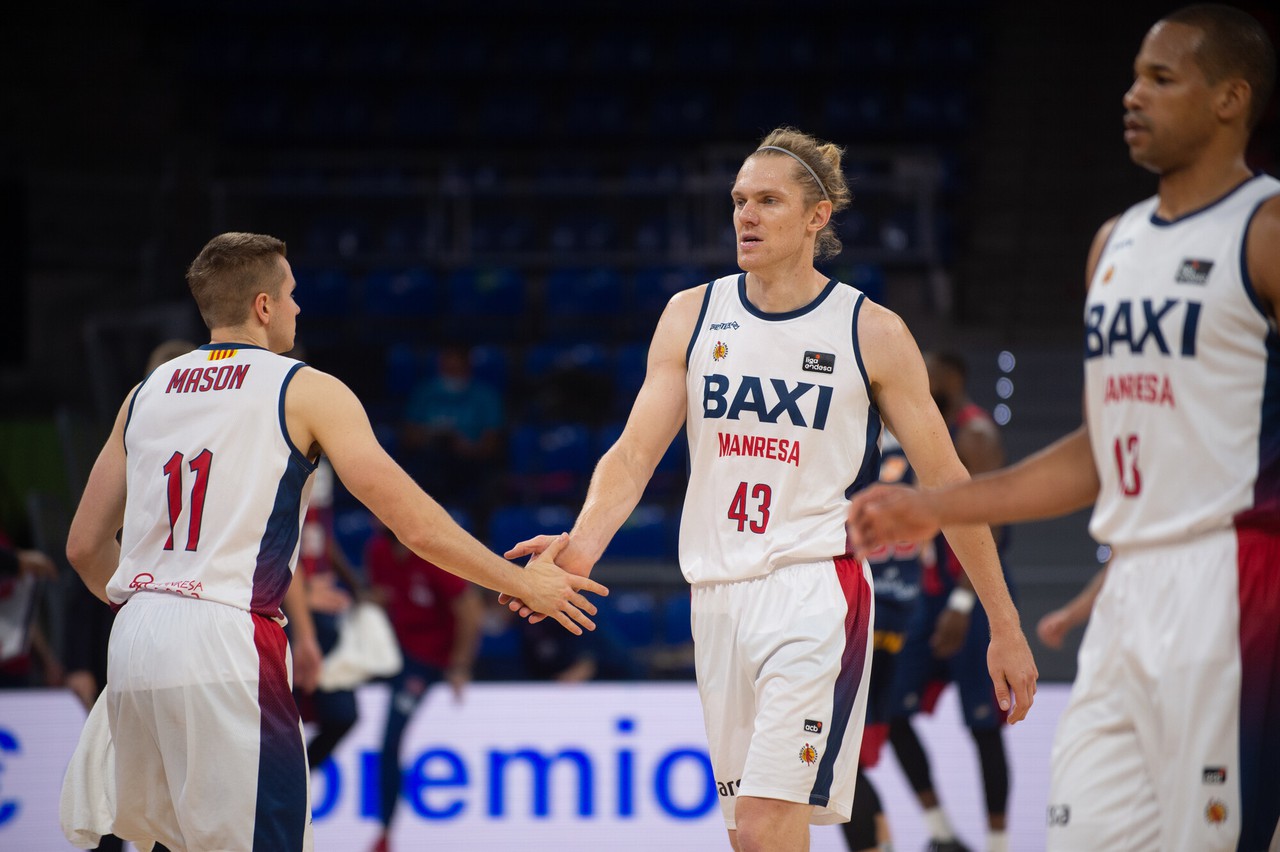 BAXI Manresa competes until the last quarter on the champion's court
The Bages team, despite not having the day in the shot, fought until the end against Baskonia, more successful and rocky in defense.
Wednesday 28 of October of 2020 at 21:15
87 TD Systems Baskonia I Vildoza 13, Kurucs, Giedraitis 4, Polonara 17 and Jekiri 12; Henry 6, Sedekerskis 2, Diop, Fall 6, Peters 13 and Dragic 14
68 BAXI Manresa I Dani Pérez, Rafa Martínez 2, Jou 4, Báez 6 and Eatherton 15; Mason 13, Hinrichs, Tabu 5, Sajus 6, Vaulet 11 and Sima 6
Partials : 21-16, 20-14, 20-26, 26-12
BAXI Manresa could not maintain its unbeaten record as a visitor, as it fell at the complicated court of TD Systems Baskonia, the current champion of the competition (87-68). The players led by Pedro Martínez faced their powerful rival until the last minutes, who could only escape in the final stretch. Saturday from 20:45, another match at the Nou Congost, this time against another Basque rival, RETAbet Bilbao Basket.
In the first quarter the defenses prevailed over the attacks, and Eatherton led the visitors, who were initially ahead on the scoreboard. Vitoria's team then turned it around and took a five-point lead (21-16).
In the second the Manresans had the strength to be just two points (27-25), forcing Dusko Ivanovic to ask for a timeout. Then the locals picked up the pace again and got a difference of eleven points at halftime (41-30).
Returning from the locker room, Makai Mason scored nine points in a row that allowed his team to stand at four points (47-43). Then the BAXI Manresa was more comfortable on the court, and this made them resist the escape attempts of Baskonia and finish the third quarter just five points below (61-56).
The last period began with two free throws converted by Tabu (61-58), but then appeared the figure of Polonara, who led some Basques who opened more and more hole in front of reds who could not react and did not have options to compete for victory in the last moments.