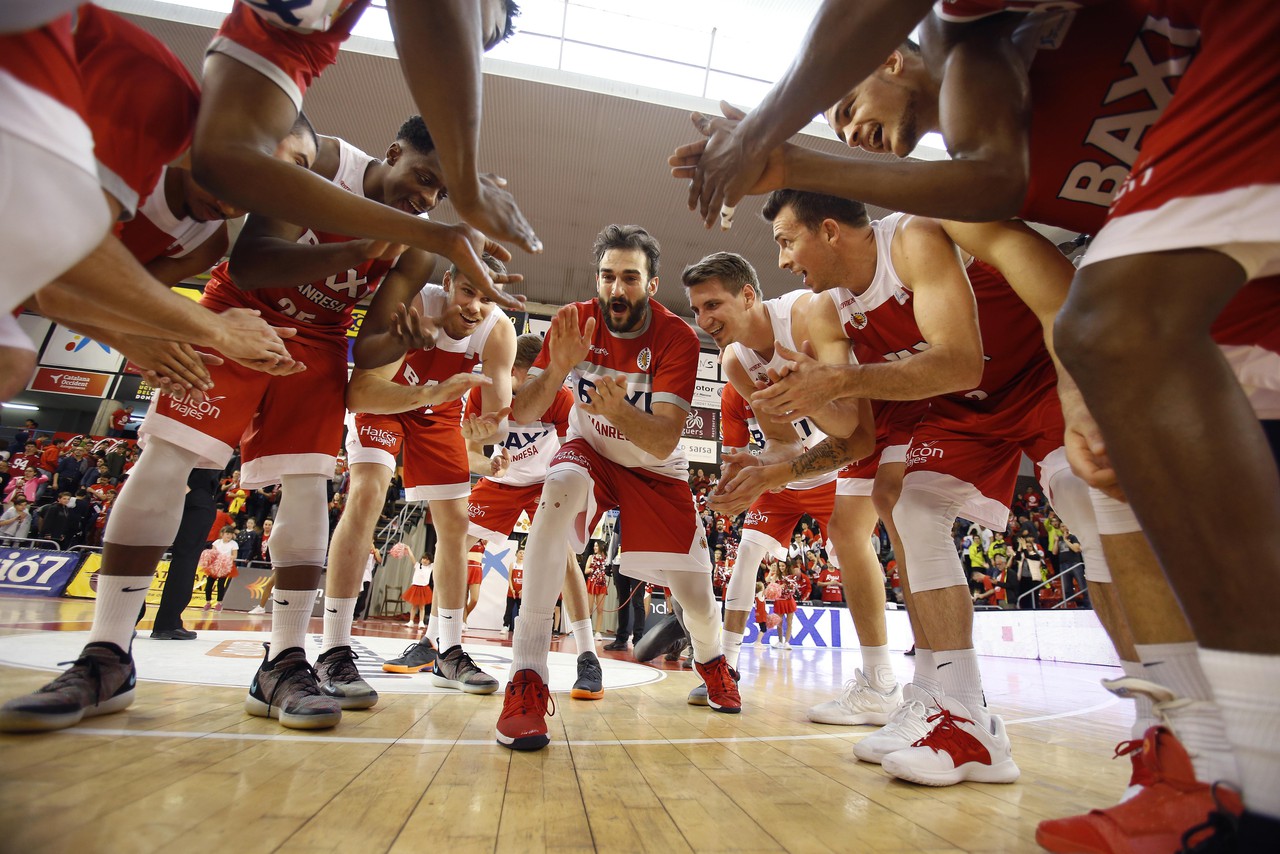 Great win breaking the bad streak
The bad patch ends with a very hard match against Tenerife, who also manages to win the average. Toolson (18), Fisher (16), leading scorer of a victory where everyone contributed.
Sunday 7 of April of 2019 at 15:57
BAXI Manresa managed to break the bad streak and beat Iberostar Tenerife, also gaining the average, in a game with suffering but reward. Toolson was once again the most inspired, followed by Fisher (16) and Lundberg (14) and Zubcic (12). A win where all the players and, of course, the New Congost provided.
Initial doubts of the BAXI Manresa that left half asleep until a stoppage due to a technical error of the marker made a turning point to change the dynamics. Zubcic, active and inspired, found the triple success to unleash the team in attack, and Muñoz turned two consecutive triples to bring the team closer before the first break. 6 points below at the end of the first period.
In the second quarter, Manresa would win the trophy to get halfway, with good minutes of play and offensive solutions such as a triple of Murphy or Toolson shots from mid-range. In difficult times Corey Fisher appeared to force fouls and score to the limit. Sakho was in this period a great move, with a stopper and a knock. Two above halfway.
At the beginning of the second half, exchange of baskets. In the final minutes of the third quarter, BAXI Manresa managed to put some distance away by stealing balls and running, and with Sima in the painting. A triple of Fisher in the limit closed the third quarter with 63 to 51 on the scoreboard, the game still had to be closed.
In the last period, partial favorable to Tenerife. The men of Peñarroya started well, with Zubcic responding well in attack. Robava Iffe to place 71 to 52 and asked Vidorreta minute. Then BAXI Manresa would relax too much and allow visitors to approach, but a fortunate triple of Toolson and the free throws closed the game and also gave the average BAXI Manresa.
Peñarroya said at the end of the game that "Contents of meeting us again with the victory and the Congost; We played against a team that played as much as us, and would fight to be in the leading positions; we begin to regulate, good defensive situation but without success; we have managed to change the trend and impose our rhythm of game, with players connected entering from the bench; when we saw the game in good standing we have disconnected, and the last minutes have been poor ».