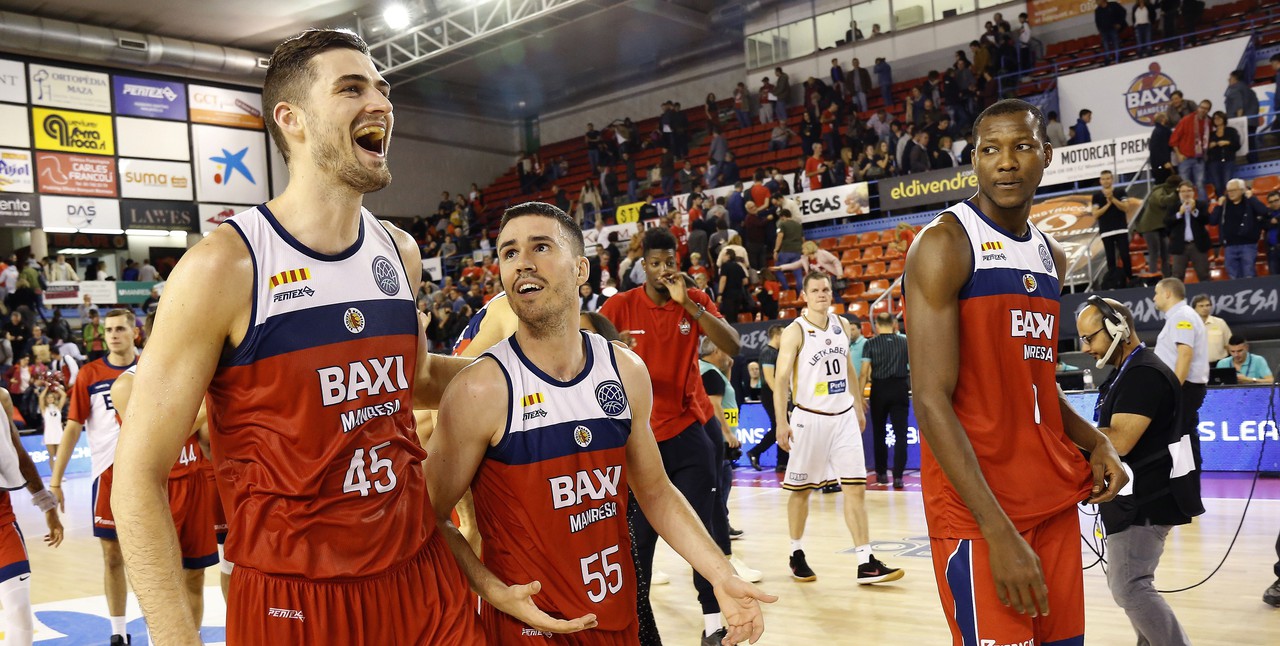 BAXI Manresa overcomes Lietkabelis with consistency and teamwork
The Catalans again reap the victory (76-70) in a European thriller that was not decided until the last minute of the game, with Kravish as outstanding (19 points and 5 rebounds).
Wednesday 23 of October of 2019 at 22:43
The Catalans defeated the Lietkabelis Lithuanian team by a tight score and won the second victory in the same matches at the Basketball Champions League. The team led by Pedro Martínez, who continues to pay his fans in the year of their return to Europe, had the most successful player in Kravish, who signed 19 points.
The game started with an exchange of baskets featuring an inspired David Kravish, author of the first 6 points. The Lietkabelis left without complexes and would take advantage of the errors in the attack of the defenders to take the initiative to the marker. The changes of Pedro Martínez were plugged and a triple of Magunity added to a basket of Toolson again tied the showdown.
A new triple of Magarity started the second quarter and put forward again BAXI Manresa. The bagencs, who did not take the initiative of the game from the initial 2-0, confirmed the good beginning of period thanks to another three point basket, now of Toolson. Eulis Baéz joined the triple festival and increased the advantage by 7 points. The Lithuanian team, after a deadly time of their coach, Nenad Canak, would react and cut back to 2 points at the end of the first half of the match.
The second part began with a triple of Pere Tomàs and good minutes of Jordan Davis, chaining 6 points. The American, converted to the base position after an ankle injury by Marc Peñarroya, led the Ridgeans with criteria and distributed assistances taken advantage of by Kravish and Toolson. The latter, with a basket from beyond the 6.75, made the difference in a +12. The Lietkabelis would not pull the towel so soon and, taking advantage of the free throws, they were approaching 5 points before the final quarter.
The Lithuanian team faced the final straight and tied the game 7 minutes to finish. Magarity, with a long distance throw, was again leaving BAXI Manresa to dominate the scoreboard. The set of Pedro Martínez circulated perfectly to the perimeter to introduce internal balls to the area and write down. In the final minute he got 3 points ahead and everything to decide. Kravish continued to hurt painting and gave first. The Lithuanians did not see basket and used the American interior of Manresa again to leave the match. Free throws would certify BAXI Manresa's second win at the Basketball Champions League.