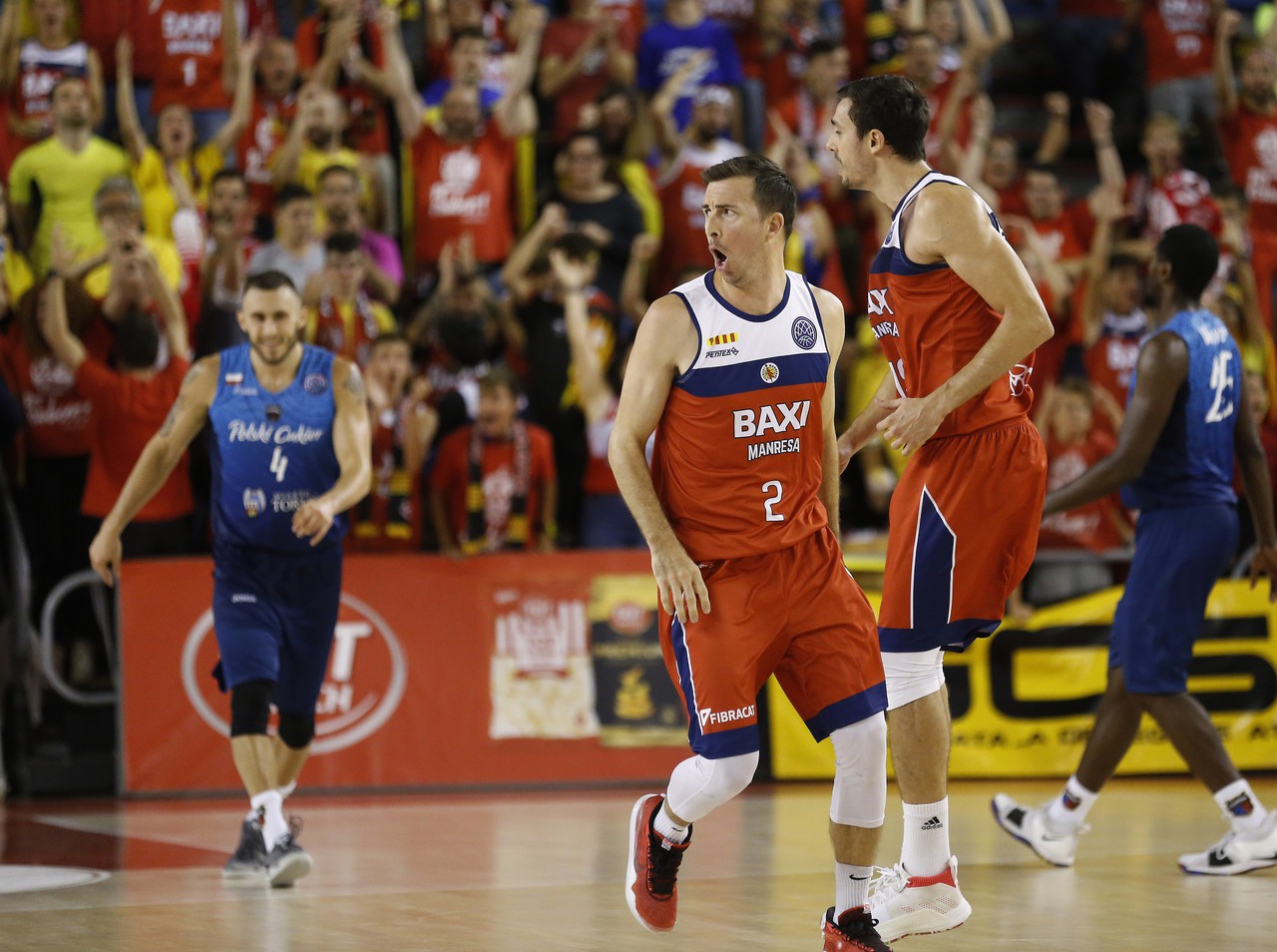 BAXI Manresa once again savored the victory in Europe
Sweet return to Europe of the Manresa team, 20 years later, prevailing at Polski Cukier Torun in a final played until the end. Ryan Toolson's 21 points on the day of his return to the tracks were decisive.
Wednesday 16 of October of 2019 at 22:58
BAXI Manresa won the first win in his debut in the Basketball Champions League against Polish Polski Cukier Torun (85-81). In a match marked by equality, the set led by Pedro Martínez suffered to the last second to leave the win at home. Ryan Toolson with 21 points and Pere Tomàs with 12 were the top scorers of the season.
The Polski Cukier started the game with the clearest ideas that a negligent BAXI Manresa. Pedro Martínez was forced to ask for time after 4 minutes trying to wake up his team. An active Pere Tomàs tied the match thanks to 7 consecutive points. Before the end of the period an acclaimed Ryan Toolson appeared, already recovered from his back injury. The American escort did not take two minutes to score its first triple of the season, which also meant the culmination of the comeback. A 12-0 partial allowed Riders to finish the period ahead of the scoreboard.
The second part began with a 2 + 1 from Juampi Vaulet and a maximum difference for BAXI Manresa with 6 points. The defenses prevailed at the attacks in this party section. Eulis Báez, with a triple, gave air to Manresa to maintain the advantage. The most successful Polish team cut back and scored two free throws. Pedro Martínez stopped the game looking for the reaction of his players. The dead weather had an effect but it was not enough to deactivate the Cukier Torun in attack and go to the changing rooms 1 point below.
Dulkys chained two triples at the start of the second act to return BAXI Manresa ahead. The Poles used the individual moves of Kulig and Hornsby to react and reverse the score. The visitors set would be victorious for the exchange of baskets in the fourth quarter and reached the last 10 minutes with a minimum advantage of 2 points.
A shake of Magarity was used to start the final period. Toolson's wrist was again as effective as it was usually in hot moments and added two triples straight. The team led by Sebastian Machowski did not lose his face to the game at any time and entered the final minute only 2 points below. In an infarctive end, Toolson scored at the counter and the difference at 58 seconds for the conclusion was 4 points. Aaron Cel responded by the visitors immediately and Toolson replied. The American outings from the free-throw line secured the first win at the Basketball Champions League.