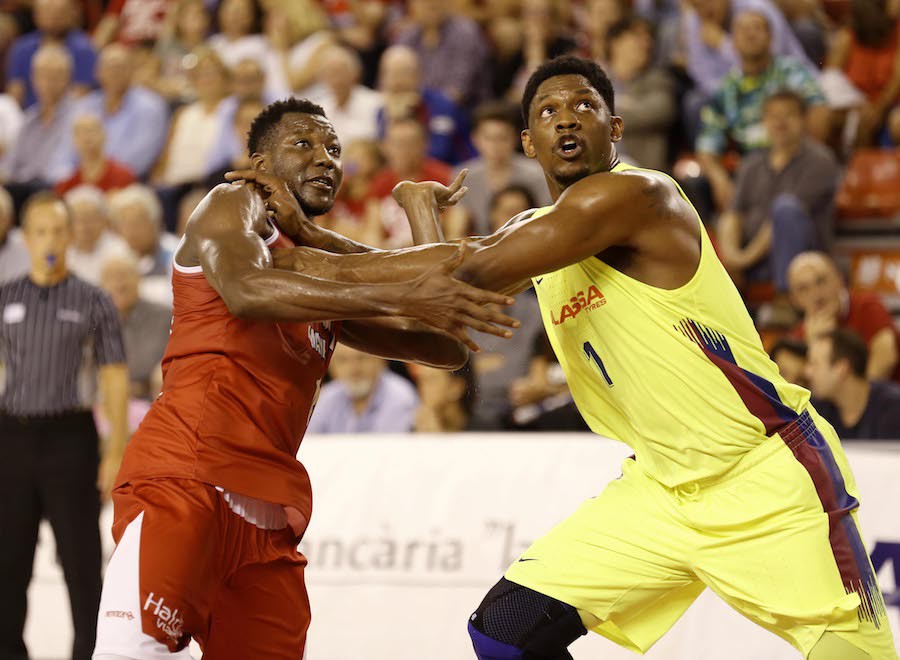 BAXI Manresa has a great atmosphere but ends up losing against Barça Lassa (78-88)
The men of Peñarroya put themselves close to the doors of the fourth period but ended up losing with the azulgranas, with Vene (15 points) and Toolson (14 points and 18 of efficiency) as the best scorers.
Thursday 4 of October of 2018 at 23:35
78 BAXI Manresa | Renfroe 12, Toolson 14, Thomas 13 and Lalanne 5; Lukovic 6, Jou, Lundberg 1, Sakho 4, Muñoz 3 and Gintvainis 5.  
88 Barça Lassa | Pangos 10, Kuric 11, Claver 6, Singleton 14 and Tomic 15; Seraphin 2, Blazic 9, Heurtel 13, Oriola 8.  
Parcials: 11-21, 26-26, 22-13, 19-28
Great day at the Nou Congost, which once again experienced a spectacular atmosphere at the stands. On the track, bad start and bad end of the game of BAXI Manresa, which nevertheless placed 1 point from Barça at the gates of the last quarter. Good fight against a superior team, with Vene, Toolson, Tomàs and Renfroe doing 15, 14, 13, and 12 points respectively. Manresa returned to live a vibrant night of Liga Endesa.
At the start of the game, bad cards for BAXI Manresa, who started receiving points, and with a mistake from triple (error in the first 10 launches). In the first period, only 11 points, and Barça almost the double. Toolson wrote down the second basket in the absence of 4:40 to finish the first period.
In the second 10 minutes, two consecutive three pointers from Vene and Toolson put the Peñarroya team closer, which made a very good effort to lose by just 10 points in half. A three pointer of Pere Tomàs and a basket at the limit of Vene took the teams to the changing rooms.
In the restart, the best minutes of Manresa, which left the opponent in 11 points and turned 23 to approach just 1 point and make the New Congost crazy. A three pointer of Vene, and two more consecutive ones of Lalanne and Gintvainis placed the team at the back of the comeback at the end of the third quarter. The public screamed more than ever.
In the final stretch, however, too many defensive kicks and Barça Lassa began to escape little by little to end the hopes of the locals. Toolson's three pointer came too late, the azulgranas had already marked differences with their quality. In the end, 10 points of difference and a BAXI Manresa who, despite not being able to achieve the win, let the crowd of the New Congost touch his fight.
At the press conference later, Joan Peñarroya said that "first of all I would like to thank the fantastic aspect that has had the New Congost; if we get the fans to endure us and whatever they have done today, we have a lot to win; we have not started the game well, let us write down in too easy situations and let Tomic receive, a key man; in attack we are not fluid, they come out with the clear slogan of wear Renfroe, and we have an alarming disappointment in the launchings of 3; the team does not let go, wait for the right moment to arrive, which arrives in the third quarter. "