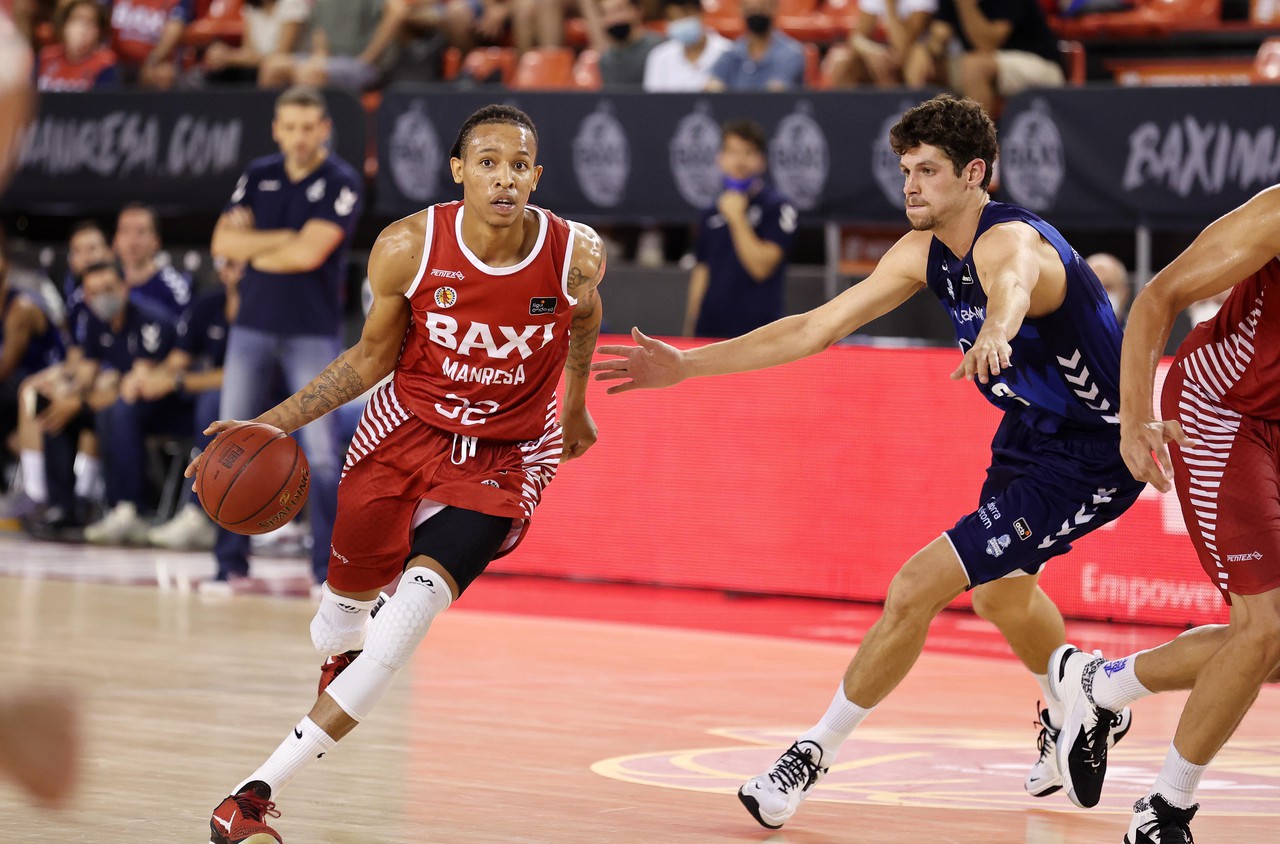 BAXI Manresa reaches the final of the Catalan League in the return of the public to the Nou Congost
After a year and a half, the Bages fans enjoyed their team in the hard-fought victory against MoraBanc Andorra, the current champions. Tomorrow at 9.30pm, final against Barça, who beat Joventut in the first semi-final.
Sunday 5 of September of 2021 at 00:07
82 BAXI Manresa I Dani Pérez 13, Thomasson 11, Berzins, Maye 4 and Bako 12; Francisco 5, Jou 7, Dani Garcia 3, Moneke 9, Rafa Martínez 3, Valtonen 5 and Sima 10
79 MoraBanc Andorra I Hannah 6, Crawford 20, Paulí 7, Noua 22 and Olumuyiwa 5; Miller-Mcintyre 5, Nakic 4, Sergi Garcia, Jelinek 3, Colom, Morgan 7
Partials: 18-14, 21-21, 26-22, 17-22
BAXI Manresa returned to the Nou Congost with a hard-fought victory in the semifinals of the Catalan League against the current champion of the competition, MoraBanc Andorra (82-79), in the return of the fans to the Manresa pavilion after a year and means of absence. Tomorrow at 9.30pm, the hosts will fight for the title against Barça, who defeated Joventut in the first semi-final (82-69).
After a few initial minutes with a slight Andorran dominance on the scoreboard (initial 0-5), the players led by Pedro Martínez were intoned and placed ahead with a dunk of Bako. Then, a three-pointer by Jou put the fans present at the Nou Congost on their feet. Thus, the first quarter closed with four points of income for the Reds (18-14).
In the second the game was very level. The Bagens made the public enjoy various actions of merit, but those of Ibon Navarro showed their fighting character and did not allow them to escape on the scoreboard. In the half, the home team commanded again by four points (39-35).
Returning from the locker room, the Manresans improved their accuracy in the outside throw and scored up to four three-pointers in the third period, and this allowed them to continue commanding in the electronic against a MoraBanc Andorra that, of course, remained within the match before the dispute of the last ten minutes (65-57).
In this one the tonic did not vary too much, and it was arrived at the last minute with everything to decide (80-75). After threeconsecutive baskets (two from the visitors and one from Dani Pérez), the reds missed a free throw and a shot, but the three-pointer of the Andorrans did not find a basket and the victory remained in Manresa.