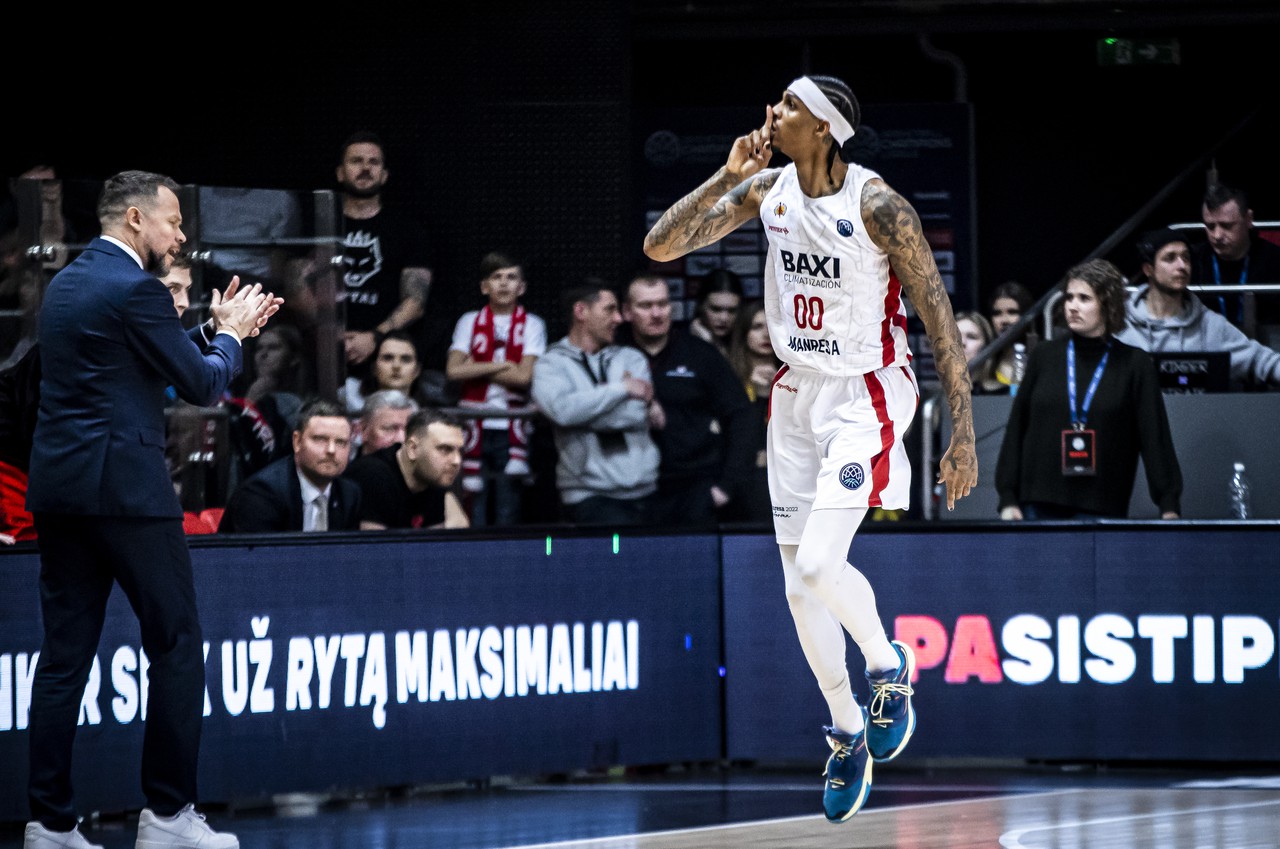 Sweet defeat for BAXI Manresa who are once again among the 8 best in the BCL
Despite losing by the minimum on the Rytas Vilnius court, the Bages team will play the play-offs to access the Final Four of the European competition.
Wednesday 22 of March of 2023 at 21:13
96 Rytas Vilnius I Fridriksson 14, Foster 27, Radzevicius 5, Masiulis 7 and Kairys 6; McCullum 7, Normantas 10, Gorham 3, Uleckas, Echodas 12 and Varadi 5
95 BAXI Manresa I Dani Pérez 11, Harding 23, Jou 9, Robinson 22 and Geben 4; Badio 7, Waczynski 8, Dani Garcia, Steinbergs 1, Ferrari 2, Olumuyiwa 6 and Vaulet 2
Partials: 23-22, 21-30, 30-18, 22-25
BAXI Manresa will be in the draw for the quarter-finals of the Basketball Champions League on Friday. The Bages team fell by only a single point of difference on the complicated court of the Lithuanian Rytas Vilnius (96-95), a fact that allowed them to maintain a favorable particular basketball average and get the ticket to be among the eight best teams of the competition
The players led by Pedro Martínez fared better than their rival and nailed an initial score of 3-11. Then we entered a phase of exchange of baskets, where the attacks were clearly imposed on the defenses. Later the home team reacted and came back at the end of the first quarter (23-22).
In the second, two consecutive three-pointers made the Lithuanians four points ahead (32-28). After a few moments with a very high pace of play and alternatives on the scoreboard, the visitors were able to open an eight-point hole at the break thanks to a tray on the horn by Dani Pérez (44-52).
In the second half, the home team made a good start and quickly tied the game (56-56). Between Robinson and Harding they gave their team the lead again, but then came a strong 13-0 run that put the Lithuanians eight points ahead, one step away from the classification. Two baskets by Olumuyiwa allowed the Manresa team to cut distances at the end of the third quarter (74-70).
In the last ten minutes the home team, who never gave up, extended the difference to fourteen points (86-72). In this way, the ticket to the quarter-finals had to be decided in the last few minutes of great tension. In these the Bages team did not get nervous and sealed their classification. In addition, the opponent's desperate comeback attempts allowed them to cut the distance from the free throw line and end up losing by the minimum.
Saturday from 18:00 BAXI Manresa has a new commitment in the Endesa League. On this occasion the team will visit Fontajau to face a Bàsquet Girona led by Marc Gasol.