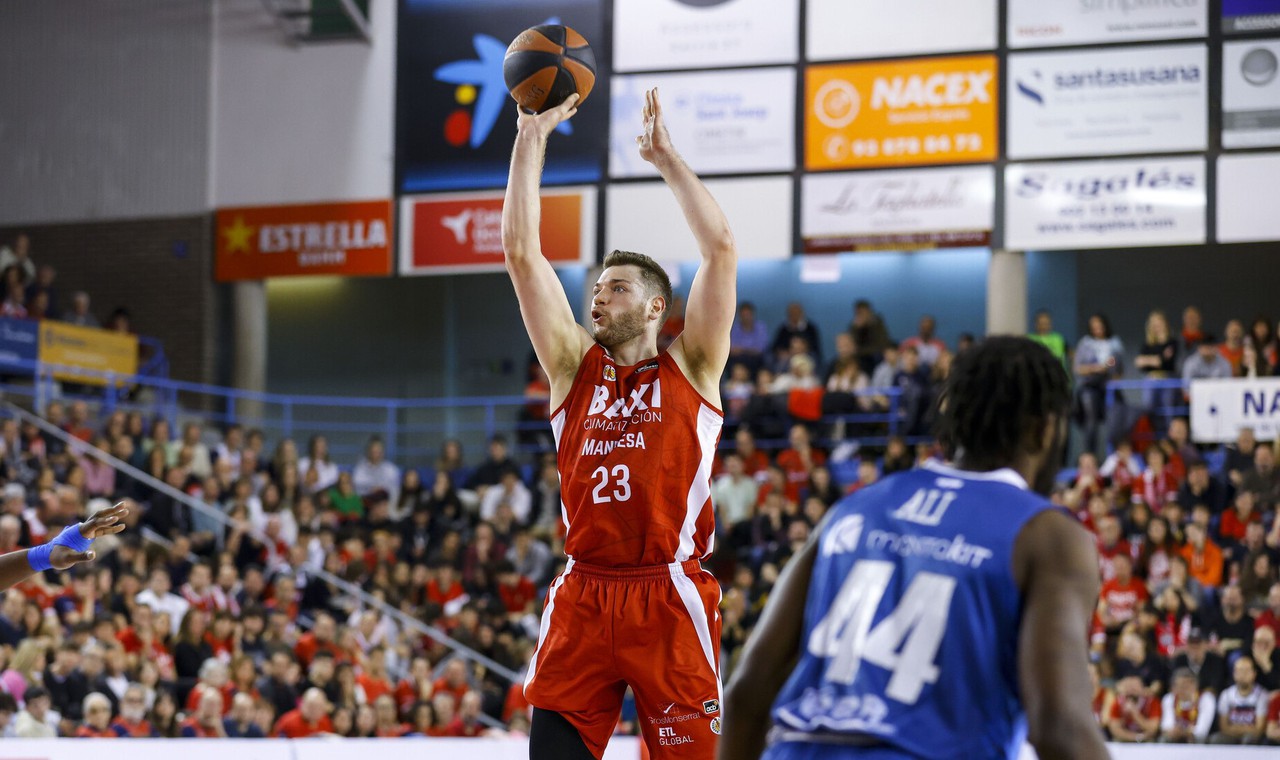 A solid BAXI Manresa overcomes Fuenlabrada and gets its fourth win
The Bages team dominated comfortably from the second quarter and took the victory and the basket average against one of their most direct rivals in the classification. Geben and Robinson, the most prominent.
Saturday 4 of March of 2023 at 20:22
92 BAXI Manresa And Dani Pérez 5, Harding 10, Jou 9, Steinbergs 3 and Robinson 15; Badio 6, Waczynski 8, Ferrari 10, Olumuyiwa, Vaulet 6 and Geben 20
78 Carplus Fuenlabrada And Ngouama 7, Ali 15, Lewis 4, Horton 17 and Fernández 15; Garcia 5, Ehigiator, Kromah 6, Novak 2, Eyenga 3 and Okouo 4
Partials: 23-18, 27-18, 14-14, 28-28
After the stop for the Copa del Rey and the national teams matches, BAXI Manresa returned to the Endesa League on a good shape, achieving a crucial victory at Nou Congost against a direct rival, a Carplus Fuenlabrada who also beat average basketball (92-78). The Bages team clearly controlled the duel from the second partial and did not suffer too much to add their fourth victory in the state competition.
The Madrid players made a better start and scored an initial 1-8, but the Manresa players didn't take long to react and turned the scoreboard right away. After a few moments with equality in the electronic, a penetration by Ferrari and a two plus one by Waczynski gave the reds a five point margin at the end of the first partial (23-18).
In the second, the home team were more and more superior to their rival and opened up a gap until they reached a maximum difference of 19 points. Óscar Quintana called a timeout to try to turn the tide, but he only managed to cut the lead to 14 points at halftime, after a Ngouama's basket on the horn (50-36).
Returning from the changing rooms, there was more equality between both teams, and this situation clearly benefited the Bages team, who had no problems maintaining a significant difference in the score and reaching the last ten minutes with the match very well faced (64-50).
There wasn't much history in these as the visitors never had any chance of getting into the match. The Manresa team were very solid and made the many fans present at the Nou Congost enjoy themselves, who duly celebrated a fourth victory that leaves Fuenlabrada, a direct rival, touched.
Next Wednesday, from 18:00, BAXI Manresa will play on the court of the Turkish Bahcesehir College in the fourth game of the second phase of the Basketball Champions League.