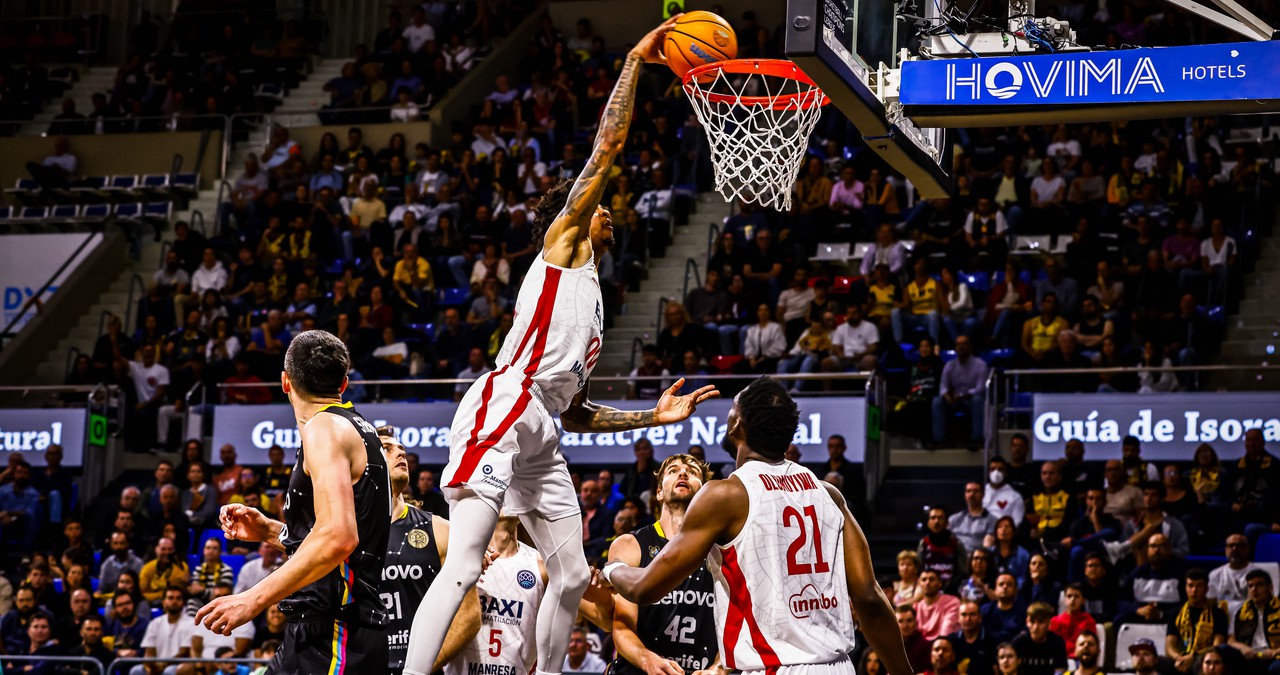 A proud BAXI Manresa loses a tight first game in Tenerife
The Bages team dominated much of the first half and made Lenovo Tenerife suffer until the end, which was right in the final moments and did not give a choice to a fighter Manresa team.
Wednesday 5 of April of 2023 at 23:17
91 Lenovo Tenerife I Huertas 13, Salin 16, Cook 6, Doornekamp 5 and Shermadini 18; Rodríguez, Fitipaldo 16, Diagne, Abromaitis 11, Bolmaro and Guerra 6
84 BAXI Manresa I Dani Pérez 5, Harding 21, Sagnia, Robinson 15 and Geben 6; Badio 8, Waczynski 12, Jou 4, Dani Garcia 2, Steinbergs 3, Olumuyiwa 5 and Vaulet 3
Partials: 20-27, 26-13, 23-18, 22-26
BAXI Manresa was very competitive in the first game of the Basketball Champions League quarterfinal tie and put Lenovo Tenerife, the reigning champion and one of the great favorites for the title, in trouble until the last minutes (91-84). In the first half, the Bages team was ahead on the scoreboard for most of the time, and in the second they did not give up against the local reaction and fell within two points in the last six minutes.
The players led by Pedro Martínez came out better than their rival and quickly took an advantage of eleven points, forcing the local coach to stop the game (4-15). Although the islanders reacted and were only four points behind, the visitors opened the gap again at the end of the first quarter in which Bolmaro was injured (20-27).
In the second, the Manresa team increased their lead again to eleven points (23-34), but immediately afterwards the Canaries raised their defensive level, which allowed them to turn the game around and reach the middle of the match with six points margin (46-40).
Returning from the locker room, the locals made a better start and took advantage of around ten points, which they managed to maintain throughout the third quarter. They entered the last ten minutes with a score of 69-58, which left Tenerife with a very good game.
However, those from Bages did not give up and managed to get to just two points with just under six minutes to play (72-70). They showed a lot of pride and a great fighting spirit, but it was not enough against the current champion of the competition, who had to show a very good version of the game to stay ahead and take the first point of the tie.
On Sunday starting at 8:00 p.m., BAXI Manresa will have a very difficult trip in the Endesa League, as they will visit the difficult court of one of the three co-leaders of the competition, a Cazoo Baskonia on a streak.