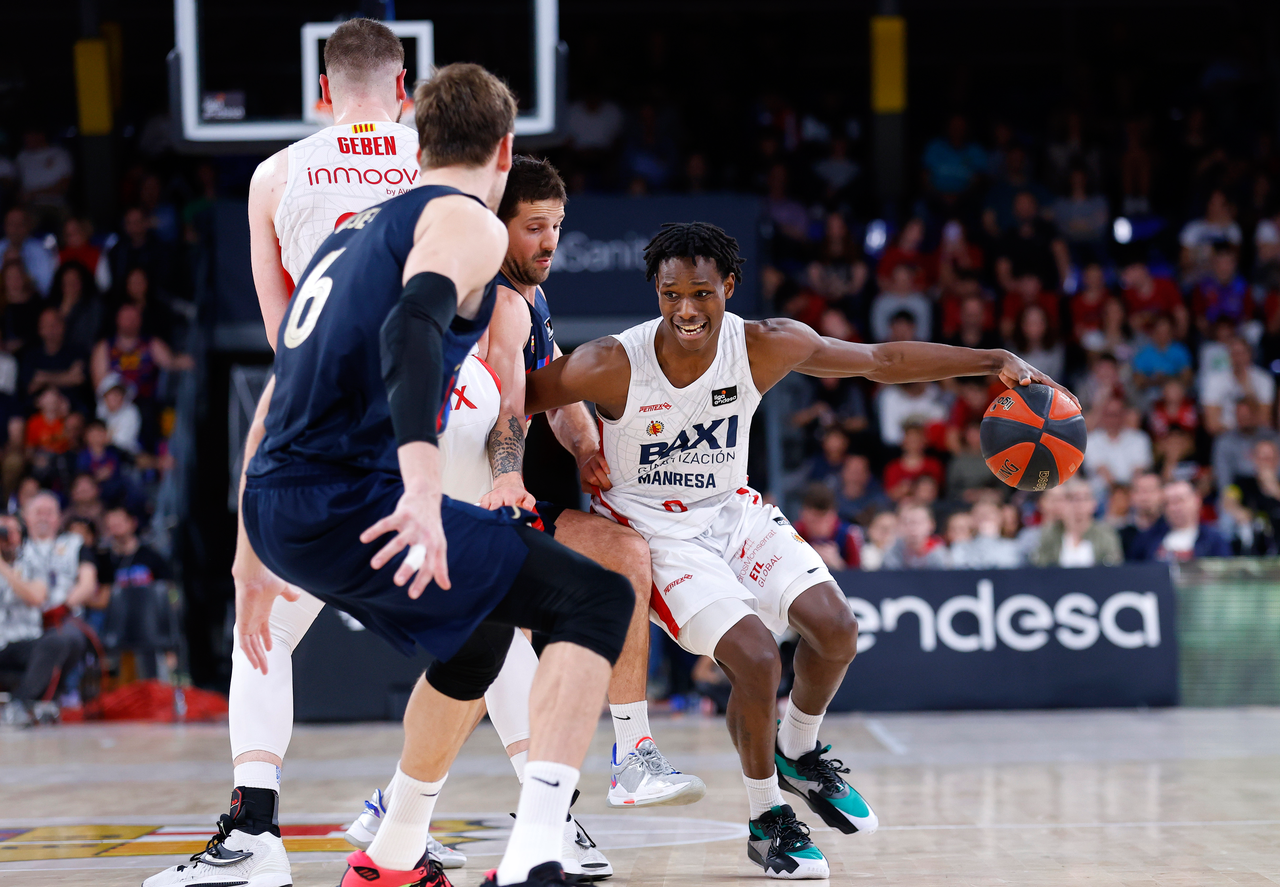 An injured Barça doesn't give BAXI Manresa an option
The Blaugrana make use of their theoretical superiority to beat the Manresa team at the Palau.
Sunday 12 of March of 2023 at 20:30
93 Barça I Satoransky 19, Laprovittola 10, Kalinic 10, Mirotic 13 and Vesely 2; Sanli 9, Martínez 3, Abrines 3, Tobey 2, Kuric 3, Jokubaitis 18 and Nnaji 1
72 BAXI Manresa I Ferrari, Badio 9, Waczynski 12, Robinson 7 and Geben 10; Harding 2, Dani Garcia 4, Steinbergs 6, Sagnia 2, Olumuyiwa, Vaulet 11 and Dani Pérez 9
Partials: 32-18, 24-11, 21-20, 16-23
BAXI Manresa couldn't surprise the Palau Blaugrana and fell clearly against a Barça team eager to vindicate itself after the last defeats (93-72). The home team dominated from the start and asserted their theoretical superiority to prevail clearly.
The Blaugrana team came out more toned and dominated the scoreboard from the start, achieving a difference of up to sixteen points, which a bomb scored by Dani Garcia left at fourteen at the end of the first ten minutes of the game (32-18).
In the second period, the home team didn't relax and continued to demonstrate their good level of play, which was accompanied by a great success in the three-point line. This fact allowed them to further expand the difference in the electronic, which at the half reflected a strong 56-29.
The second half began with a phase of exchange of baskets, which favored a Barça that continued to command with authority and didn't allow the Bages team to enter the match. At the end of the third quarter, the Blaugrana team had the match very well on track (77-49).
The last ten minutes didn't have much history, and both teams took advantage of the fact that the duel was already decided to distribute minutes between all their players and start preparing for the upcoming commitments in Europe.
On Tuesday from 20:00 BAXI Manresa will play the fifth day of the second phase of the Basketball Champions League, in which they will visit Telekom Baskets Bonn, leader of group J of the European competition.