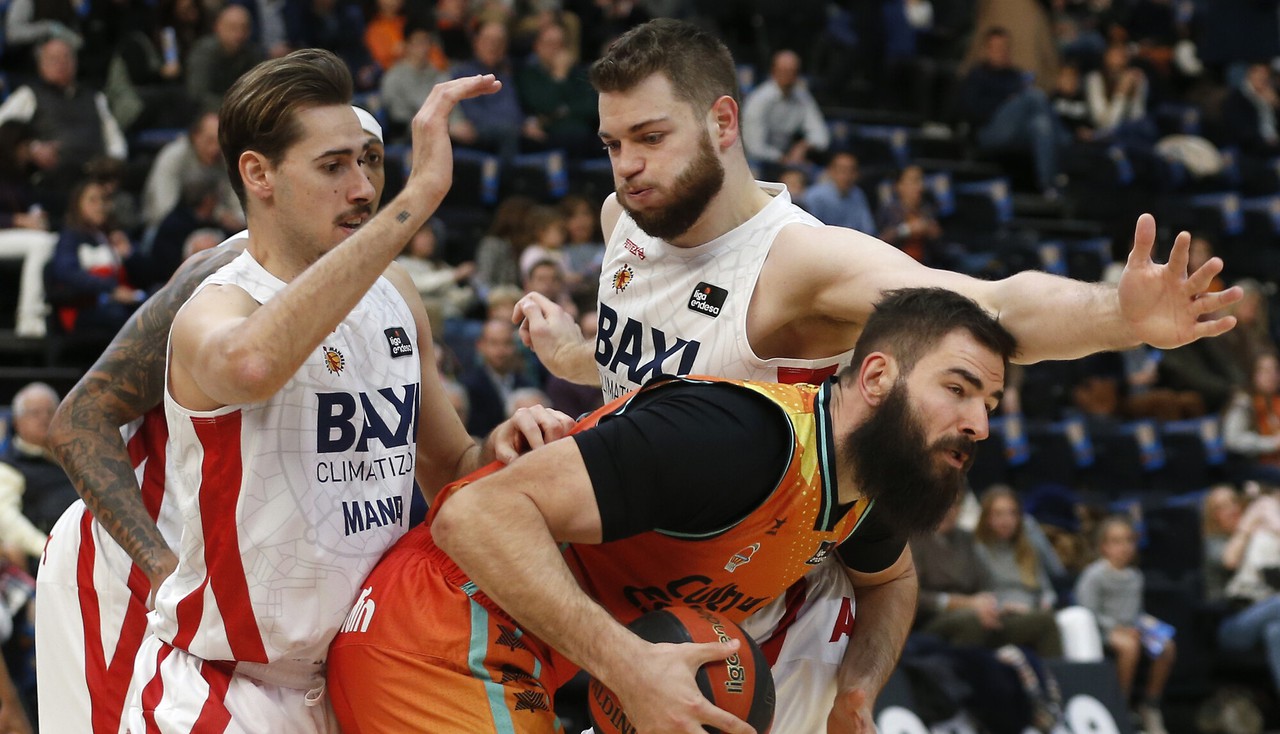 A fighting BAXI Manresa forces the mighty Valencia to give their best to win
The Bages team, who was much superior in the second quarter, could not stop the rival reaction at the restart. Dani Pérez, Robinson and Geben, the most prominent of the visitors.
Sunday 15 of January of 2023 at 19:24
103 Valencia Basket I Ferrando 3, Prepelic 9, Puerto 5, Webb 12 and Dubljevic 20; Harper, Pradilla 4, López-Arostegui 21, Jones 12, Radebaugh 6, Alexander 11 and Marí
92 BAXI Manresa I Dani Pérez 11, Harding 10, Jou 2, Robinson 17 and Geben 17; Badio 8, Waczynski 8, Tass, Steinbergs 5, Sagnia, Ferrari 8 and Vaulet 6
Partials: 23-15, 19-36, 31-23, 30-18
BAXI Manresa showed their competitive spirit one more day, but this time it was not enough to take a prestigious victory from the Valencia Basket court. After a favorable start for the home team, the Bages team displayed great superiority in the second quarter. In the rematch, the oranges, who came to the duel with many casualties but with two victories during the week in the Euroleague, reacted and obtained a crucial victory for their chances of qualifying for the Copa del Rey.
The team led by Àlex Mumbrú made a great start and it didn't take long to take control of the electronic, obtaining up to twelve points of difference (21-9). Then, the visitors reacted with a 0-6 run that allowed them to close the gap at the end of the first quarter (23-15).
In the second, Pedro Martínez's men, led by a Dani Pérez who was sick of handing out assists, were far superior to their powerful rival. In the first four minutes they were able to turn the score around (27-28), and later they were able to open a nine-point gap at halftime (42-51). In the total of the period, the partial was very strong: 19-36.
Returning from the changing rooms, the Manresa team was able to extend their lead to twelve points (46-58), but then came the reaction of some home team who was only one point behind and forced Pedro Martínez to stop the game (65-66). Then, Ferrari's success allowed the Bages team to stay ahead at the end of the third quarter (73-74). Therefore, everything had to be decided in the last part.
This started with a two plus one from the Valencians, which allowed them to take control of the match which they did not leave until the end. However, the visitors continued to fight until the last second, but it was not enough to storm the court of one of the great teams of the Endesa League.
In the next match, BAXI Manresa will face another level rival: Unicaja will visit Nou Congost next Saturday from 20:45.