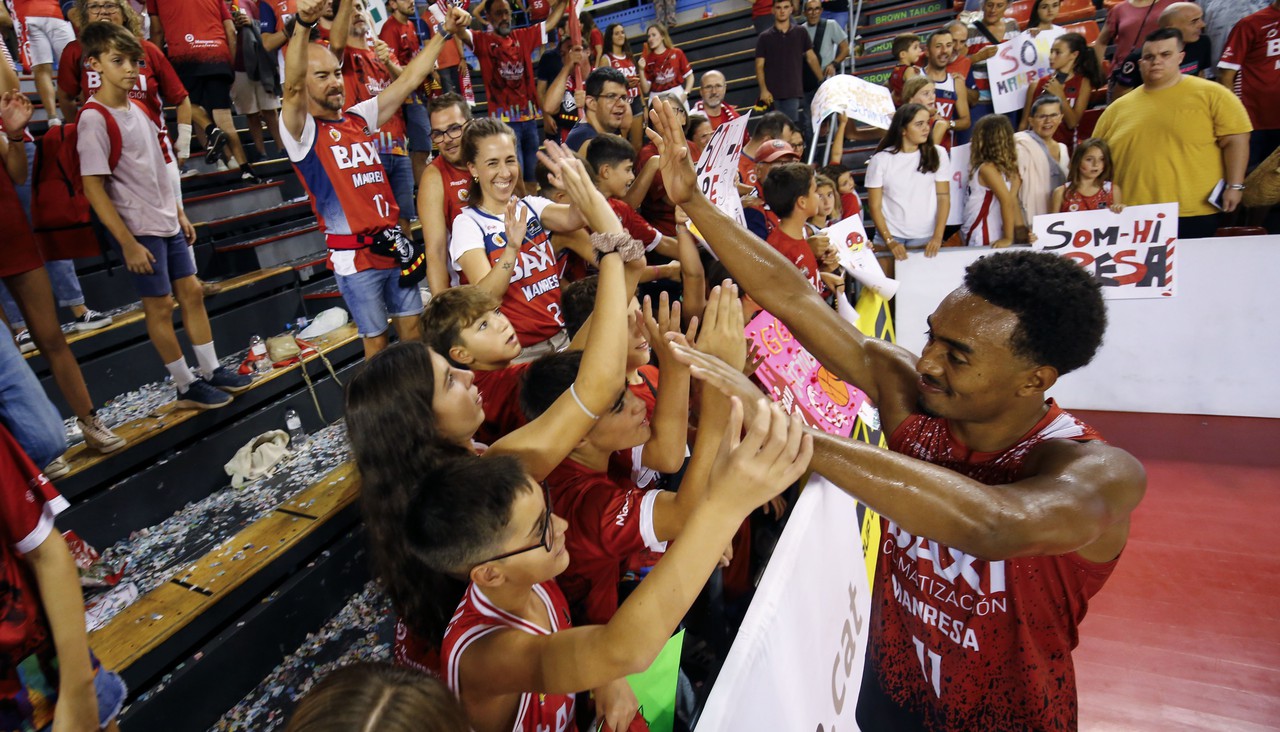 Festive preview at Nou Congost
BAXI Manresa defeats Paris Basketball by 86-80 in a presentation game with a great atmosphere and the younger audience overturned with the team.
Friday 8 of September of 2023 at 23:06
86 BAXI Manresa I Dani Pérez 5, Williams 5, Jou 4, Robinson 18 and Geben 12; Badio 10, Dani García, Taylor 12, Steinbergs 4, Sagnia 1, Vaulet 11 and Zohore 4
80 Paris Basketball I Shorts 17, Herrera 11, Ward 10, Sy 7 and Kessens 7; Malcolm 3, Hifi 13, Denis 6, Diawara and Jantunen 6
Partials: 18-13, 15-24, 25-24, 28-19
A BAXI Manresa in good shape added the third victory in three preseason games, and did so against the powerful Paris Basketball (86-80) in a festive preview night at the Nou Congost, with a great atmosphere in the pavilion, especially from a young audience that really enjoyed the team.
The start of the game was hectic, although both teams had a hard time finding the basket easily. Four consecutive points from Jou meant that some locals with a great defensive level took control of the score and kept it until the end of the first quarter (18-13).
In the second, the French reacted and turned the score around halfway through the period. For their part, the reds, with a Vaulet who did not stop forcing fouls, stayed close thanks to free throws. In the middle part of the confrontation, four points lead for the visitors (33-37).
Returning from the locker room, Paris Basketball came out very plugged in from the triple, and thanks to this they achieved a difference of ten points, forcing Pedro Martínez to stop the game (39-49). Subsequently, the Manresa team managed to close the gap against an opponent who continued with high success from long distance (58-61 at the end of the third quarter).
In the last ten minutes, the French nailed a 0-6 run and opened up a hole, but the Bages team didn't take long to reply and take the lead again with eight points in a row. The final seconds were tied at 80, in which the home team were more effective and took the win.
On Monday BAXI Manresa will face Joventut de Badalona in the first semi-final of the Catalan League. It will start at 6:30 p.m. at the Espai Fruita-Barris Nord Municipal Pavilion in Lleida.