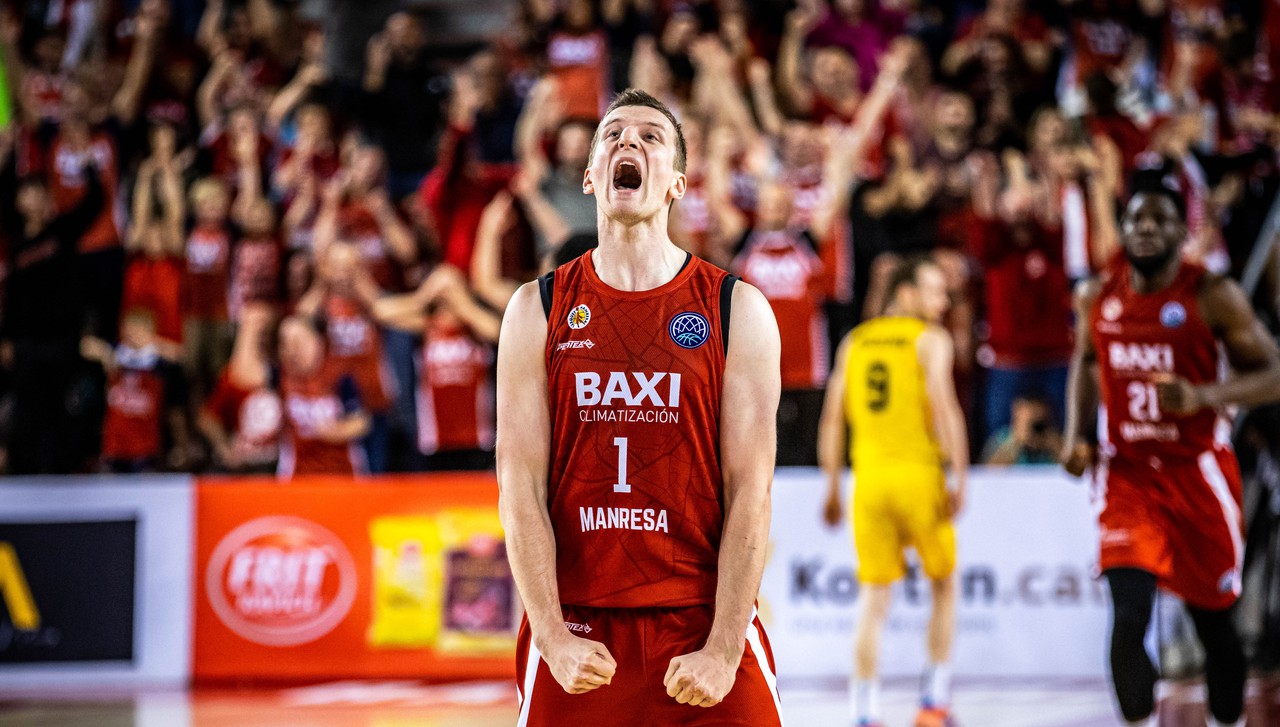 An epic BAXI Manresa overcome Tenerife and force the third game
After a very level match, the Bages team showed a very choral game, with all twelve players scoring, and they were better in the last moments.
Wednesday 12 of April of 2023 at 23:21
85 BAXI Manresa I Dani Pérez 9, Harding 9, Sagnia 3, Robinson 16 and Olumuyiwa 4; Badio 16, Waczynski 9, Jou 2, Dani Garcia 7, Steinbergs 2, Ferrari 5 and Vaulet 3
83 Lenovo Tenerife I Huertas 19, Cook 3, Abromaitis 14, Doornekamp 5 and Guerra 6; Cabrera, Rodríguez, Fitipaldo 17, Sastre 2 and Shermadini 17
Partials: 18-25, 24-18, 23-22, 20-18
BAXI Manresa managed to force the third and final match of the Basketball Champions League quarter-finals after beating Lenovo Tenerife at Nou Congost, in a very close duel that could not be resolved until the final stage, when the Bages team were more successful in the face of the basket. The team led by Pedro Martínez again showed a very cohesive game, with all twelve players scoring.
After an initial three-pointer by Dani Pérez, the island team went on a 0-7 run and took control of the score. However, the reds stayed close to their rival, who closed the first quarter with seven points thanks to a three-pointer by Fitipaldo on the horn (18-25).
In the second, the home team didn't allow their powerful rival to open a hole in the electronic. Not only that, as they gradually closed the gap, equalized a couple of times and took the lead in the last minute. At halftime, a Shermadini basket in the last second gave the Canarias team the lead (42-43).
In the second half there was a lot of equality between the two teams, who constantly exchanged baskets. Neither of them could escape, and they reached the end of the third quarter with a tie at 65 and, therefore, with everything to decide in the last ten minutes.
In these there was no way to break a match that had to be decided in a close final. In the last three minutes, Dani Garcia and Harding put the Bages team five points ahead, a difference that they were able to maintain until the end, since the last attack by the visitors was unsuccessful.
On Sunday, starting at 5:00 p.m., BAXI Manresa has another important match at the Nou Congost, this time against Coviran Granada, with the former Manresa players Alex Renfroe, Lluís Costa, Pere Tomàs and Luke Maye. It will be a duel between two teams fighting for permanence in the Endesa League.