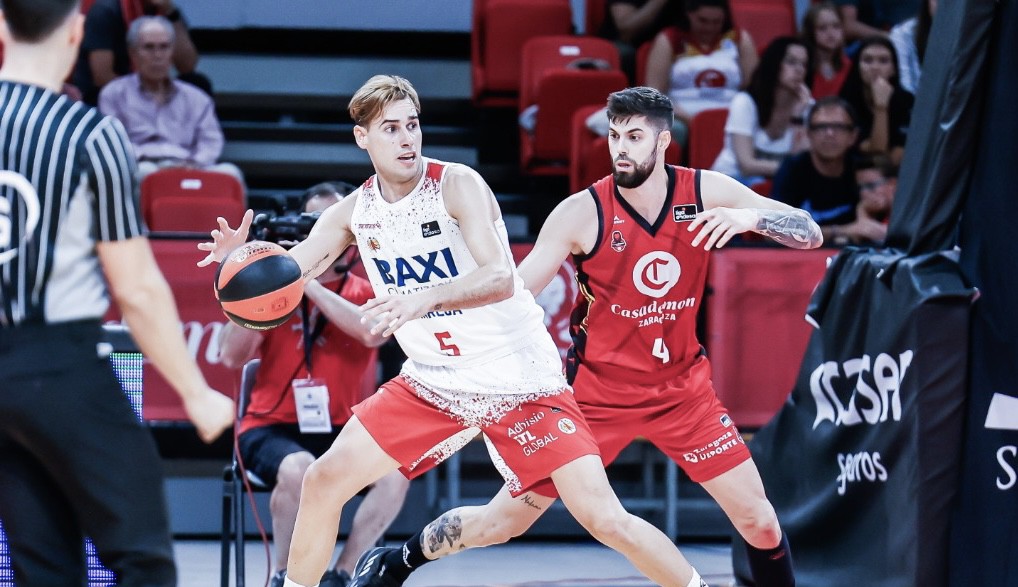 BAXI Manresa is still in good shape
The Bages team win at Casademont Zaragoza in a duel decided in the last quarter and maintain the positive feelings in the pre-season.
Friday 15 of September of 2023 at 23:07
89 Casademont Zaragoza I Langarita 17, Smith 21, Yusta 7, González 8 and Kravic 13; Bell Haynes 15, Sulejmanovic 4, Traoré 4 and García
110 BAXI Manresa I Dani Pérez 15, Williams 7, Jou 12, Vaulet 4 and Zohore 4; Robinson 4, Badio 6, Dani García 4, Taylor 11, Steinbergs 5, Sagnia 14, Valtonen 10 and Geben 14
Partials: 31-28, 24-22, 20-29, 14-31
BAXI Manresa added their fifth victory in six preseason games, and they did so on the Casademont Zaragoza court, in a match corresponding to the Ibercaja Ciudad de Zaragoza Trophy Memorial José Luis Abós that was decided in the last quarter, when Bages' team took advantage the rival's fatigue.
The game got underway with a lot of rhythm and with the attacks clearly imposing themselves on the defenses. The visitors dominated for most of the minutes, but in the final moments of the first quarter the Aragonese turned the score around and gained a three-point margin (31-28).
In the second, the players led by Pedro Martínez once again took control of the game, but immediately afterwards they suffered an offensive collapse and the hosts, led by Mark Smith, took advantage of it to nail a set and take the lead again at half-time (55-50).
In the second half, the Manresa players came out better than their rival and escaped eight points (62-70). The Aragonese then reacted and scored ten points in a row, which allowed them to lead again for a short time, as the Bages team rallied and closed the third quarter with a 75-79 lead.
In the last ten minutes Porfirio Fisac's team came within a point, but then they ended up feeling tired and the visitors, who did not let up, took advantage of it to open the final gap and, with a three-pointer by Taylor from the middle of the field in the last second, add a new victory in the preseason.
BAXI Manresa will play its last preseason match on Monday starting at 8:00 p.m., when it will face Bàsquet Girona in Salt.