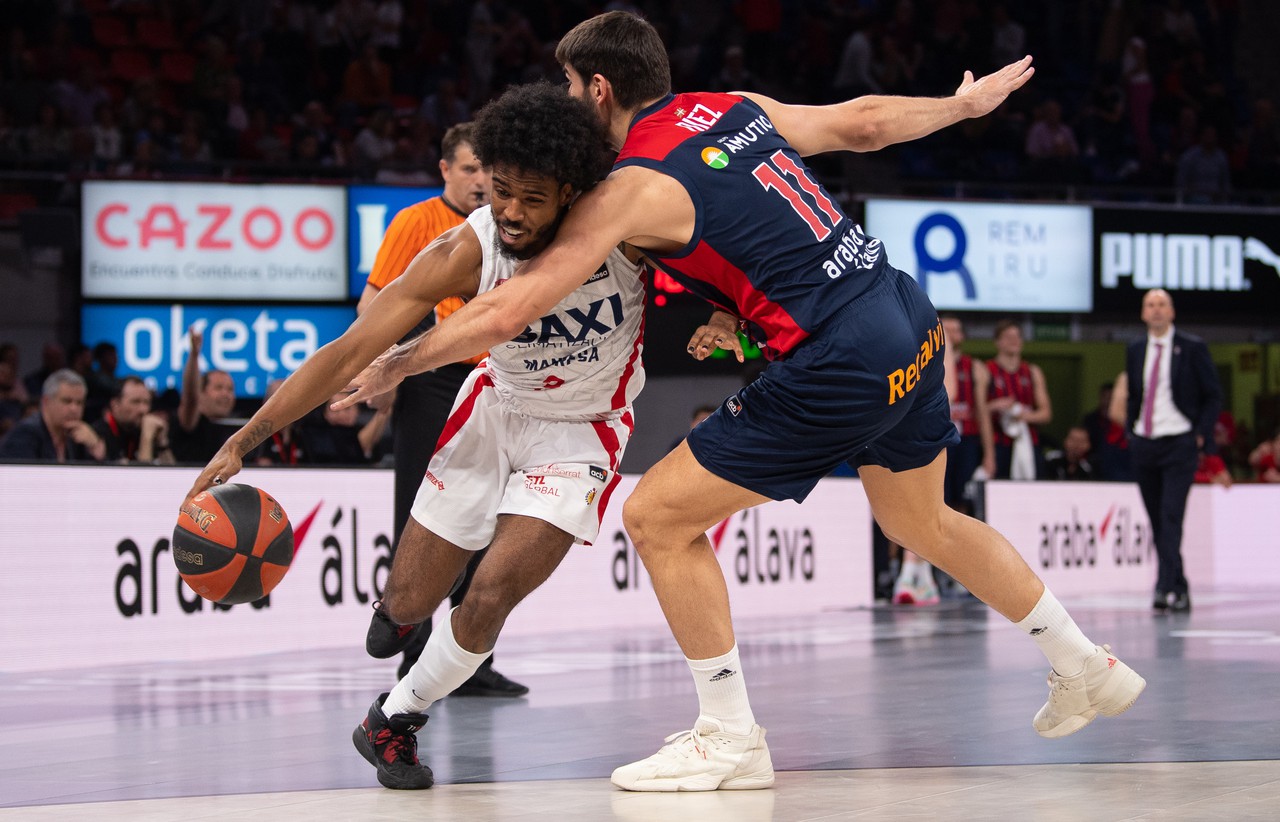 BAXI Manresa shows competitiveness on the court of an enraged leader
A very combative Bages team came with chances in the last minutes against a Baskonia that once again exhibited its offensive resources.
Sunday 9 of April of 2023 at 22:35
107 Cazoo Baskonia I Heidegger 22, Howard 5, Raieste 5, Díez 9 and Enoch 14; Marinkovic 9, Thompson 6, Kotsar 4, Costello 15, Giedraitis 9 and Kurucs 9
92 BAXI Manresa I Dani Pérez 8, Harding 24, Sagnia 4, Robinson 14 and Geben 10; Badio 10, Waczynski 2, Jou 3, Dani Garcia 4, Steinbergs 3, Olumuyiwa 2 and Vaulet 8
Partials: 27-23, 26-23, 29-25, 25-21
BAXI Manresa once again showed an image of struggle and competitiveness on one of the most complicated courts in the Endesa League, that of a Cazoo Baskonia that again displayed the many offensive resources available to it to add a victory that places them as solo leaders in the competition 14 years later (107-92). The team led by Pedro Martínez remained close to their rival until the last moments, when the Vitorians sentenced.
After an initial exchange of baskets, some visitors led by Harding took six points away (11-17). Joan Peñarroya called a timeout and his team reacted to turn the score around and reach the end of the first quarter with four rental points (27-23).
In the second the Basques did damage on the offensive rebound and reached a maximum difference of eleven points (38-27). However, the people from Manresa reacted and fell within just one point (43-42), but the Vitoria team did not slow down their scoring pace and achieved a margin of seven points at halftime (53-46).
Returning from the locker room, the Bages team continued to fight against their powerful rival and came close again in the electronic (61-60), but could not turn it around. The locals continued to display their offensive capacity and closed the third quarter with the match on track (82-71).
In the last ten minutes the visitors kept trying to close the gap, but in front of them they had a Baskonia that was very solid and successful and that did not give them any chance of reaching the end of the game with options to dispute a victory that stayed in Vitoria.
On Wednesday, starting at 8:45 p.m., the Nou Congost will host the second game of the Basketball Champions League quarterfinal tie between BAXI Manresa and Lenovo Tenerife.