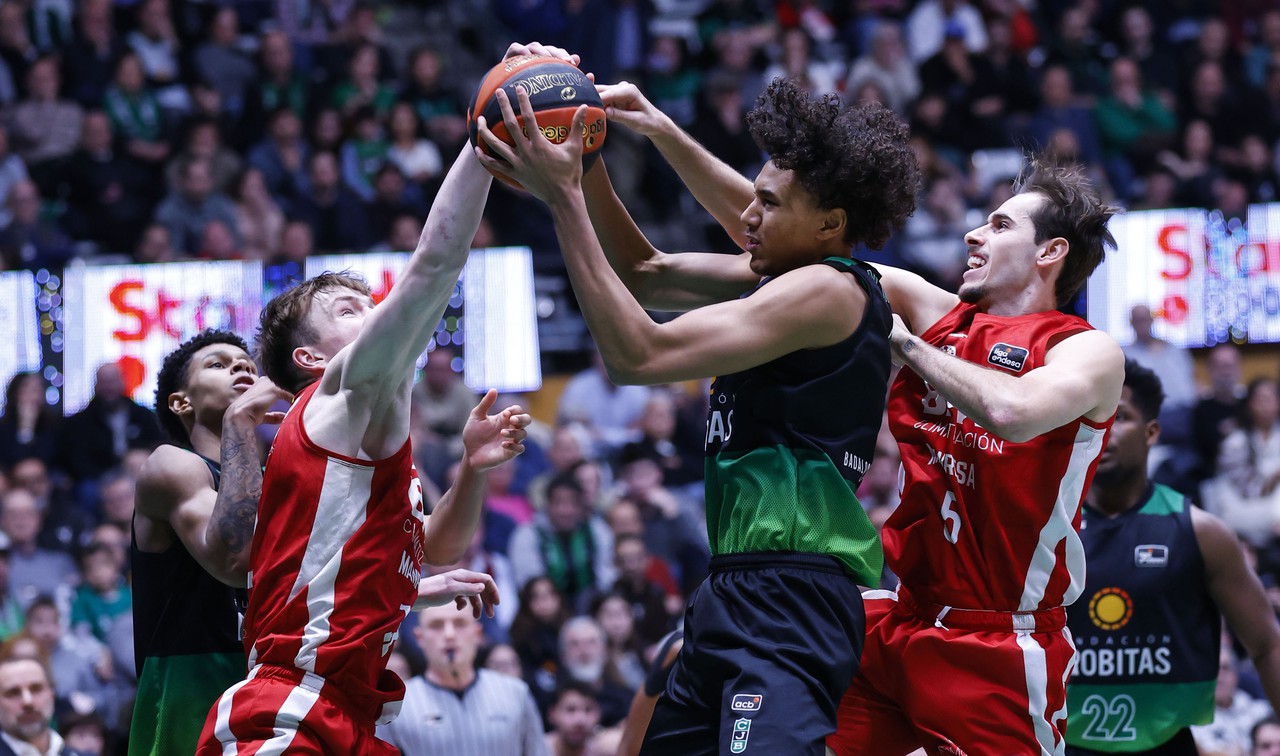 BAXI Manresa falls in Badalona against a more successful Joventut
The Bages team play a great defensive game but they lack success to be able to win on a complicated court. Harding, Robinson, Badio and Vaulet exceed 10 points.
Saturday 4 of February of 2023 at 20:35
73 Joventut Badalona I Vives 11, Guy 9, Parra 13, Ellenson 13 and Birgander 2; Kraag, Brodziansky 2, Ventura, Allen, Feliz 8 and Tomic 15
65 BAXI Manresa I Dani Pérez 4, Harding 15, Vaulet 11, Robinson 12 and Olumuyiwa 2; Badio 10, Jou 5, Dani Garcia, Steinbergs 2, Sagnia, Ferrari and Geben 4
Partials: 20-16, 11-11, 21-17, 21-21
BAXI Manresa contested a very even Catalan derby on the difficult court of Joventut de Badalona, where they competed at all times and had options to take the victory until the last quarter, before the home team was more successful in the decisive stretch (73-65).
After starting with two baskets from Robinson, the visitors collapsed in attack, and the group led by Carles Duran took advantage of this to take control of the electronic. However, the duel was level, and the green-and-blacks could not escape (20-16 at the end of the first quarter).
In the second, the Reds showed their best defensive level, which allowed them to hit a 2-11 run and obtain a five-point margin (22-27). Then they had offensive problems again and the Badalonians reacted to leave at the break with four points (31-27).
Returning from the locker room, the home team was more accurate in the launch and took a maximum difference of 13 points, which forced Pedro Martínez to stop the game (49-36). Later, Vaulet's fight made the Manresa team cut to eight points at the end of the third quarter (52-44).
In the last ten minutes, the Bages team continued to shorten distances and were within a single point on several occasions. But they were never able to get ahead, and then Joventut scored a partial goal to which they could no longer react. In the final moments, the referees disqualified Pedro Martínez.
On Wednesday from 18:00, BAXI Manresa will play in Turkey against Bahcesehir College, in the third day of the second phase of the Basketball Champions League.