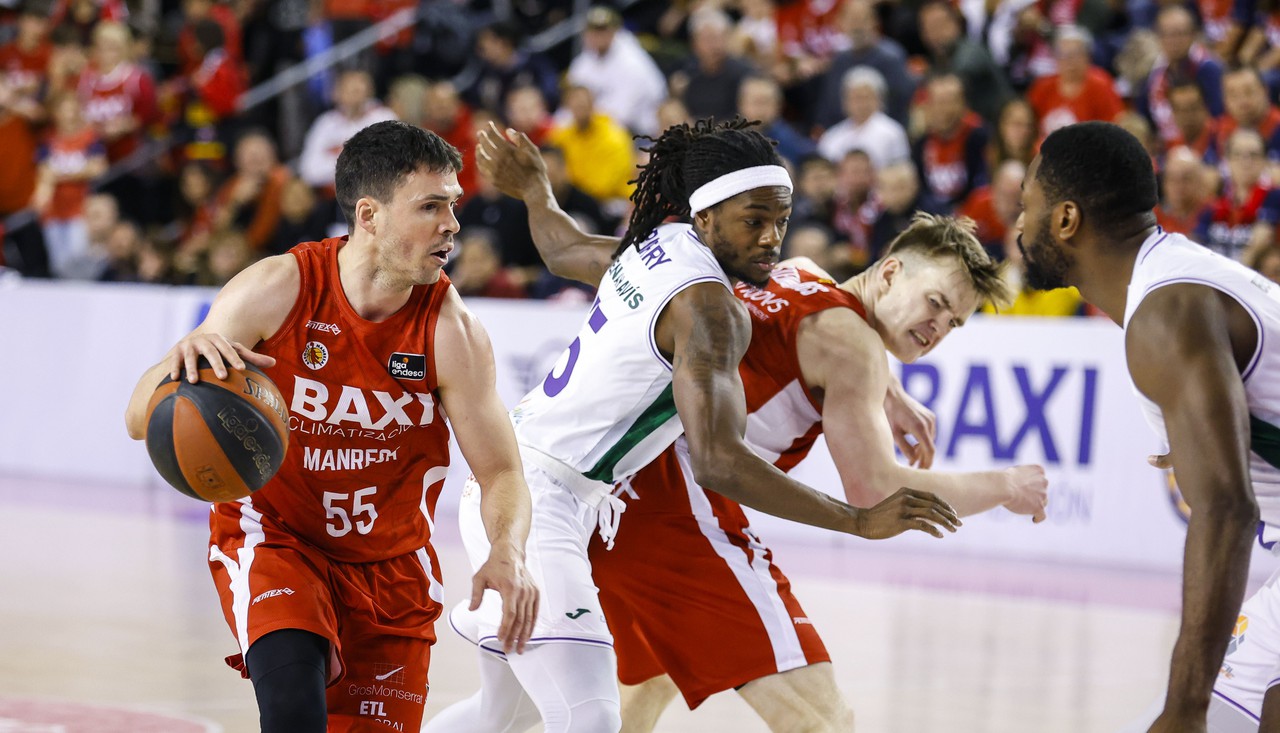 BAXI Manresa falls after an overtime with Unicaja
The coin falls for the Malaga side in a match well contested by the Reds, who find Robinson, Steinbergs and Dani Pérez the most inspired men.
Saturday 21 of January of 2023 at 23:18
94 BAXI Manresa I Dani Pérez 12, Ferrari 9, Jou 9, Robinson 19 and Geben 10; Waczynski 2, Harding 13, Dani Garcia, Steinbergs 12, Sagnia and Vaulet 8
98 Unicaja I Diaz 3, Carter 9, Barreiro 2, Thomas 3 and Kravish 8; Osetkowski 10, Ejim 4, Kalinoski 20, Djedovic 14, Perry 21 and Sima 4
Partials: 31-20, 15-31, 21-18, 19-17, 8-12
BAXI Manresa was about to knock down one of the great teams of the Endesa League, Unicaja, who needed extra time to end the resistance of the increasingly competitive Bages team (94-98). After a first half with a quarter dominated by each team, in the second the game was more equal, and the best success in the decisive section gave the victory to the visitors.
The players led by Pedro Martínez came out with more success and quickly climbed up to the thirteen points difference (20-7), a fact that forced Ibon Navarro to ask for a timeout. However, the reds did not slow down and, exhibiting a great choral game, closed the first quarter with eleven points thanks to a three-pointer by Ferrari (31-20).
In the second, the Málaga team reacted and, led by Perry, nailed a partial 0-13 that allowed them to tie at 33. It then entered a phase of equality and exchange of baskets, and later two consecutives three-pointers allowed the visitors to obtain a five-point margin at the break (46-51).
Returning from the changing rooms, the game was very even, and both teams were exchanging leads on the scoreboard. None of them managed to open a hole, and the third quarter ended with two points of difference for the Andalusia team (67-69). So, everything had to be decided in the last ten minutes.
In these, Unicaja tried to escape (72-80), but the Manresa team reacted quickly. In the final scrum it seemed that a three-pointer from Kalinoski would give the visitors the victory, but a free throw scored by Dani Pérez took the game to overtime (86-86). In this one, the Málaga players were more successful and took the victory against a Bages team who tried until the last seconds.
Next Tuesday from 21:00, BAXI Manresa will begin its journey to the second phase of the Basketball Champions League, and will do so at the Nou Congost against the Lithuanian Rytas Vilnius.