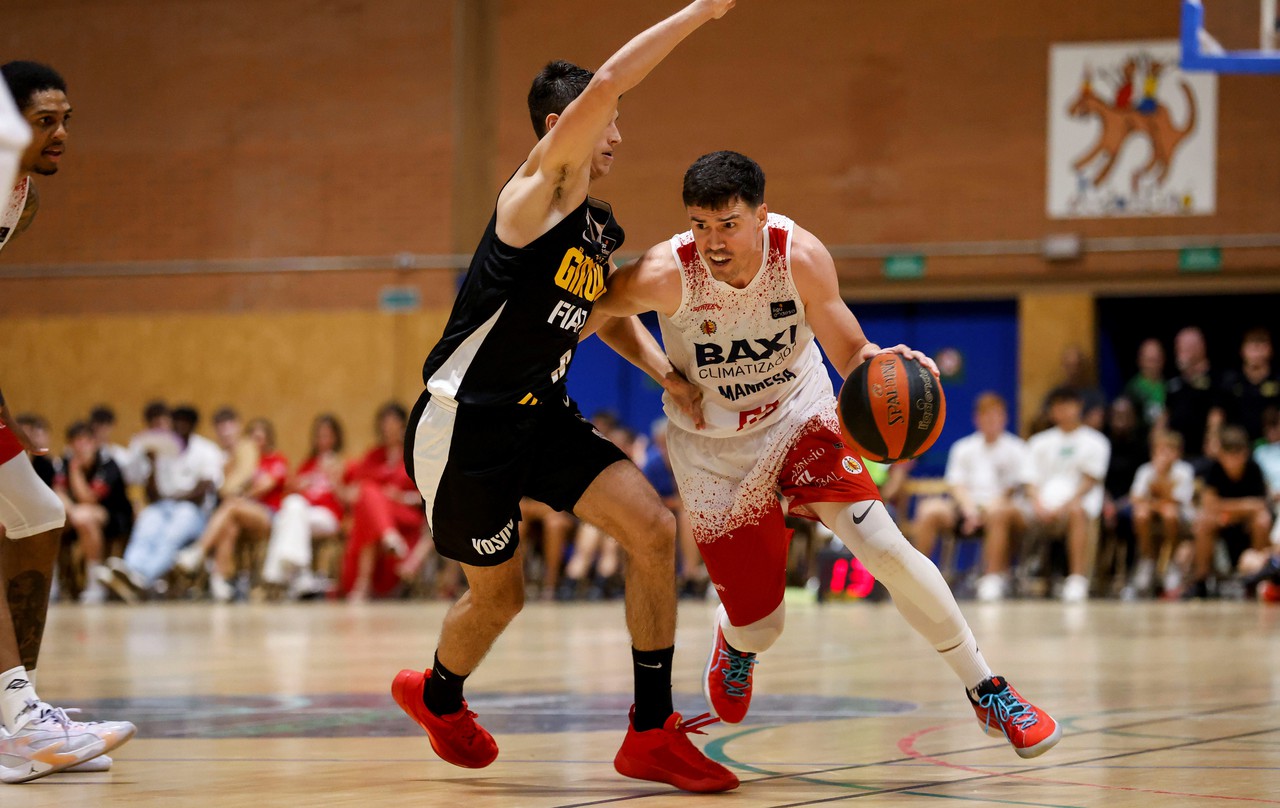 BAXI Manresa closes the pre-season with a victory in Salt
BAXI Manresa defeats Bàsquet Girona by 76-91 with a high tempo of play and a choral match in which up to six players end up with 10 or more rating credits.
Monday 18 of September of 2023 at 22:20
76 Bàsquet Girona I Iroegbu 13, Marcos 3, Martínez 6, Pons 9 and Goloman 7; Fjellerup 11, Vila, Sala 3, Colom 8, Susinskas 3, Sorolla 5 and Dordevic 8
91 BAXI Manresa I Taylor 5, Badio 5, Travanté 5, Robinson 8 and Geben 12; Jou 9, Dani García 7, Steinbergs 7, Sagnia 4, Valtonen 6, Vaulet 6, Zohore 4 and Dani Pérez 13
Partials: 25-16, 12-26, 19-27, 20-22
BAXI Manresa closed the preseason with a record of six wins in seven games. The last of them was against Bàsquet Girona (76-91), in a match to celebrate the 50 years of the Club Bàsquet Salt. Those from Bages exhibited a frenetic pace of play and dominated the duel from the second quarter onwards. Up to six players finished with 10 or more rating credits.
After a level first few moments, the people from Girona, who completely dominated the rebound in both baskets, were able to open a gap on the scoreboard and gained nine points at the end of the first quarter (25-16).
In the second, Pedro Martínez's players came out more energized and, with a very successful Jou from the triple, they nailed a 0-14 run to turn the score around. Salva Camps' men responded with another set and took the lead again for a short time, as the men from Manresa rallied and reached half-time with a five-point margin (37-42).
Returning from the locker room, the Bages team once again made a great start and extended the difference to ten points (39-49), which caused Camps to stop the game. From there, BAXI Manresa kept the distance and a three-pointer by Dani Pérez made it 55-69 at the end of the third quarter.
In the last ten minutes, Bages' team continued to show their high pace of play, and thanks to this they were able to control the rival's comeback attempts to add another victory in the last preseason match.
BAXI Manresa will debut in the Endesa League on Sunday, and will do so on the complicated court of Dreamland Gran Canaria, in a match that will begin at 13:00.