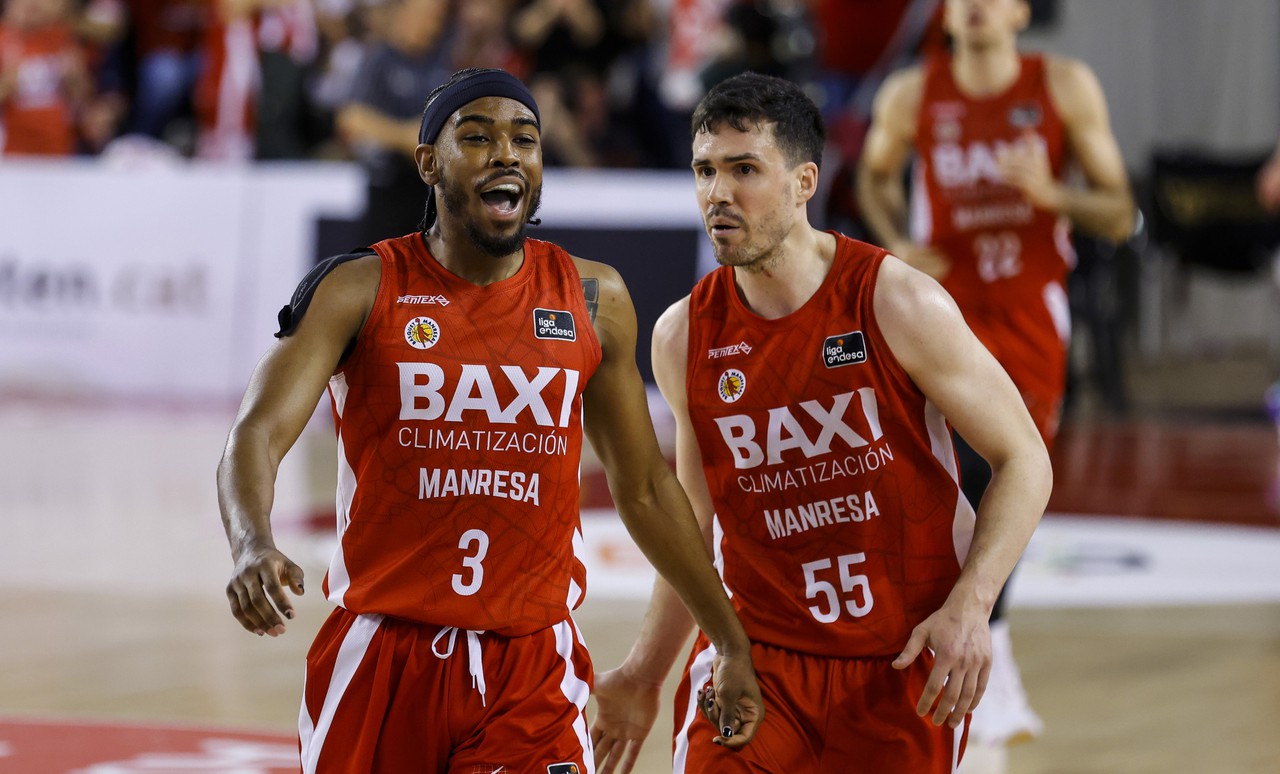 BAXI Manresa beats Betis thanks to Nou Congost
The Manresa team also win the basket average against the Andalusians with a sublime Harding (41p and 39v).
Saturday 18 of March of 2023 at 20:33
91 BAXI Manresa I Dani Pérez 11, Harding 41, Jou 3, Robinson 6 and Geben 8; Badio 2, Waczynski 5, Steinbergs, Ferrari 4, Olumuyiwa and Vaulet 11
84 Real Betis Baloncesto I Gray 17, Montero 15, Bertans 8, Pérez 16 and Pasecniks 9, Maronka 3, Cvetkovic 9, Almazán, Báez 2 and Sylla 5
Partials: 19-17, 29-19, 26-33, 17-15
BAXI Manresa achieved a vital victory, the fifth of the season, at Nou Congost against Real Betis Baloncesto, a direct rival in the fight to stay in the Endesa League (91-84). The Bages team dominated in the electronic from the beginning, but could not decide the duel until the last minutes thanks to a Harding who showed his best scoring version.
The start of the match was very even, with the Reds leading the scoreboard, but always by short distances. After a phase of confusion for both teams, the first quarter ended with two points for the home team (19-17).
In the second, the players led by Pedro Martínez were superior to their opponent and, led by Harding, nailed a 17-4 partial that allowed them to take a 15-point lead, which forced Luis Casimiro to stop the match (36-21). Then the Andalusia team reacted by scoring eight consecutive points, but the Manresa team didn't get nervous and reached the break with a twelve points margin (48-36).
Returning from the changing rooms, the Sevilla team found the right thing and were only five points away (53-48). Later, the home team escaped again with a 6-0 partial, before Betis got closer again at the end of the third quarter (74-69).
Everything had to be decided in the last ten minutes, in which the Bages team didn't lose the lead but neither could they escape in front of a rival who didn't give up. In the final stretch, a Harding in a state of grace made the Nou Congost explode with joy and gave the victory and average basketball to his team.
On Wednesday from 18:30 BAXI Manresa will play the qualification for the quarter-finals of the Basketball Champions League on the complicated court of the Lithuanian Rytas Vilnius.