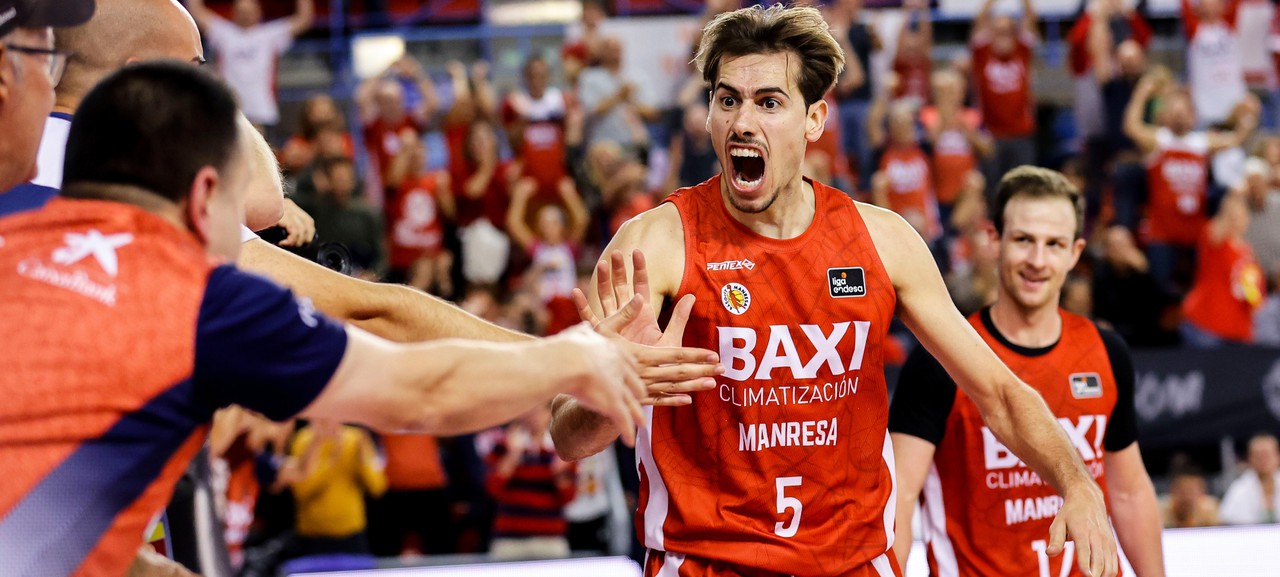 An heroic BAXI Manresa knocks the Baskonia into the Nou Congost
The Bages team, led by a Ferrari who was making his debut with the team, showed a great level against a Euroleague team and beat them with some great last minutes.
Sunday 20 of November of 2022 at 19:32
93 BAXI Manresa I Dani Pérez, Harding 13, Sagnia 8, Vaulet 4 and Tyson Pérez 14; Badio 4, Waczynski 15, Jou 3, Dani Garcia 3, Steinbergs 6, Coulibaly and Ferrari 23
80 Cazoo Baskonia I Thompson 13, Marinkovic 9, Giedraitis 7, Sedekerskis 11 and Kotsar 13; Howard 7, Raieste, Henry 7, Díez 6 and Costello 7
Partials: 25-24, 22-18, 19-20, 27-18
BAXI Manresa resumed the Endesa League showing a great version in front of their fans and knocked over Cazoo Baskonia, a Euroleague team that is having a great season (93-80). Frankie Ferrari, making his third debut at Nou Congost, led the team.
The team led by Joan Peñarroya made a better start to the game, with a partial 2-12 that forced Pedro Martínez to ask for a timeout. Subsequently, the reds, led by Waczynski, a Ferrari who was making his debut at Nou Congost and a Jou who was returning after almost a year without playing, went on to close the first quarter ahead (25-24).
In the second there was a lot of equality between the two formations, but it was the locals, with Ferrari and Waczynski who did not miss a shot in the first half, who were most of the time on top in the electronic. They had a maximum difference of seven points, which was reduced to five in the middle of the match (47-42).
In the second half the tone was very similar to that before the break. The game was very level, and this favored the Manresans who did not lose their lead at any time against the Basques who demonstrated their level and did not let them open a hole. At the end of the third quarter, four points margin for the Bages team and, therefore, everything to decide (66-62).
In the last ten minutes, the visitors scored two baskets in a row only to start and tied. This was followed by an 11-0 decisive partial that gave the Reds the victory and made Nou Congost go crazy with joy as it once again experienced a great day of basketball.
This does not stop, and Tuesday from 21:00 arrives the fourth day of the Basketball Champions League, with the visit of the Portuguese Benfica to the Nou Congost. A victory would give, except for a big drop, first place in the group and access to the second phase of BAXI Manresa.