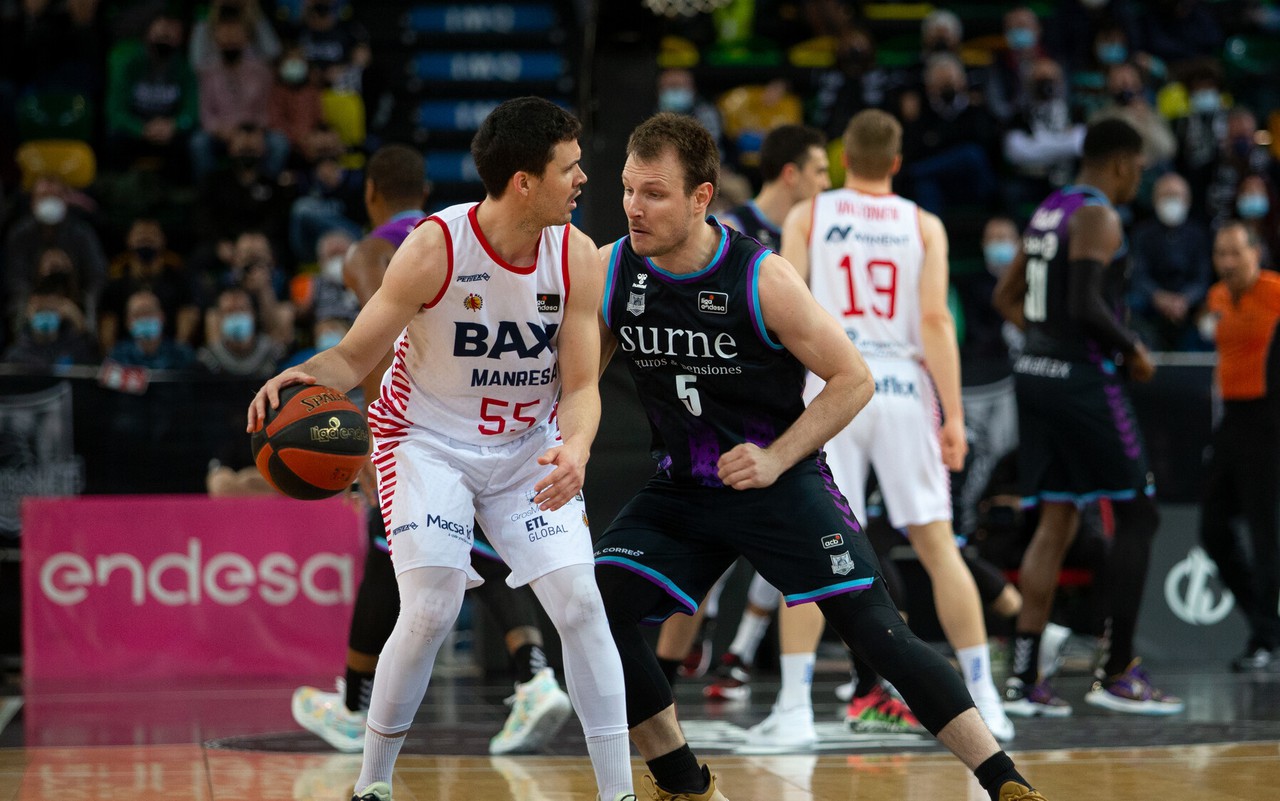 A fighter BAXI Manresa can't stop the Bilbao Basket streak
The Bages team dominated for much of the duel, but ended up giving way to the most fit team in the Endesa League. However, they managed to keep the average.
Sunday 6 of February of 2022 at 22:29
89 Surne Bilbao Basket I Luz 11, Goudelock 15, Walker, Masiulis 12 and Delgado 13; Inglis 9, Withey 5, Rousselle, Reyes 5, Bigote 6 and Hakanson 13
82 BAXI Manresa I Dani Pérez 13, Thomasson 10, Valtonen 3, Maye 8 and Bako 12; Francisco 7, Dani Garcia, Moneke 13, Rafa Martínez, Vaulet and Sima 16
Partial: 20-24, 19-16, 25-27, 25-15
BAXI Manresa dominated most of the time on the complicated court of Surne Bilbao Basket, the fittest team in the Endesa League, but could not finish it and ended up falling 89-82. The positive note of the night is that he was able to maintain the average, since in the first leg he won by eight points (87-79).
The meeting started with a lot of equality. First they sent the visitors slightly in the electronic, then it passed to a phase of alternatives, and later Yankuba Sima led to those of Pedro Martinez towards the four points of rent at the end of the first quarter (20-24).
In the second the Bages team, despite not being successful from the three-point line, continued to dominate the scoreboard and managed a difference of eight points just over two minutes before the break, but the Basques showed their great form and cut to reach the break with only one point of disadvantage (39-40).
Returning from the locker room, the Manresa team began to see the basket from a long distance and reopened the gap, this time by ten points. However, as in the previous period, the home team came closer and closed the third quarter three points below (64-67).
Therefore, everything had to be decided in the last part, and in this one the script was very similar to the one on Wednesday at the Tofas Bursa court: neither team could escape, and in the last minutes Álex Mumbrú's men, pushed by the fans, who are enjoying a good time of course, were more effective.
We have to keep working and getting up, and the first opportunity will be on Wednesday from 21:00 in the Nou Congost, in the visit of the Turkish Darussafaka in the second match of the group stage corresponding to the round of 16 of the Basketball Champions League.